2012 MLB All Star Voting: Aaron Hill and Most Deserving Players
July 1, 2012
Norm Hall/Getty Images
Major League All-Star voting has ended. The starters have been decided by leading the voting, but after them, there are three extremely deserving candidates for the team. 
The All-Star selection special will be on TV later today, and if these three guys aren't announced to be on the team, it will be a travesty to baseball fans. Aaron Hill of the Diamondbacks, Martin Prado of the Braves and Andrew McCutchen of the Pirates all deserve spots on the NL roster for the All-Star game.
Andrew McCutchen, CF, Pittsburgh Pirates
Stats: .346 BA, 15 HR, 51 RBI, .401 OBP and .593 SLG
Andrew McCutchen is having an amazing year for the Pirates. Not only has he exploded offensively to give the Pirates a legitimate all around threat at the plate, but he's a terror on the basepaths as well with 14 stolen bases.
McCutchen is a legitimate threat to join the 30-30 club this season.
His fielding has also been a tremendous asset with just one error all season out in center. He doesn't have the absolutely dominant arm that some have in the field, so he doesn't get many assists. But that shouldn't stop him from at least earning a nod to the All-Star team.
His amazing play this season has been just part of the reason why the Pirates have finally started to turn things around and are just one game back for the division lead.
The only thing that could legitimately keep him out of the All-Star game is a wrist injury he sustained on Saturday (h/t CBS Sports). If his top notch abilities are kept out of the All-Star game, it's a complete sham.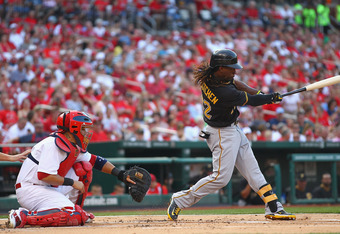 Dilip Vishwanat/Getty Images
Aaron Hill, 2B, Arizona Diamondbacks
Stats: .301 BA, 11 HR, 38 RBI, .362 OBP and .516 SLG
Hill is the best second baseman in the National League right now. He lost the voting to Dan Uggla through name value alone. They have the same amount of home runs and Hill has just five less RBIs.
Outside of those categories, Hill actually beats Uggla in every offensive category. Hill has also hit for the cycle twice this year (h/t Huffington Post). 
There is also the question of defense. While Uggla's defense has improved in Atlanta, Hill dominates him on that end.  
Uggla has eight errors while Hill has had just four all season. 
If someone is better than the All-Star starter but doesn't start due to the archaic voting system, they at least deserve to be on the team. If Hill isn't on the All-Star team when it is released later today, it's a complete travesty.
Martin Prado, LF/3B, Atlanta Braves
Stats: .323 BA, 5 HR, 31 RBI, .387 OBP and .467 SLG
Prado is an interesting case because of how versatile he is. He's one of the few guys who can play at least five spots on the field. He's been used as a left fielder, first baseman, third baseman and second baseman this year.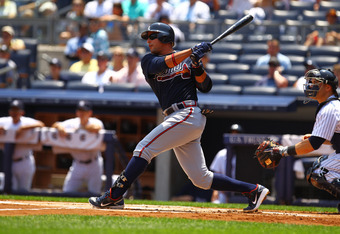 Al Bello/Getty Images
The Braves left fielder has been more of a utility man his entire career, and he has even been nicknamed on twitter by Braves fans as MVPrado. He has value to the All-Star team as more than just a hitter, but also as a plus fielder with just three errors in 78 games playing four different spots.
An All-Star should be more than just a guy who hits a lot of home runs and RBIs. All Stars should have the most value to their teams. And Prado definitely deserves an All-Star spot with his great all around value.
All Stats courtesy of Baseball-Reference.com