Eli Manning: What Makes Eli and the New York Giants' Passing Attack so Great?
July 2, 2012

Jeff Zelevansky/Getty Images
The New York Giants were the No. 5-ranked passing offense in 2011, and that's thanks to two-time Super Bowl MVP Eli Manning under center.
Manning amassed more than 4,900 yards through the air last season—he ranked No. 4 only to Matthew Stafford, Tom Brady and Drew Brees—and also threw for 29 touchdowns and 16 interceptions.
It's his fourth quarter numbers that impressed the most last year, as he posted a 110.0 passer rating with 15 touchdowns and just six interceptions in the game's most crucial quarter.
But let's not discount who Manning is throwing to, either.
At the beginning of the 2011 season, I wrote a piece about Hakeem Nicks being underrated, and I still don't think the big, physical receiver gets the league-wide credit he deserves.
During his rookie campaign in 2009, Nicks tied Percy Harvin for the most receiving yards by a rookie (790), and he did it while playing in one game fewer than Harvin.
He followed that up with a breakout 2010 season that saw him go for 79 receptions, 1,052 yards and 11 touchdowns, a mark that ranked him tied for fourth in the NFL.
And then last season, even with the emergence of Victor Cruz, Nicks still put up a career-high 1,192 yards on 76 receptions and seven touchdowns. He then carried that performance into the playoffs, where he led all receivers with 28 receptions, 444 yards and four TDs.
Speaking of Cruz, he was pretty good last year, wasn't he?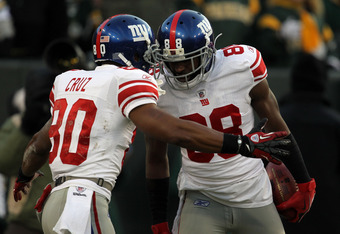 Jonathan Daniel/Getty Images
He came out of nowhere to lead the G-Men in receptions (82), yards (1,536) and touchdowns (9) while setting a couple of Giants franchise records (via NJ.com).
As for the Giants' tight ends, that's another aspect that makes Manning so special—he turns them into playmakers.
He turned Kevin Boss into an offensive weapon, especially between 2008 and 2010, and then proceeded to do the same thing with rookie Jake Ballard last season.
In 14 games, Ballard caught 38 balls for 604 yards and four scores, and the Giants are hoping he can do the same with one of the newest Big Blue tight ends, Martellus Bennett.
Playing behind Pro Bowler Jason Witten in Dallas his entire career, Bennett never had the chance to really showcase his talent, but looks to be an integral piece of New York's offense heading into the season.
Something worth noting is the fact that Manning and the rest of the Giants' passing attack achieved such success despite getting much help from the running game, which averaged an NFL-low 89.2 YPG.
I expect a much improved ground game this season, though, despite the loss of Brandon Jacobs.
Of course, Ahmad Bradshaw's health is an ongoing issue, but rookie David Wilson looks promising and proved at Virginia Tech that he can carry the load.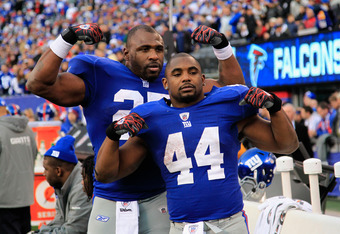 Chris Trotman/Getty Images
Manning will also be looking to integrate rookies Rueben Randle and Adrien Robinson into New York's offense this season, something he has clearly proven he can do in the past.
It's the quiet leadership and dedication of Eli Manning that has helped transform his receiving corps into one of the most potent offenses in the NFL, and my guess is they'll put up bigger numbers in 2012-2013 than they did last season.
Want to talk Giants football or just sports in general? Hit me up on Twitter @Pete_Schauer