The 15 Most Electrifying Fighters in MMA History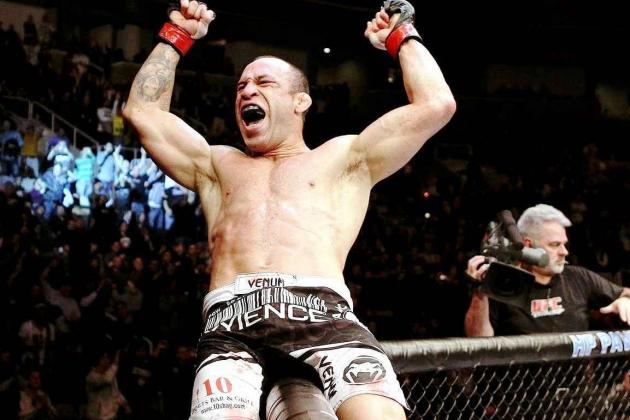 twylah.com
After watching Clay Guida and Gray Maynard in their last fight, it became painfully clear that you don't always find fire where you find smoke.
Guida vs. Maynard looked like it had all the makings of a Fight of the Year candidate, but ended up being a dud, which was shocking considering both men.
Yet, the main fault seems to belong to Guida and the strategy employed by Team Jackson, which is all the more alarming, considering how many incredible fights we've seen from Guida.
Contrast that to Wanderlei Silva, who at UFC 147 once again put his money where his mouth was, thrilling the fans with another one of his take-no-prisoners performances.
Men like Silva are a rare species of fighter: they place a higher value on action than they do their own record and personal health. For them, it is better to lose in glory than win in mediocrity.
Then, there is another kind of equally electrifying fighter: a man who's dominance is based around the ability to crush opponents in a style all his own. He has an aura of danger, brilliance and destruction (or a combination of the three) that makes fans want to see him fight, win or lose.
The sport needs such men and the excitement they bring, because as it grows, a winning record becomes more and more important. If a fighter hopes to rise in the sport, the question ceases to be "How did you fight?" and becomes more of a statement: "Win today, excite tomorrow."
Here is a list of men who have never lost sight of the question for very long, and how they fight (or fought) became the statement by which they are known.
Honorable mentions: Jon Jones, Nate Diaz, Mirko Cro-Cop, Donald Cerrone and Martin Kampmann.
Begin Slideshow

»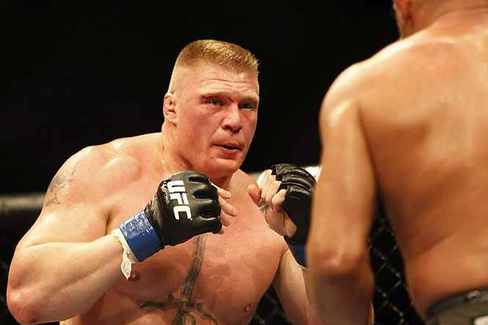 urdirt.com
Electrifying Fights of Note: vs. Frank Mir (I and II), vs. Shane Carwin
Why People Watched: Anytime Brock Lesnar stepped into the octagon, he brought the air of a Titanic sized spectacle with him.
Lesnar was a monster in the cage, and watching him fight was both pure and predictable and even then, the chance of the chemicals reaching an unstable level was always in the corner of our eye.
You never knew what Lesnar was going to do, but given his size, athleticism, ferocity and power, your imagination ran wild at the thought, and that turned his fights into events unto themselves, no matter what card they were on.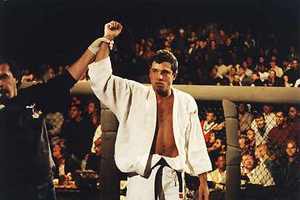 kumiteclassic.com
Electrifying Fights of Note: UFC 1 – 4, vs. Kazushi Sakuraba (I), vs. Hidehiko Yoshida (I and II)
Why People Watched: In the beginning, Royce Gracie was the original magic man: the little guy taking out the big guys in short order, and fans couldn't believe what they were seeing, so they kept on watching, if for no other reason than to verify that their eyes weren't deceiving them.
Watching Gracie fight in the early days was like finding a new color in the Crayola box: every time you thought you'd seen all the submissions he had to offer, he proved you wrong, and the fans loved it.
When his legend was established, they continued to watch because he was near and dear to their hearts. Such is the way for legends, and Royce Gracie is the man that started it all.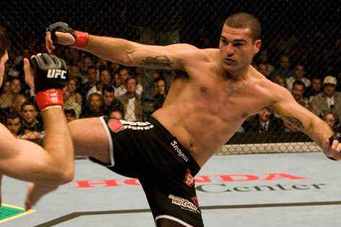 mmatraining.com
Electrifying Fights of Note: vs. Alistair Overeem, vs. Ricardo Arona, vs. Antonio Rogerio Nogueira, vs. Forrest Griffin (I and II), vs. Dan Henderson, vs. Lyoto Machida (II).
Why People Watch: Mauricio "Shogun" Rua may no longer be the youngster in the game, but he still fights like a young man trying to conqueror the world.
His style of aggressive striking keeps audiences rigid with expectation, and his heart and pride keep him within striking distance of a victory against damn near anyone he is fighting.
Shogun Rua is the kind of fighter that never likes to quit, and holds the manner in which he fights to be of utmost importance. Like his former Chute-Boxe brother-in-arms Wanderlei Silva, Shogun would rather lose in a bloody war than secure a victory via a boring decision.
With a game comprised of very good submission skills, brutal leg kicks, painful knee strikes, face-busting punches and a chin that has been tested many times, Shogun Rua is a fighter you can bank on to bring the fight.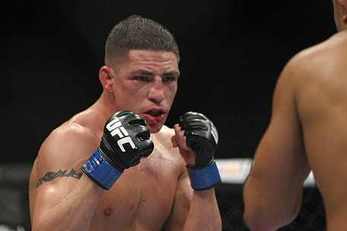 heavy.com
Electrifying Fights of Note: vs. Martin Kampmann, vs. Clay Guida, vs. Josh Koscheck I, vs. Nick Diaz, vs. Karo Parisyan, vs. Paulo Thiago, vs. Jake Ellenberger
Why People Watch: When they made Diego Sanchez, they broke the mold, probably because it couldn't contain all the energy, aggression and violence that swirls within him.
Sanchez is a quirky man, to be sure; equal parts metaphysical meteorologist, hard-nosed brawler and angry young man, all to a tune played in 5/4 time.
And yet, amid all that unpredictability, Sanchez has established rage for order, fighting like his life depends on it. You don't know if he's going to go up, or down, but you know he's going forward.
Sanchez has been on the attack for the entirety of his UFC career—save for his bout with BJ Penn, where he was badly battered early and through out—starting in The Ultimate Fighter house and going strong to this day.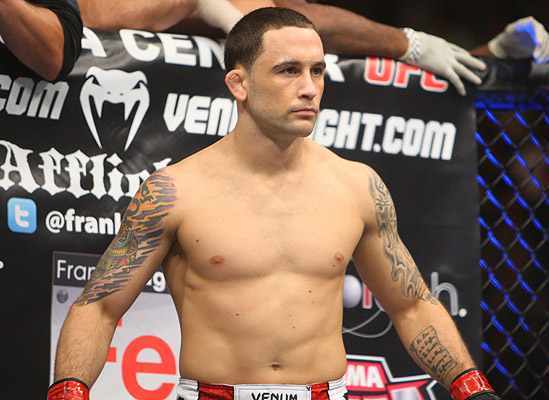 mmaweekly.com
Electrifying Fights of Note: vs. Gray Maynard (II and III), vs. Benson Henderson, vs. Tyson Griffin, vs. Matt Veach
Why People Watch: Heart, guts and the skills to pull off the upset are in abundant supply in the person of Frankie Edgar.
Watching Edgar fight is akin to watching the late, great Arturo Gatti. Both men love a brawl, and are competent up close and at range.
It's always been exciting to see a fighter who is happy to put it all on the line, capable of absorbing just as much punishment as he dishes out, and he can dish out quite a bit.
But one thing is for sure: Edgar can take a beating and keep on coming back, just as dangerously as he was at the beginning. Perhaps more than anyone on this list, save Nick Diaz, Edgar has proven himself to be the comeback kid, and that makes him a must-watch fighter.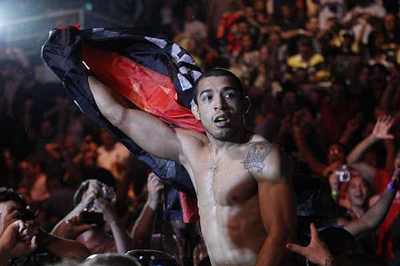 mmaconvert.com
Electrifying Fights of Note: vs. Cub Swanson, vs. Uriah Faber, vs. Mike Brown, vs. Chad Mendes, vs. Rolando Perez
Why People Watch: The chance of an explosive ending is one of the key points of consideration when watching Aldo fight.
He's truly an explosive fighter who's proven to be devastating in the early moments of any fight, and he's got the kind of aggression that is focused to a needle fine point. If he's hurting a fighter with leg kicks, he'll keep it up, and that's when he can catch his opponents unaware; by striking high as they are thinking low.
Of course, there are many examples of how Aldo finishes fights based upon that blueprint, but the bottom line is that he's so skilled and fast that he can finish a fighter at almost any time in a fight: early or late.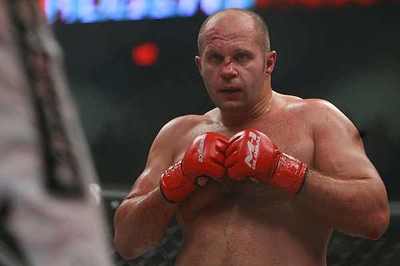 actionrecon.com
Electrifying Fights of Note: vs. Antonio Rodrigo Nogueira (I – III), vs. Mirko Cro-Cop, vs. Kevin Randleman, vs. Brett Rogers
Why People Watched: Because watching Fedor in his prime was much like watching Winnie the Pooh maul and then devour a twelve point buck; it was shocking and it reminded you that no matter how unassuming and gentle he looked, he was still an animal.
Fedor was compelling for odd reasons, but his fights were electrifying because of how he fought: with poise, elite skill, daring and true aggression.
Watching a Fedor fight was like watching his opponents try to survive a natural disaster. Kevin Randleman looked like he had conquered the mountain, only to end up being reversed and submitted in short order, as if nothing had happened.
It never ceased to shock and awe fans when Fedor would unleash his inner beast and run all over his opponent, and knowing that he could destroy them on the ground or standing made it nearly impossible to turn away.
And that's why they kept on tuning in.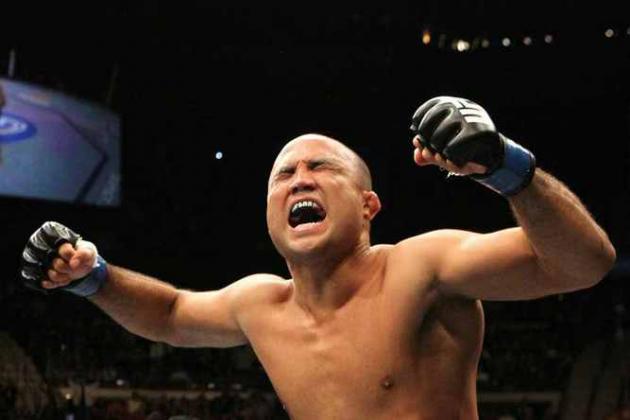 themmanews.com
Electrifying Fights of Note: vs. Caol Uno I, vs. Din Thomas, vs. Diego Sanchez, vs. Matt Hughes (I and II), vs. Georges St. Pierre (I), vs. Nick Diaz
Why People Watch: Everyone loves to see a great fighter who fights great, and a BJ Penn fight always has the chance of being a great showcase of violence and aggression.
Penn is a fighter with the mind of a truly elite submission artist and the heart of a blood thirsty brawler, and when the two meet, it is nothing short of stunning. When Penn is at his best, there doesn't seem to be anything beyond his reach.
In any fight Penn is in, there is more than a fair chance that he's going to close the show by burning down the house, and that never ceases to delight fight fans.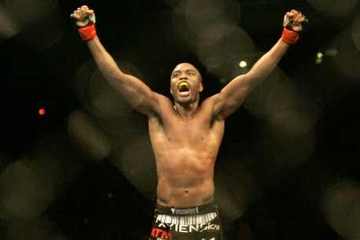 mmamania.com
Electrifying Fights of Note: vs. Chael Sonnen, vs. Vitor Belfort, vs. Chris Leben, vs. Forrest Griffin, vs. Tony Fryklund, vs. Dan Henderson
Why People Watch: Anderson Silva has proven himself to be a fighter who is so skilled that he can deliver a devastating performance in such ways as to make the unlikely seem so easy that good fighters are reduced to novice distractions.
Since he joined the UFC, Silva has delivered time capsule performances against Chris Leben, Rich Franklin, Vitor Belfort, Forrest Griffin and Chael Sonnen, leaving audiences stunned.
Watching Silva fight is akin to a violent magic show, and that makes him one of the more electrifying fighters in the history of MMA.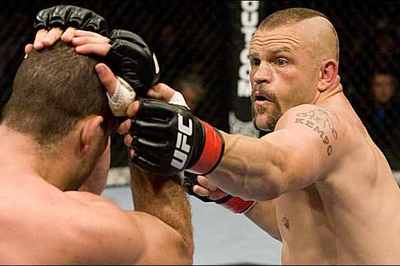 urdirt.com
Electrifying Fights of Note: vs. Vernon White, vs. Alistair Overeem, vs. Tito Ortiz (I and II), vs. Renato Sobral (I and II), vs. Keith Jardine, vs. Vitor Belfort
Why People Watched: Every time Chuck Liddell stepped into a fight, he was focused on one main thing: scoring the knockout.
Liddell was an aggressive fighter, but focused that aggression by channeling it into a style of fighting—sprawl and brawl—that saw him win the UFC light heavyweight title and defend it four times, with all of those defenses earned without the help of the judges.
It didn't matter who Liddell was facing, or how bloody and beaten up he got, the song remained the same: knock them out.
Liddell had brutal knockout power, and he was a born show closer, and those two things alone gave his fights an almost inescapable gravity that pulled audiences in and kept their eyes wide open.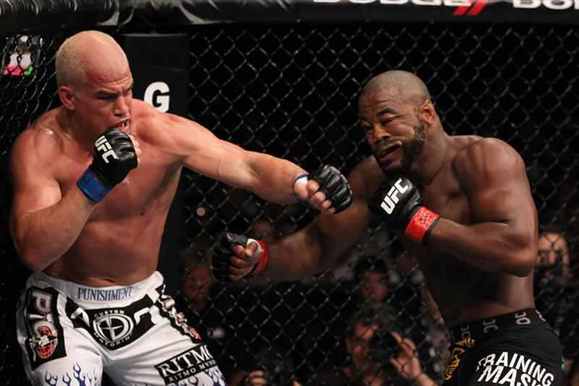 mma-core.com
Electrifying Fights of Note: vs. Vitor Belfort, vs. Chuck Liddell (I and II), vs. Ken Shamrock (I), vs. Forrest Griffin (I and II), vs. Ryan Bader
Why People Watch: Much like Brock Lesnar, Tito Ortiz was a spectacle waiting for a place to happen, and people loved to watch, much like they cannot resist a glimpse at a car crash.
At first, Ortiz was a good fighter shooting the middle finger at the "establishment" and he attracted like minded fans. Then he was a brutal champion, ruling his division with an iron fist and a slew of demeaning T-shirts that added insult to the injury, and his legion lived vicariously through him.
After he lost the title, he continued to draw attention because his fans wanted to see him rise back to the top (or at least another T-shirt), and his detractors never seemed to tire of seeing him lose.
But no matter what side of the fence you were on, a Tito Ortiz fight was one of the main highlights of any card, and the PPV numbers attest to it.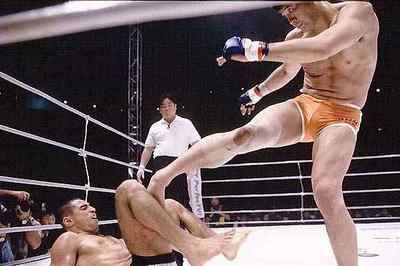 mmaspark.com
Electrifying Fights of Note: vs. Royce Gracie, vs. Renzo Gracie, vs. Carlos Newton, vs. Kevin Randleman, vs. Quinton Jackson, vs. Royler Gracie
Why People Watch: Because when a man continues to defy the odds, he's going to turn some heads, and in the case of Kazushi Sakuraba, become a hero in his home country of Japan.
Sakuraba wasn't a fighter who ever took himself too seriously, but he took his job seriously and he excelled because fighting was a labor of love for him.
And he was laughing all the way into legend as he continued to defeat one Brazilian fighter after another, to the point that his routing of the Gracie family name became akin to the longest running theater production in Japan.
The Brazilians kept on watching because they couldn't afford to miss the opportunity to see him finally upset; the Japanese kept watching because he was their jovial, honorable hero; the rest of the world continued to watch because above all else, Sakuraba was a damn fine fighter.
At his height, during the glory days of Pride FC, Sakuraba proved to be the most electrifying fighter in the country's history, and even today many fighter look back on the reign of Sakuraba with a smile and a laugh.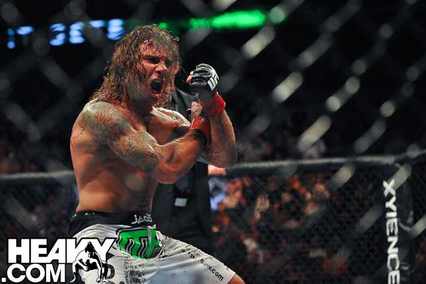 heavy.com
Electrifying Fights of Note: vs. Diego Sanchez, vs. Tyson Griffin, vs. Roger Huerta, vs. Benson Henderson, vs. Nate Diaz, vs. Din Thomas
Why People Watch: Because it never seems to fail that during a fight Clay Guida's face is always going to be running into someone's fist, and amid all the blood and bruises he's going to come out smiling.
Yes, his last fight against Gray Maynard was anything but exciting, but given the fact that the man's been in countless wars up until then, he gets the benefit of history.
Guida is one of those fighters who really seems to become great when he's in trouble. When he's badly cut and getting knocked around—that's when puts his foot on the gas pedal.
He's a gritty fighter that revels in the glory of coming out of the trenches, muddy and bloody and ready for more, win or lose.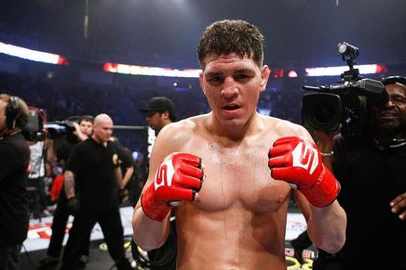 mmaconvert.com
Electrifying Fights of Note: vs. Paul Daley, vs. Evangelista "Cyborg" Santos, vs. BJ Penn, vs. Diego Sanchez, vs. Takanori Gomi, vs. KJ Noons (II)
Why People Watch: Uncompromising men have always drawn attention to themselves, and when they happen to be fighters with a do-or-die, toe-to-toe mentality, watching them ply their trade is simply irresistible.
Nick Diaz seems to only know one way to fight: all or nothing. Aside from Wanderlei Silva, no one else on this list is so totally committed to finishing their opponent as Nick Diaz.
He's a problematic personality to deal with from a promotional stand point, but he never fails to deliver when he fights. He's going to go after the victory, by stoppage, anywhere he can.
Be it via submission or an unrelenting beat down, Diaz is an action fighter above and beyond the rest, and that's what fans love to see.
If he ever acquires a nick name, it should be "epic."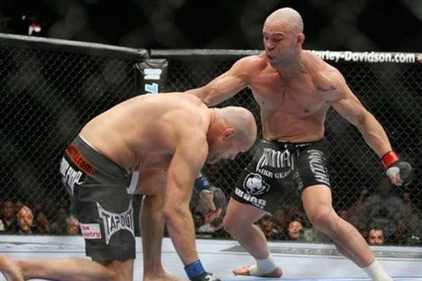 urdirt.com
Electrifying Fights of Note: vs. Quinton Jackson (I and II), vs. Rich Franklin (I and II), vs. Chuck Liddell, vs. Guy Mezger, and so on.
Why People Watch: Aggression and destruction personified and glorified above all—that is perhaps the best way to describe Wanderlei Silva.
Above all the fighters on this list, Silva is perhaps the most dedicated to delivering the kind of violence and aggression his fans and detractors have come to expect as the norm.
Silva is an uncompromising fighter, undaunted by losses. After Chris Leben made short work of him, Silva bounced right back, swinging the axe with just as much passion as he did in the days when he was king of the middleweight division in Pride.
Yes, he's in the twilight of a legendary career, and each coming fight may be his last, but that only makes them more special. Silva will bring his fist-first philosophy into the cage with him until the very end, and nothing could be more electrifying than that.