Chicago White Sox: The 10 Biggest White Sox Trades of the Last 20 Years
Donald Miralle/Getty Images

The Chicago White Sox made a big splash last week by acquiring third baseman Kevin Youkilis via a trade with the Boston Red Sox.
While Youkilis has struggled in a White Sox uniform since the June 24th trade, the former Red Sox great is definitely a big name, and his arrival should give White Sox fans hope of a team commitment to winning in 2012.
While it remains to be seen if Youkilis can help the White Sox make the playoffs this season, there is no denying his impressive resume with the Red Sox. Youkilis can boast of two World Series rings, three All-Star game appearances, a .388 on-base percentage and 29.5 wins above replacement during nine seasons in Boston.
The 33-year-old Youkilis may be past his prime, but his patience at the plate and stellar track record in Boston should hold enough promise for the White Sox that Youkilis will make big contributions at third base, otherwise known as the black hole of the White Sox's infield since Joe Crede's departure after the 2008 season.
Over the last 20 seasons, the White Sox have made some important trades, some of which have had lasting impact on the team. Some trades have brought excitement and promise to the South Side, yet failed to deliver on those promises. Some White Sox trades in recent memory have even been notorious and are still often discussed.
For the majority of those 20 seasons, current GM Kenny Williams has been at the helm in the White Sox front office.
Williams has had a history of unexpected, risky and sometimes unpopular trades. He has also pulled off some successful trades, and Williams can take credit for being the architect of the White Sox's 2005 World Series championship.
While the White Sox continue their unexpected stay atop the AL Central division into July, the Youkilis deal with the Red Sox was a sure sign that White Sox ownership and the front office is going for one more run at postseason glory, putting on hold the eventual rebuilding phase the team will undoubtedly undergo.
In honor of the trade that sent Brent Lillibridge and Zach Stewart to the Red Sox for "The Greek God of Walks," here is a look at the 10 biggest White Sox trades over the last 20 years.
Begin Slideshow

»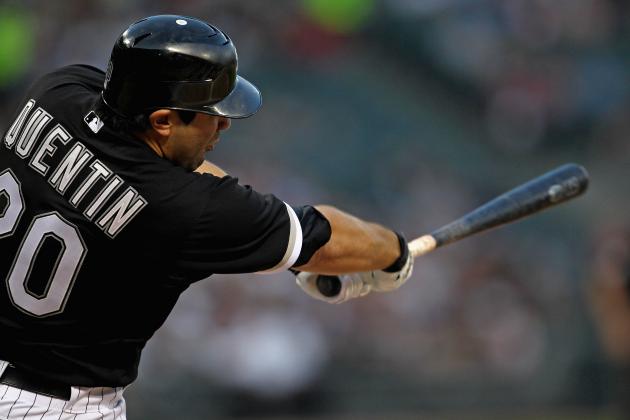 Jonathan Daniel/Getty Images

Just one season removed from the White Sox's 2005 championship, the 2007 White Sox struggled mightily, posting a 72-90 record and finishing dead last in scoring in the American League.
The team needed some offense, and GM Kenny Williams turned to the Arizona Diamondbacks, whose embarrassment of riches in their outfield made 25-year-old Carlos Quentin expendable.
Quentin enjoyed a .424 on-base percentage in 254 Triple-A Pacific Coast League games, and showed some power as well, knocking out 34 home runs during that span.
The White Sox parted with power-hitting prospect, Chris Carter, who has yet to make an impact at the major league level.
Quentin immediately sparked the White Sox offense, hitting 36 home runs and driving in 100 runs in 2008. Quentin was an All-Star his first season with the White Sox and posted a healthy .965 OPS.
His 2008 season was cut short, however, when Quentin injured his hand while smacking his bat in frustration during a game with the division rival Cleveland Indians.
Quentin was a productive hitter for the White Sox, averaging 27 home runs and 80 RBI during four seasons in Chicago. He was traded to the San Diego Padres after the 2011 season.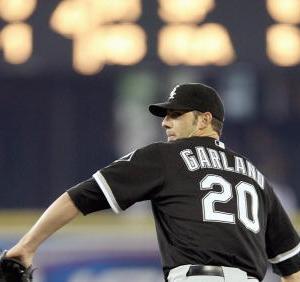 Otto Greule Jr/Getty Images

One of the key contributors of the White Sox's historic postseason run of 2005 was right-handed starting pitcher Jon Garland.
Garland, an 18-year-old pitching prospect in the Chicago Cubs' farm system, traveled south a few miles after being traded by the Cubs in 1998 for the unspectacular relief pitcher, Matt Karchner.
During his eight seasons with the White Sox, Garland posted somewhat pedestrian numbers, such as an earned run average of 4.41, along with a 1.38 WHIP. He didn't exactly strike fear into opposing hitters with his 4.8 SO/9 ratio.
Garland's signature pitch was his sinker, and he used it to great effect during the White Sox's magical 2005 championship run. Garland induced 48 percent of batted balls into ground balls, won 18 games for the White Sox, and posted a solid ERA of 3.50.
Garland also came up big during the 2005 postseason, pitching a complete game during the ALCS against the Angels and giving up only four earned runs over 16 innings during his two 2005 postseason starts.
While Garland was never flashy, nor dominant by any stretch of the imagination, he came up big when it counted for the White Sox, and is one of the few White Sox players in history to own a World Series ring.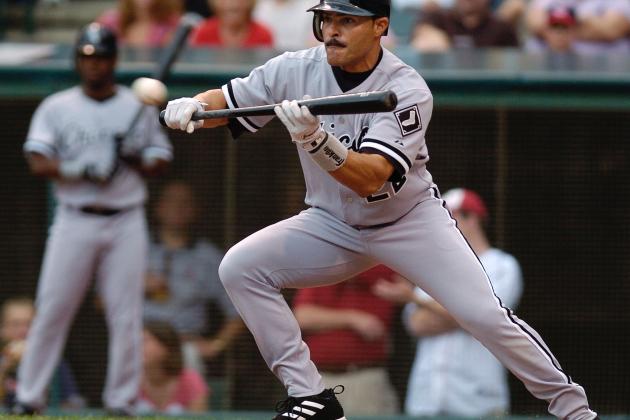 David Maxwell/Getty Images

In what could be characterized as returning damaged goods back to the Milwaukee Brewers, the White Sox traded the pitching albatross known as Jamie Navarro to the Brewers in exchange for infielder Jose Valentin and pitcher Cal Eldred before the 2000 season.
Navarro had started his career with the Brewers and came to the White Sox via free agency three years prior.
Navarro originally came to the White Sox in 1997 with big fanfare after enjoying a solid career and posting two productive seasons with the Cubs, winning 29 games over two seasons.
He was set to earn $5 million per year with the White Sox and was counted on by team skipper Terry Bevington to be the White Sox's ace.
Navarro was historically bad with the White Sox, losing 43 games over three seasons, with an ERA of 6.06, and a WHIP of 1.69.
While generally being a headcase during his time in Chicago, Navarro's monument of awfulness would have to be his 1998 season when he posted an ERA of 6.36 while losing 16 games. He struck out only 3.7 batters per nine innings and yielded 30 home runs.
Valentin immediately contributed to the 2000 White Sox, playing shortstop, knocking out 25 home runs and driving in 92 runs. While Valentin was a liability in the field, earning 36 errors in 2000 for the AL Central champion White Sox, his contributions on offense helped fuel a White Sox team that led the league in scoring.
Eldred made some nice contributions to that great 2000 team as well, earning 10 victories along with only two losses.
Even if Valentin and Eldred were actually a box of baseballs and a third-string catcher's fielding gear, they would have been more productive than Navarro.
By taking Navarro off the White Sox's hands for the last year of his contract, the White Sox received two players who made big contributions to a 95-win ballclub in 2000.
Stephen Dunn/Getty Images

After his price tag was getting too high in 2004, slugging outfielder Carlos Lee was traded by the White Sox to the Milwaukee Brewers for speedy outfielder Scott Podsednik.
Podsednik, who was a 27-year-old rookie in 2003 with the Brewers, combined speed and some power to make him an attractive target for Kenny Williams and the White Sox.
Podsednik belted 21 home runs over his two full seasons in Milwaukee, but he proved more valuable on the basepaths, racking up 113 stolen bases.
The White Sox would miss Lee's power, but they found their table-setter at the top of their 2005 lineup in Scott Podsednik. Podsednik didn't disappoint in 2005, stealing 59 bases and posting a .351 on-base percentage.
While his contributions to the 2005 championship team may have been a bit overstated at the time by fans and media (and Ozzie Guillen) there's no denying his place in White Sox history with his game-winning home run in Game 2 of the World Series.
It was Podsednik's only home run of the season, but it was possibly the most memorable in the White Sox's 111-year history.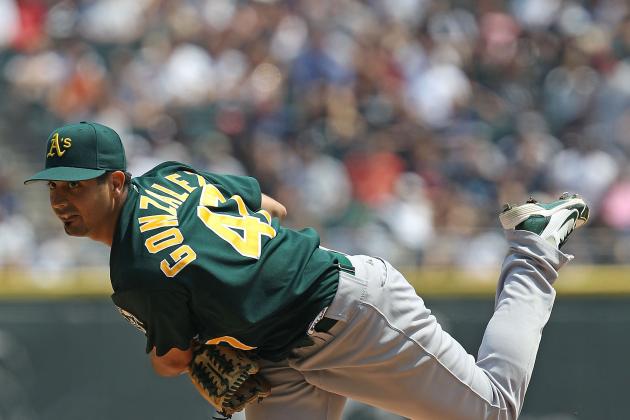 Jonathan Daniel/Getty Images

Pitching prospect Gio Gonzalez, who had been acquired by the White Sox twice before 2008, was dealt to the Oakland A's in a multi-player deal that brought outfielder Nick Swisher to Chicago.
Swisher, a productive and patient hitter for the A's, was being counted on by the White Sox to have a big impact on the team's offense.
The White Sox gave up a lot in prospects Gio Gonzalez and Ryan Sweeney, and Swisher was expected to duplicate his 2006 output in Oakland, when he smacked 35 home runs and walked 97 times.
Swisher was an unqualified failure in Chicago, posting a career-low batting average of .219 with the White Sox and lasting only one season with the team.
Swisher, whose personality has been known to be an acquired taste in big-league locker rooms, was traded to the Yankees after 2008 and has been as productive with the Yankees as he was with Oakland before his trade to the White Sox.
Gonzalez, a gifted left-handed starter, has continued to excel in the big leagues, scoring a big contract with the Washington Nationals before the 2012 season worth $42 million over five years.
After posting a 16-win season along with a 3.12 ERA for the A's in 2011, Gonzalez is looking to be a likely All-Star game selection so far this season, winning 10 games with a 2.78 ERA for the Nationals.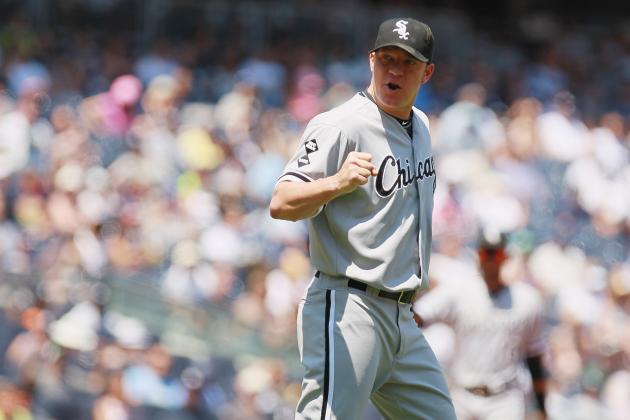 Mike Stobe/Getty Images

In 2009, the White Sox traded for the big arm of Cy Young Award winner Jake Peavy and his even bigger contract, which would pay him $48 million over the next three years with the White Sox.
Peavy, who enjoyed a 3.28 ERA with the Padres over eight seasons, suffered a major injury shortly after moving to the White Sox in 2009.
He suffered the rare injury of a detached latissimus dorsi, a shoulder injury that required surgery.
Peavy has been slow to come back from the injury, but he seems to have finally returned to the form he showed in San Diego.
Through the end of June, 2012, Peavy has a 2.96 ERA for the White Sox and has been going deep into ballgames, something he has been unable to do since joining the White Sox and suffering his shoulder injury.
Whether Peavy's time in Chicago will come to an end before the trade deadline or after the 2012 season, he was definitely one of the biggest names to come to Chicago via the trade and was a top pitcher in his prime before his extended stints on the disabled list.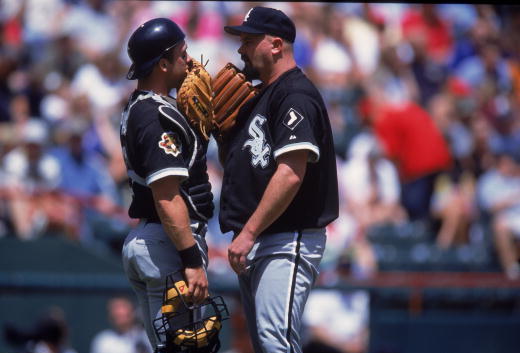 Ronald Martinez/Getty Images

The weighty expectations the White Sox had for David Wells was too much for the left-handed starter to overcome in 2001.
Wells arrived in Chicago through a multi-player deal which most notably sent White Sox starter Mike Sirotka to the Toronto Blue Jays.
Sirotka had won 15 games in 2000 for the division-winning White Sox, and shortly after being dealt to the Blue Jays, Sirotka was shelved with a shoulder injury from which he never recovered.
He never pitched in the big leagues again, and the controversial trade brought heat on White Sox first-year GM Kenny Williams regarding his knowledge of Sirotka's arm issues.
While Sirotka was the centerpiece for the Blue Jays' end of the deal, the fact that Sirotka never pitched again was little consolation for the White Sox, who failed to repeat in 2001 as division champs behind Wells' poor performance and eventual injury.
Wells posted a 5-7 record in 2001 during his one-season stint in Chicago, along with a bloated and rotund WHIP of 1.40, his worst output since 1992.
Wells, who won World Series rings, threw a perfect game in Yankee Stadium, and who also shared a love of all things Babe Ruth, was a big, fat disappointment in Chicago.
He even lost respect of most fans by calling out White Sox legend Frank Thomas for a perceived lack of heart for not playing through injury, even though Wells would finish 2001 in a similar fashion.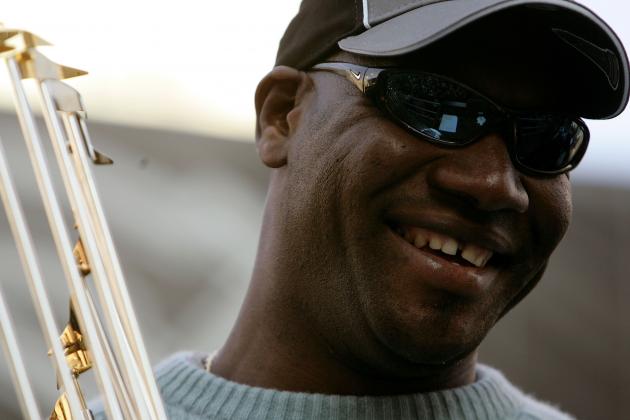 Jonathan Daniel/Getty Images

One of the most unlikely individual seasons in White Sox history occurred in 2003, when Esteban Loaiza won 21 games and posted a 2.90 ERA for the White Sox.
Loaiza had a career 4.88 ERA prior to his 2003 season, when he was second in Cy Young Award voting.
White Sox GM Kenny Williams pulled the trigger on a deal in 2004 that sent Loaiza to the New York Yankees in exchange for Cuban defector Jose Contreras, a pitcher who generally struggled in New York, despite high expectations from the New York fans and media.
While Contreras continued his struggles after joining the White Sox midseason in 2004, he became the ace of the White Sox staff in 2005, leading the team's run to a World Series victory.
Contreras was solid in 2005, winning 15 games. He saved his best for last, helping the White Sox steamroll the opposition during the 2005 postseason.
Contreras won three games that postseason, including a complete-game victory in Game 5 of the ALCS, vaulting the White Sox into the World Series for the first time since 1959.
Loaiza never came close to matching his stellar 2003 campaign, bouncing around between six teams before calling it a career in 2008.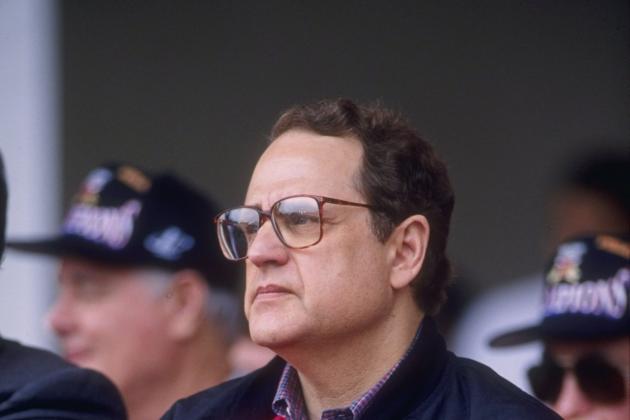 Jonathan Daniel/Getty Images

On July 31, 1997, the Chicago White Sox, under the team's chairman Jerry Reinsdorf and general manager Ron Schueler, pulled off one of the most infamous trades in team history.
What was known as the "White Flag Trade," the White Sox traded three major players from a team that sat only 3.5 games behind the division-leading Cleveland Indians in the AL Central.
The White Sox dealt pitchers Wilson Alvarez, Danny Darwin and Roberto Hernandez to the San Francisco Giants in a big multi-player deal, a deal with such long-lasting impact that it has its own Wikipedia page, a modern badge of honor.
Reinsdorf and the White Sox may have theoretically given up on the 1997 season by dealing some still-potent pitchers, but they did net a couple solid players in return. Keith Foulke and Bob Howry had the biggest impact for the White Sox over the next few seasons, yet others involved in the deal never panned out.
The White Sox gave up one of the game's best closers at the time in Roberto Hernandez. They also let go Wilson Alvarez, a solid left-hander starter, and Danny Darwin, who at 41 years old still had something left in his tank for a potential division race before being traded to the Giants.
Both sides didn't end up with much of a return in the long run, but the White Flag Trade of 1997 was notable for Reinsdorf's clear message that he was giving up on the White Sox's chances of winning their division, despite being only a few games out of first place.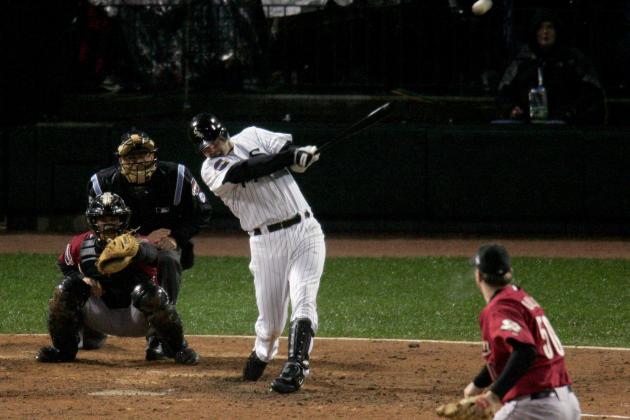 Jed Jacobsohn/Getty Images

White Sox outfielder Mike Cameron showed some of the promise in 1998 that would be fulfilled during most of his solid career in which he averaged 23 home runs and 25 stolen bases per season.
While Cameron would play on seven different teams over the final 13 seasons of his career, he was still regarded as one of the game's most steady outfielders during the 2000s, even posting a four-homer game against the White Sox in 2002.
What the White Sox received in return before the 1999 season was one of the team's cornerstones of their championship run in 2005 and one of the most popular White Sox players in team history. Paul Konerko continues to be the team's leader and one of its best players, even at age 36.
Konerko has averaged 29 home runs and 91 RBI during his 14 seasons with the White Sox. He is the team's spokesman in the clubhouse and has always complemented his solid play with steady professionalism.
His grand slam in Game 2 of the 2005 World Series remains one of the greatest moments in team history, and it propelled the White Sox into the lead late in that pivotal game.
Through June 30th, Konerko is enjoying an on-base percentage of .413 in 2012 to go along with his 14 home runs.