Ryan Suter Rumors: Breaking Down Star Defender's Likeliest New Home
July 1, 2012

Gregory Shamus/Getty Images
With the 2012 NHL unrestricted free agency period slated to begin at high noon on Sunday, the feeling around the league is a lot like the old west; no one is sure to make of it, but it's bound to be wild.
This isn't the deepest class of free agents, but the crown jewels of this group could stand up against any of the best in the league. The biggest prize of 2012 is undoubtedly stellar two-way defenseman Ryan Suter.
As much as Suter has claimed that he wants to be a Nashville Predator, there is a belief around the league that he will be fielding all calls. The following is the breakdown of the star defender's likeliest new homes.
Favorite: Nashville Predators
While Suter is ready to test the market, the Nashville Predators are convinced that the star will see the other offers and realize his best fit is right where he was before.
Besides the defender's devotion to his family and making their lives as easy as possible, Suter has made it perfectly clear that he doesn't want to go to the Eastern Conference. While that's a bit odd, familiarity is something important to many players
With Suter expressing no desire to meet with any of the teams courting him yet, this is obviously a long-term decision that the All Star will take his time making. How Suter handled this whole situation is just further proof of how great of a person a team will get if they sign him.
Top Contender: Pittsburgh Penguins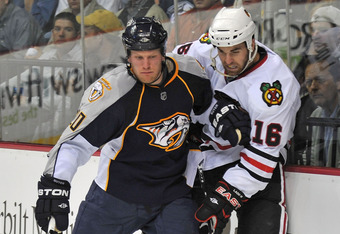 Frederick Breedon/Getty Images
The Pittsburgh Penguins have been clearing cap space for a huge free agency move this offseason, but there are only two players worth the kind of cash they have freed up.
As great as New Jersey Devils captain Zach Parise is, it looks like the team is pushing for Suter as the long-term addition the team is missing.
TSN NHL insider Bob McKenzie is reporting on Twitter about the Penguins intent when dumping salary with the Jordan Staal trade:
I assumed when PIT made big moves to clear cap space, it was for a run at UFA Parise but it seems UFA Suter is more likely primary target.

—Bob McKenzie (@TSNBobMcKenzie) June 23, 2012
While this shouldn't come as a shock to most fans that saw Pittsburgh get destroyed defensively by a faster and more skilled Philadelphia Flyers team in the playoffs, the popular belief was that Parise was the team's target.
Let's hope for the Penguins' sake that Suter thinks about it at least; they need all the defensive help they can get.
Dark Horse Candidate: Minnesota Wild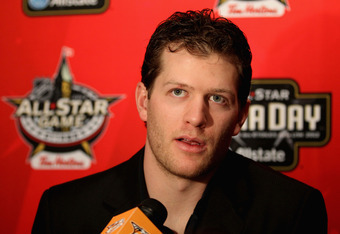 Christian Petersen/Getty Images
While there are a plethora of teams looking to acquire the services of Suter, the dark horse candidate in all of this talk has been the Minnesota Wild.
With family ties to the state and a small-market hockey feel in the Western Conference, this outcome is much more likely to be a viable threat than thought before.
Wild general manager Chuck Fletcher told the Minneapolis Star-Tribune about using the young prospects turning pro this season as a strategy to lure the top free agents to Minnesota, including Suter:
"This is a start of a new era. The fact they're turning pro is significant. It's not just down the road anymore. We can actually see the road now. What's exciting for me is when you look at it now, just from a prospect standpoint, you look at the forwards we have, the goaltenders we have, the defensemen we have, it's a well-rounded prospect pool. Our best days are ahead of us. We all want to get there tomorrow. But if we have a little bit of patience here, we're all going to be rewarded in a big way."
There is no way the Wild can be considered a favorite at this point, but they have the money to match any team's deal in this process. If the team can convince Suter of his future in Minnesota, everything else would work itself out.
Check back for more on the National Hockey League as it comes, and don't miss Bleacher Report's NHL page to get your fill of all things hockey.