As one of the premier players in the NBA, Carmelo Anthony has compiled a terrific career filled with All-Star nods and All-NBA placings. He has placed in the top five in scoring several times, has led his team into the playoffs every year of his career and won a gold medal in the Olympics.
Even with the NBA experiencing one of its greatest ever talent booms, Carmelo has been universally regarded as one of the finest players in the league over the past few years. Yet despite all these accolades is Carmelo Anthony a Hall of Famer?
The stats say yes, but when you consider his postseason success and the success of other players from his draft class and his position, things don't look as sure-fire as many would think.
Can you really call Carmelo Anthony a Hall of Famer when he has been the fourth best small forward in the NBA, behind LeBron James, Kevin Durant and Paul Pierce, since his rookie year in 2003?
Is he really a Hall of Famer when he has never been elected to an All-NBA first team, never had an All-defensive team nod and never played in an NBA Finals?
Of the players elected into the NBA Hall of Fame who were active in the last 30 years, every single one of them has either a ring, an MVP, an All-NBA first team selection or a scoring championship.
A pretty damning statistic when you consider Carmelo has achieved none of that. But could he be the first to enter the Hall without Hall of Fame credentials?
Let's examine what Carmelo does have going for him:
1) He has been regarded as one of the top 10 players in the league for the past five or so years.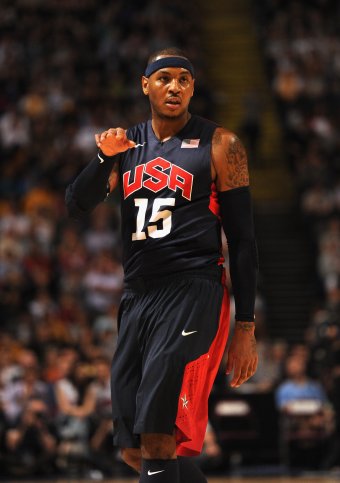 Stu Forster/Getty Images
2) Since 2004 he has arguably been Team USA's best player.
3) His teams have made the playoffs every season in which he has played.
Unfortunately for Melo the good news ends there.
Despite making the playoffs every year, he has reached the Conference Finals only once and has never reached the Finals. In fact his playoff record is so poor that he owns the worst playoff record in the NBA over the past 20 years.
You can't say that Carmelo has never played with great players either as he has played with Allen Iverson, Chauncey Billups, Amar'e Stoudemire plus some very good ones like Nene, Marcus Camby and Andre Miller.
Long story shirt, Melo has had a good team and a good coach for the most part of his career, in George Karl, but he has failed to get the job done. Compare that to his main "rival" LeBron James, who reached the Finals with a Cavaliers team starting Daniel Gibson, Sasha Pavlovic and Drew Gooden, and Melo's achievements are further diminished.
While it is understandable that Carmelo doesn't come close to LeBron's greatness, you would think he'd at least be the second best small forward of his era right? Probably not, as Carmelo's career doesn't match up to Paul Pierce's over the past nine years (two Finals appearances, one championship and one Finals MVP) or Kevin Durant's (three scoring titles, one Finals appearance, All-NBA First Team three times).
So by logic, Carmelo has essentially been the fourth best player at his position over the past several years. Is that Hall of Fame worthy?
Is Carmelo Anthony a Hall of Famer?
Something else that Carmelo has going in his favor is his scoring prowess. One of the most gifted scorers of all time, Anthony's ability to fill it up has been his calling card in the NBA ever since he was drafted. But is it enough to propel him into the Hall of Fame?
Consider the fact that Melo is a below average defender and isn't known to be a good passer or rebounder. Can someone really get into the Hall of Fame despite only really being good at one thing and not having any true team success for it?
All things considered Carmelo Anthony is a tremendously talented player with a scoring ability few can match. Unfortunately for him he has yet to take his team to the NBA Finals or secure a prestigious individual accolade. He has never placed on an All-NBA First Team, and he has never placed in the top five of MVP voting.
It is undeniable that Carmelo has Hall of Fame game and talent, but his inability to achieve true greatness will forever be a black mark on his resume unless he does something to change it.
With his talent and the talent around him at the Knicks, Carmelo Anthony is more than capable of winning an NBA Championship, a scoring title or an MVP award. Should he achieve any of those he will become a sure fire Hall of Famer. Til then, in my opinion, he is not.