Anderson Silva: Were His Ribs a Factor at UFC 117?
July 1, 2012

Chael Sonnen was too slow, too undeveloped as a striker and too one-dimensional to legitimately challenge Anderson Silva at UFC 117 in 2010. Silva's striking was devastatingly dynamic and would not allow the challenger to get into range to utilize his world-class wrestling.
Or so I thought.
In fact, Sonnen was the more effective striker and the champion had no answer for the former NCAA Division I wrestler.
Anderson Silva is the greatest fighter of all time. He is also one of the most dominant athletes of all time. There must be an explanation as to why Sonnen outclassed him. Rib injuries are terribly debilitating and hinder many angles of body movements. With a deeply bruised or fractured rib, any single movement can produce a sharp, stabbing pain that can cause shortness of breath and intense discomfort. 
This would definitely explain why the underdog was so successful for over 22 minutes.
In order to understand how differently the champion fought that night compared to his usual self, I analyzed the fight thoroughly on a round-by-round basis. Specifically, looking for instances of where Anderson was holding back or obviously unable to perform certain movements.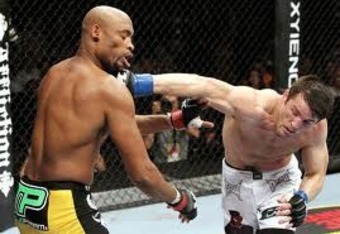 My goal is to understand how different the champ was that night as a result of his rib injury. What can UFC 148 Anderson Silva do that UFC 117 Silva could not?
Can the brash challenger's success at UFC be explained by the rib injury?
Round One
Pre-fight, the Spider inhales deeply and stretches with no visible repercussions from any strain on his ribs. As the show starts, he moves very well—and as per usual—is throwing punches and blocking kicks. He sprawls cleanly on the first shot attempt. He throws punches and a perfect low leg kick.
At 4:13, the champ gets caught with a straight left. He recovers and even attempts a throw and secures a takedown. Later, he is taken down and plays bottom very well. He recovers guard and is often actively using his legs in open guard to attempt to keep Sonnen at a distance.
There was nothing evident from this first stanza to demonstrate that any area of his arsenal was unable to be utilized.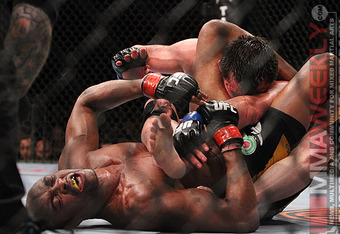 Round Two
The 29-4 (at the time) legend starts the round well by moving dexterously, throwing a hard low leg kick and gets caught trying what might have been an aborted flying knee. After being taken down, he has wrist and head control and even tries a few heel strikes to Sonnen's sides from closed guard.
Silva ttempted a few arm bars and had his feet on Sonnen's hips while rotating well. He transitions nicely from kimura to heel hook attempts all with excellent swift hips. While he could have been more actively trying to escape that could be explained by his fighting style.
In past fights, Silva has played bottom in the same fashion. Sonnen's top dominance or limited lateral strength due to his rib injury could also have explained why he was never able to escape from bottom. 
Round Three
Silva lights up Sonnen with an electric spinning back kick. It is executed perfectly and forcefully. There is no hesitance or lack of confidence in the striker. The fight quickly ends up on the ground with the American Gangster on top.
Silva takes heavy direct shots to his left ribs with no terrible reaction nor even a defensive game plan to protect his ribs. From the bottom, he applies a body triangle and is content to lay there with occasional movement and attacks with good hip movement.
Round Four
The man who now has a 15-fight win streak starts the fourth strong. The sensational striker is throwing perfect punches and kicks with heavy power. His attack is fast and furious. He utilizes kicks and various punches.
He looks very similar to himself in the Forrest Griffin fight, minus the head movement. He sprawls exceptionally well and stuffs Sonnen's takedown and gets on top. After being swept soon after, he spends the rest of the round on the bottom.
Silva tries a body triangle and attempts to play some butterfly guard briefly. He throws numerous elbows but mostly is content to sit in open guard.
Round Five
Anderson comes out and shows good footwork and head movement and avoids a takedown. He then falls over after throwing an unbalanced shot. While this may be the first obvious example that there may be something physically different from Silva tonight—because he has sublime balance and never just falls—this also could have been from fatigue as he was smothered and beaten for four rounds.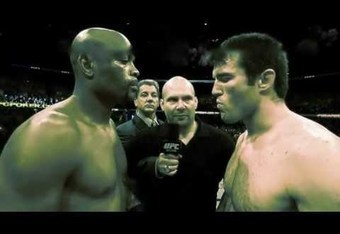 Sonnen again dominates from top position. Silva uses good hip movements and regains his guard when Sonnen obtains side control. With 2:04 remaining in the final round, Silva controlled the Oregon star's right hand and catches the challenger in the triangle that will haunt the American to his dying day.
This climatic submission requires explosive core power and hip thrust to close it out.
At the end of the fight, the Brazilian begins wincing and looking as if he was in great discomfort. He tells Joe Rogan: "desculpe nenhuma" (no excuses) and credits Sonnen for being a great fighter. He then follows that up with another statement. It is again prefaced with a declaration of no excuses...but...last week he hurt his rib.
It is difficult to find overt examples of how Andreson's rib was a detriment to his performance.
Travis Lutter and Dan Henderson, who have similar fight styles and backgrounds to Sonnen, each had their moments of success with the Brazilian as well. There were no rib injuries on those occasions. Lutter won the first round by eating shots to get in shot-range and scoring takedowns. He worked from closed-guard top position very similarly to Sonnen. Travis even mounted and was landing punches and then transitioned to an armbar that he could not procure. He was subsequently submitted in the next round.
Dan also won the first round by closing the distance with strikes and taking the champ down via body lock and scoring with strikes from half-guard, but he too was submitted in the second.
The way Anderson played bottom closed-guard in these fights did not differ much from the way he fought against Sonnen.
It is possible that he is capable of controlling his countenance and does not reveal the pain that he feels. This is essential for all great fighters. His ability to kick, punch, sprawl and hit submissions despite a fractured rib could be a testament to his ability to rise above pain and deliver.
These theories are more than plausible for one crowned the greatest fighter of all time. Only Anderson Silva really knows how badly his rib was injured but his actual fighting did not vary greatly as a result. He still was able to execute, more or less, his typical fight plan, but Sonnen executed his plan better.
The challenger's ability to find his striking range and land significant punches allowed him to hit his shots and obtain that dominant top position. Shooting from distance rarely works with Silva as he is too athletic. Demian Maia and Thales Leites can testify to that. Sonnen would land with serious punches, close the distance and then get in deep on his shots and secure the takedown.
The times when he shot without setting it up with a punch were easily stuffed. I suspect his ability to find his striking range gain will reveal if he has a chance to repeat his incredible, but losing, performance.
What will happen when one of the most anticipated rematches in MMA history unfolds July 7, 2012?
Odds are that the anomaly that perplexed the world two years ago will not be repeated. In addition to being undefeated in the UFC, the champ has been working on his wrestling with Mark Munoz. Munoz is a high level MMA fighter and holds a wrestling win over Sonnen from their college days.This may play an important factor in keeping the fight on its feet.
However, one should not surmise that there existed a dramatic difference between the performance of Silva in the first encounter and his other fights. We will all need to watch to see if Sonnen is the matchup nightmare for Silva or if the incredible footwork and fighting style of Silva will crush the spirit of the plodding wrestler.