8 Most Overpaid and Underpaid Detroit Lions Currently on the Roster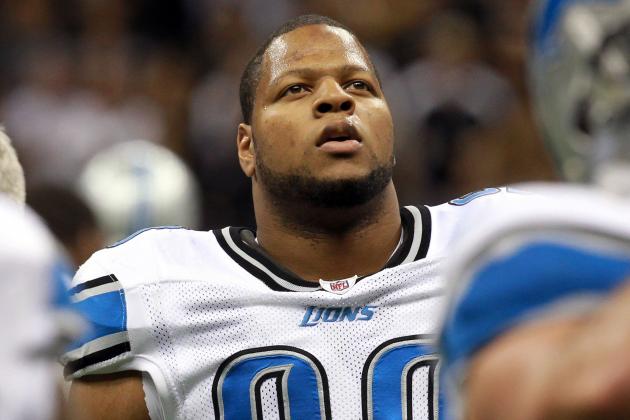 Ronald Martinez/Getty Images

The Detroit Lions are getting nice value from some of their players who are under contract, but they are dramatically overpaying a few as well. This is all relative, of course, as the amount of money that a player makes is tied to his performance.
Franchises find themselves in great shape if they can get good production from underpaid players. Teams can also suffer if they have to pay too much money to a player, especially if the production from the lesser-paid and the higher-paid players is similar. For NFL teams, it is a balancing act—whom to pay and how much.
The Lions are like most teams in the NFL in that they have a blend of players. Some of them seem to be more of a bargain than others, and some seem to be paid too much, in terms of what they provide to the team.
Let's take a look at the most underpaid and the most overpaid players currently on the Detroit Lions' roster.
Begin Slideshow

»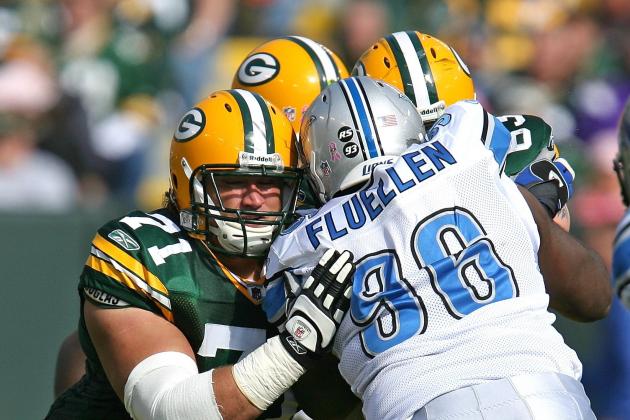 Jonathan Daniel/Getty Images

The Lions drafted Andre Fluellen in Round 3 of the 2008 NFL draft. He was originally signed to a three-year contract worth $1.662 million.
Fluellen became an unrestricted free agent in 2011, and was signed to a one-year contract worth $1.2 million. As an unrestricted free agent in 2012, the Lions signed him to a one-year deal for $700,000.
Detroit does not have a lot of money, past and present, tied up into Fluellen. He is making very little for the 2012 season, and as a rotational piece on the interior of the defense, he is important. The Lions need to get production from their depth players.
The Lions' scheme calls for pressure from their defensive line, as they generally don't use their linebackers or secondary players to blitz the quarterback. To keep the defensive line fresh, the Lions rotate players in and out, and they use a few players to make this happen.
Fluellen is one of the players that the Lions use to give defensive tackles Corey Williams and Ndamukong Suh a breather. It is important that there be very little drop-off in play when Fluellen is in the game, and he has done a nice job in the past.
If Fluellen can play well in 2012, he is an incredible value from a financial standpoint.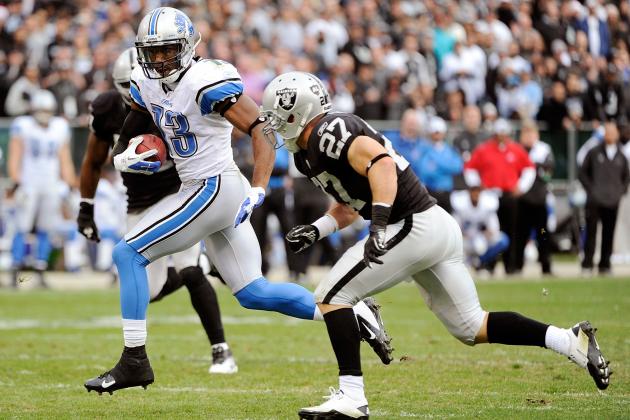 Thearon W. Henderson/Getty Images

Detroit signed Nate Burleson to a five-year, $25 million contract in the 2010 free-agency period.
Originally drafted by the Minnesota Vikings in Round 3 of the 2003 NFL draft, Burleson made $1.493 million over three years. Then, in 2006, the Seattle Seahawks signed him to a four-year, $14.5 million contract as a free agent.
The Lions made a big investment in Burleson, and he was a very valuable part of turning this franchise around. They had very little talent at the position in 2010, and Burleson was a huge upgrade.
Three years later, and the Lions are in a much different position. They have wide receivers that can make plays on the current roster, and it only seems like a matter time before Burleson gets surpassed by the younger players, which is already starting to happen.
Receivers Titus Young and rookie Ryan Broyles are talented, as they are very much the future at the position in Detroit. The Lions are paying a significant chunk of money to Burleson, and it is too much to be paying to a player who has teammates that are better than him on the depth chart.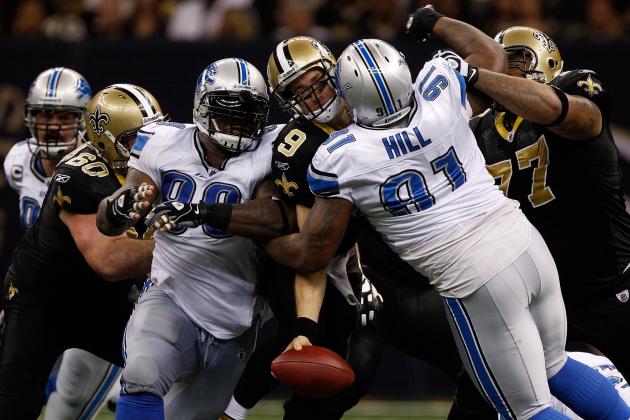 Chris Graythen/Getty Images

The Lions selected Sammie Lee Hill in Round 4 of the 2009 NFL draft and signed him to a three-year contract worth $1.185 million. He became a restricted free agent after the 2011 season, and the Lions signed him to a one-year deal worth $1.2 million. He is set to become an unrestricted free agent in 2013.
Hill is another rotational piece along the interior of the Lions' defensive line. He is a very solid defensive tackle, and a player that does a lot of productive things with very limited playing time.

A big body and a player that is difficult to move away from the line of scrimmage, Hill is stout against the run and will command the occasional double-team. He is a very good depth player for the Lions.
The Lions do not have a lot of resources tied up into Hill. The Lions are in really nice shape if they get good production from him, and there is no reason to think that he is going to take a step backwards.
Hill is one of the better values on this team, and with a good year, he might be an attractive option to many teams in the 2013 free-agency period.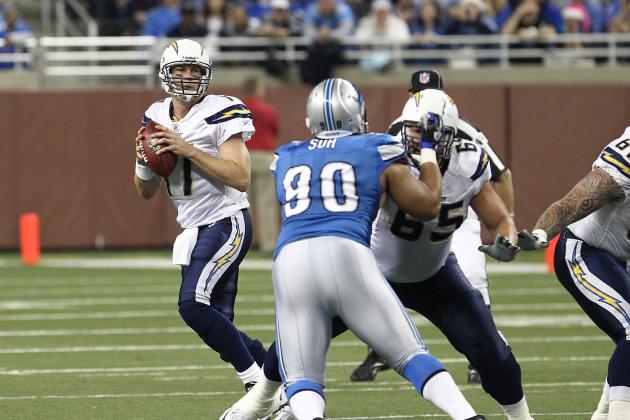 Dave Reginek/Getty Images

In the 2010 NFL draft, Detroit selected Ndamukong Suh with the No. 2 overall pick. His contract is for five years and is worth $60 million. Clearly, tt is an understatement to declare that the Lions have a lot invested in Suh.
Suh has all-world ability, and literally blew up the league as a rookie in 2010. Teams had no idea how to stop him and no idea how dangerous he could be. He got pressure on the quarterback and routinely commanded double-teams. A physical force as a rookie in the NFL, Suh finished with 66 total tackles and 10 sacks.
It might come as a surprise for some to see Suh's name on the list of overpaid players. He is the highest-paid defensive tackle in the NFL, and when his production slipped in 2011, he became a highly overpaid player.
In his second season, Suh crashed back to earth. He registered 36 total tackles and four sacks. He had trouble getting pressure, and he looked very frustrated at times. He also got suspended for two games for stomping the arm of an opponent.

If Suh can get back to his rookie level of play, and if he can affect the game the way he did as a rookie, then he won't be overpaid. It's all up to Suh, but $12 million for what we saw in 2011 is too much money, as the play did not merit the cash.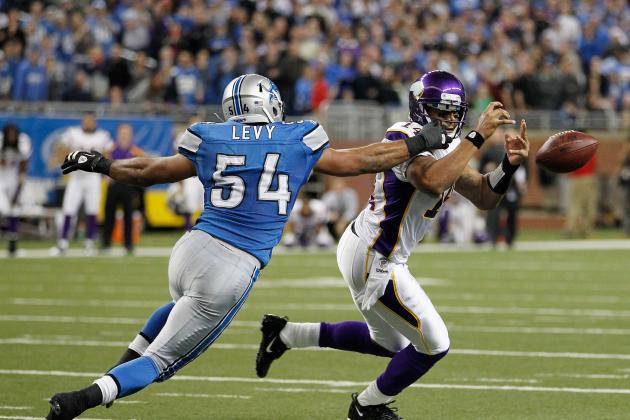 Gregory Shamus/Getty Images

The Lions selected DeAndre Levy in Round 3 of the 2009 NFL draft and signed him to a three-year deal worth $1.8057 million. Levy was a restricted free agent in 2012, and the Lions signed him to a one-year, $1.93 million deal.
Levy is a starting outside linebacker for the Lions. He finished with 109 total tackles and one sack in 2011. He was a very productive player, and to get that level of production from a starting player that makes as little as Levy does is a relative steal.
Levy plays a big role in the "Wide 9" defensive scheme, as he needs to use his ability to run players down from behind. There is a lot of room from where one of the defensive ends lines up all the way to the other defensive end. When the ball is snapped, the defensive ends push up the field, exposing a lot of area to be covered.
Levy and the other linebackers are responsible for covering this ground. They have to be sure tacklers as well, because a missed tackle in this area can lead to a huge play against the defense. To this point in his career, Levy has been a solid football player, and a very reliable teammate.
If Levy has another season like he did in 2011, he will be a great value for the Lions. The amount of money they pay him is so little in comparison to the other weak- and strong-side linebackers in the NFL. He is a nice value based on his production.
If he can continue to play well in 2012, he should be in store for a big payday when he becomes an unrestricted free agent in 2013. Until then, Levy will continue to be a bargain for Detroit as an unheralded star.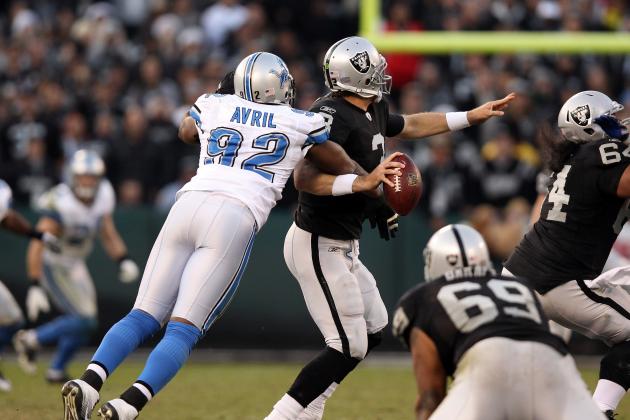 Ezra Shaw/Getty Images

In the 2008 NFL draft, the Lions drafted Cliff Avril in Round 3. The two sides agreed to a three-year contract worth $1.634 million.
When Avril became a restricted free agent in 2011, the Lions signed him to a one-year deal worth $2.61 million. Then, in the 2012 offseason, the Lions gave him the franchise tag, agreeing to pay him $10.6 million for one year.
Avril and the Lions are currently working on trying to get a long-term deal done before the July 16 deadline. There is no telling how close—or far—they are in their negotiations.
This much, though, is true: Avril is looking for a contract similar to the contract that defensive end Charles Johnson received after the 2011 lockout, which was six years for $72 million, including a $30 million signing bonus (NFL Draft Scout).

Avril has outperformed Johnson, and he wants to be fairly compensated. The Lions can't afford to pay Avril maximum money at the position, not with Matt Stafford, Ndamukong Suh and Calvin Johnson receiving maximum position money already.
It is entirely possible that Avril is a product of the Lions' system, and that any defensive end would be productive playing next to the tackles that the Lions have.
With talk of a holdout looming per Pro Football Talk, we might actually get this answer in 2012. Players like Willie Young and Lawrence Jackson are ready to prove themselves in the event of an Avril holdout.
Avril has been a very productive football player to this point in his career. Even in 2011, he was an incredible value for the Lions, as he made $2.61 million. If that number goes to $10-$12 million in 2012 and Avril gives the Lions the same production he gave them in 2011, he will become a massively overpaid player.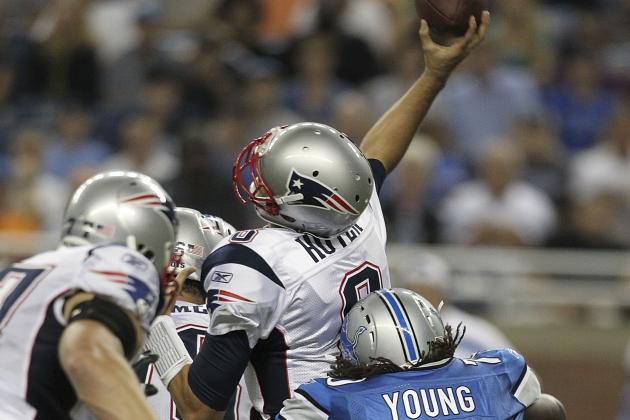 Leon Halip/Getty Images

Willie Young is in the third year of his rookie contract. The Lions drafted him in Round 7 of the 2010 NFL draft and signed him to a three-year deal worth $1.263 million. He will be a restricted free agent after the 2012 NFL season.
Young has shown flashes of greatness in very limited time. He can get to the quarterback and has been named one of Pro Football Focus' Secret Superstars. It speaks of Young's play, although limited, and just how good it has been.
If the Cliff Avril holdout happens, and it goes into the 2012 season, Young is the most likely player to emerge to replace Avril's production. If Young can continue to put up good numbers, and do it while playing a lot more, the Lions will have struck gold.
Getting this kind of production from a player on a rookie level contract is huge. Young is going to make $506,000 for the 2012 NFL season. If he can be a productive player, he just might be the league's most valuable player from a financial perspective.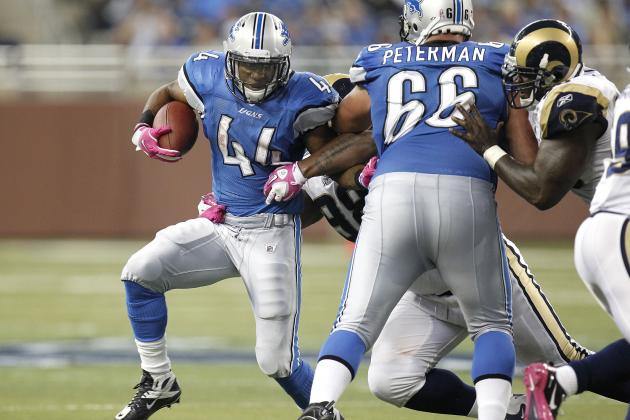 Gregory Shamus/Getty Images

Originally selected by the Dallas Cowboys in Round 4 of the 2004 NFL draft, Stephen Peterman played for the Cowboys for two years, and was released in August of 2006.
The Lions signed him to their practice squad that year. Later, in 2008, the two sides agreed to a five-year, $15 million contract. Peterman will be an unrestricted free agent after the 2013 season.
Peterman has been a disappointment and is the weak link on the Lions' offensive line. False start and holding penalties have been particularly problematic for him.
He struggles at times, and those struggles really impact the Lions' offensive line. Week in and week out, Peterman draws the ire of fans all across the Detroit area.
It is tough to watch a player who is overpaid, especially when he is really not playing well. Peterman is a constant problem, and the right side of the line struggles because of Peterman's inconsistency. Offensive linemen rarely want their names called; they want to play in anonymity.
Peterman makes $3 million per year, and that seems to be excessive. He is the 11th-highest paid guard in the NFL. The problem is that Peterman is not the 11th-best guard in the NFL. Not even close.
Peterman is way overpaid for what he brings to the team. He is not a very productive guard, and is a player that costs far too much.