Why Clint Dempsey Can Become US's Best Player of All Time
July 1, 2012

Gregory Shamus/Getty Images
Clint Dempsey vs. Landon Donovan.
Recently, the debate over America's best player has narrowed down to these two massive stars. Guys like Claudio Reyna, Eric Wynalda and Brian McBride used to be involved in the conversation, but they've since been left behind, and both Dempsey and Donovan have improved to a level of their own.
Now, the debate over who the US's best player of all time has effectively boiled down to: "Who is better, Donovan or Dempsey?"
Both players may be around the same age as each other—Dempsey is about a year younger than Donovan—and may play roughly the same position—they both excel in a second striker or deep-lying forward-esque position—but they've taken very different paths to get to where they are today.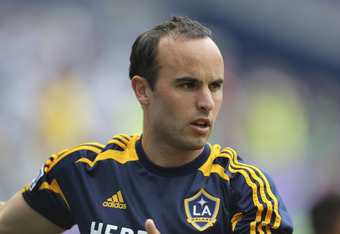 Ed Zurga/Getty Images
Donovan has spent the majority of his career being America's golden boy in the soccer world. He may have struggled to get playing time with Bayer Leverkusen early in his career, but he quickly established himself as a top goalscorer with the San Jose Earthquakes, and never really looked back.
Soon, the individual awards began to pour in, and as they did Donovan's stock only continued to rise. He became a regular with the USMNT, moved to the MLS's biggest franchise, the Los Angeles Galaxy, and continued to dominate the league.
Dempsey's road to glory wasn't quite so easy. He grew up playing soccer in Texas, a state where soccer isn't a highly appreciated sport, and almost had his career come to a premature end when his family couldn't afford to continue supporting his club football. 
Even after that, he wasn't enrolled in the elite IMG Soccer Academy like Donovan; he went to college, and thus did not start his professional career until the relatively late age of 21. 
Once he was drafted into the MLS though, like Donovan, his talent quickly shone. He was named Rookie of the Year with the New England Revolution, and completed three great years with the club before Fulham offered $4 million for his rights. From there, success didn't come immediately, but Dempsey continued to develop until he became the star he is today.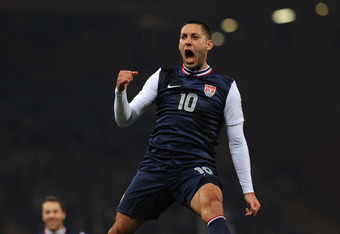 Valerio Pennicino/Getty Images
The different career paths of the two players is reflected in their international careers. Both have been fantastic for the USMNT, but Donovan's massive 143 caps and 49 goals clearly dwarf Dempsey's 87 caps and 27 goals. 
While many of Donovan's international goals have been penalties, there's no denying the quality he has shown to continuously make big-game play after big-game play for his country. Who can forget his goal in the Confederations' Cup final against Brazil in 2009, or his last-gasp match-winning goal vs Algeria in 2010.
Other international career highlights include his four-goal salvo against Cuba in the 2003 Gold Cup, and his recent hat-trick vs Scotland.
Dempsey, despite becoming a regular for the USMNT roughly three years after Donovan, has also contributed much in his time with the national team. His super-clutch 2009 Confederation Cup goals against Egypt, Spain and Brazil, along with his equalizer against England at the 2010 World Cup, are goals that will forever elevate him to the status of USMNT legend.
More recently, his 1-0 winner over Italy, though unremarkable in its nature, gave the USMNT its first ever win over the Azzurri, who won their last 10 matches against the USMNT dating back to 1934.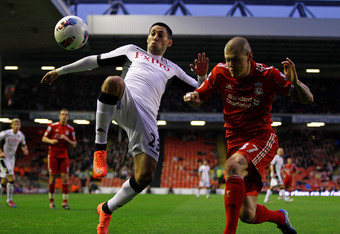 Clive Brunskill/Getty Images
If we're debating the title of "USMNT's Best Player of All Time," Donovan's massive number of caps, goals and prominent position on the team practically ensures that he's got the title wrapped up against Dempsey.
Unless Dempsey single-handedly guides the USMNT to the semifinals of a World Cup, with little help from Donovan, he has little hope of knocking Donovan off his perch as the top USMNT legend.
But if we're debating the title of "US's Best Player of All Time," well that one's still wide open. In fact, you could say that Dempsey's got the edge right now. 
Donovan has had an excellent career, and continues to excel with the Los Angeles Galaxy. But as a 30-year-old, he's effectively brought an end to his European career prospects; a bit of a shame considering how well he could've done abroad.
At this point, Donovan is probably limited to making himself available for short loan spells abroad with the likes of Everton, and finishing his career with the L.A. Galaxy.
Meanwhile, Dempsey has already done things Donovan has only dreamt of doing. Up until 2009-10, you could say that Dempsey had been a moderate success with Fulham, but since that season he has really proven himself to be an elite player, even by EPL standards.
Now, Dempsey is the subject of transfer rumors linking him with Liverpool, and if he can make the move to Anfield and be even moderately successful with the club, he'll blow every domestic achievement Donovan has ever recorded out of the water.
Arguably, he already has, after being voted the fourth-best player of the EPL last season and recording 17 EPL goals, but silverware and/or success with one of the world's elite clubs would be an achievement that no one could really dispute.
Right now, the ball is in Dempsey's hands, or rather at his feet. Donovan is likely to keep doing what he does; he'll excel in the MLS, keep challenging for domestic titles and chase short-term loan opportunities as they arise, to keep himself competitive and fit for the USMNT.
But Dempsey will begin the process of defining his career in the coming summer weeks. Next season, at Liverpool, he could become a successful winger for one of the EPL's most storied clubs, or he could remain at Fulham and build on his already highly-impressive work.
Alternatively, he could move to Liverpool and flop, or even stay with Fulham and flop. This might open the opportunity for Donovan to move back in the lead of the race for the US's best player, especially if he puts in favorable international performances.
For now, Dempsey's got my vote as the US's best player of all time, based on his clutch international performances and his unmatched club resume. We'll see next season if he can stay in front of Donovan, or if he'll fall back to being No. 2 to Donovan.