NBA Draft 2012 Grades: Full Report Card for Every Lottery Team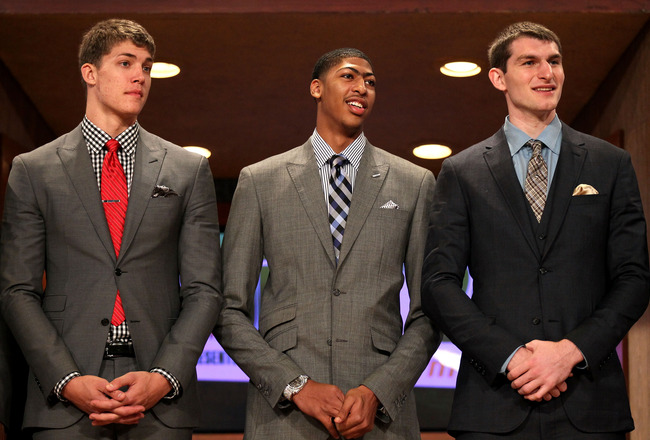 Elsa/Getty Images
Each team that selected in the lottery range in the draft on Thursday—from the New Orleans Hornets to the Houston Rockets—had a chance to make key improvements with its picks. Some teams made sound picks that put them on the track to rebuilding or simply closer to making the playoffs in the near future.
The Hornets were among those teams that made good picks to revamp their roster. The picks of Anthony Davis and Austin Rivers could bring the team a long way over the next couple years.
A few other teams made excellent picks to improve their squads.
The following is a set of report cards for teams that picked in the top 14 of the draft. Teams that didn't make the playoffs this year and didn't pick in the top 14 of the first round—the Minnesota Timberwolves and Utah Jazz—do not receive report cards because they would be incomplete since they didn't have first-round picks.
New Orleans Hornets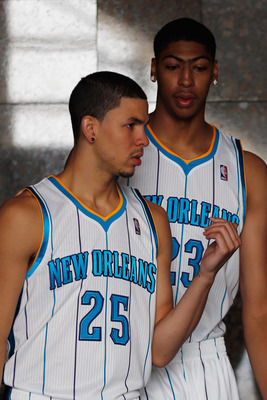 Chris Graythen/Getty Images
Grade: A+
The Hornets couldn't have done better in the draft. They started out by drafting the shoo-in No. 1 pick, Anthony Davis, in that spot. Davis will take time to develop, and he'll have to build muscle and develop a postgame. Still, he should become an excellent defensive player with a nice offensive game.
Austin Rivers is an absolute blessing for the Hornets. Rivers is a supremely talented offensive player who can create for himself in many different ways. He'll certainly be an immediate impact player for a Hornets team that was next to last in scoring average in 2011-12.
Their second-round pick, Darius Miller, could turn out to be a nice contributor off the bench. Miller, a teammate of Davis' at Kentucky, is a good outside shooter and could bring much-needed three-point shooting to a Hornets team that took the fewest three-point shots in the league.
Charlotte Bobcats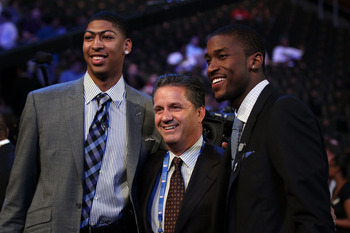 Elsa/Getty Images
Grade: A-
Michael Kidd-Gilchrist brings grown-up attitude to a Charlotte Bobcats team that played like directionless children in 2011-12. Kidd-Gilchrist is a good all-around player who hits his shots, plays excellent defense and does all the little things on offense and defense that can make his teammates better.
MKG might not bring the offense that Thomas Robinson might have brought to the Bobcats, but he'll be a good contributor on that end.
In the second round, the Bobcats did very well by taking Jeff Taylor from Vanderbilt. Taylor is a sharpshooter who would bring a good amount of scoring in whatever role he ends up playing.
Washington Wizards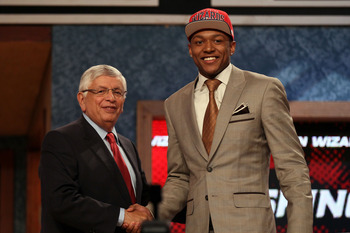 Elsa/Getty Images
Grade: A-
The Washington Wizards snatched a star scorer for the future in Bradley Beal. Beal didn't do as well as he could have in his year at Florida. He shot 54 percent from two-point range, but hit just 34 percent from three-point range. That means he'll have to work especially hard to make his fine three-point stroke work in the pros.
Still, he should be able to blossom into a strong scorer. If it ends up meaning he has to take fewer three-point shots, that could work out for him. He'd remain a dangerous scorer.
The Wizards' grade went down a bit when they took Tomas Satoransky, a Czech guard who plays in Spain. Satoransky has an underdeveloped game and averaged 4.8 points per game last season. He still has to develop his shooting ability.
Wizards president Ernie Grunfeld told the Washington Post that Satoransky will stay in Europe for a few years to build his game. Hopefully for the Wizards, the 20-year-old does develop his game and joins the team on schedule. An early second-round pick shouldn't be wasted on a player who doesn't end up making it.
Cleveland Cavaliers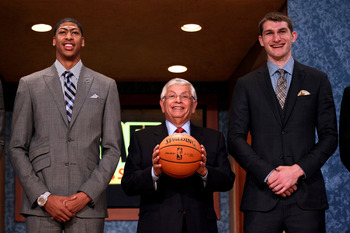 Elsa/Getty Images
Grade: B+
Someone needs to explain to me the efficacy of drafting someone fourth overall who played 24 minutes per game and was his team's sixth man. That's what the Cleveland Cavaliers did by drafting Dion Waiters.
Waiters had impressive numbers in in the 2011-12 season. He averaged 12.6 points per game on 47.6 percent shooting. However, he struggled against tougher opponents. Waiters shot 27.5 percent in the regular season against teams that finished in the Top 25. Also, he went 4-of-14 in a January 21 loss to Notre Dame.
Waiters is a superior defender. He's a lockdown on-ball defender, averaging 1.8 steals per game. His strength and aggression make him difficult to beat one-on-one.
The Cavaliers redeemed themselves by trading up from the No. 24 spot to the Dallas Mavericks' No. 17 for the rights to Tyler Zeller, while also sending Dallas their two second-round picks. Zeller is the perfect pick to grow into Anderson Varejao's center role.
Varejao has been plagued with injuries the past two years, and Zeller should quickly take over the starting job. Zeller will provide the scoring and athleticism that Varejao can't. He'll also give the Cavaliers the inside scoring they lose with the departure of Antawn Jamison.
Sacramento Kings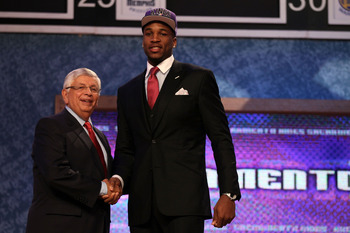 Elsa/Getty Images
Grade: A+
The Sacramento Kings found the player to complete the puzzle for their roster. Thomas Robinson is as ready as any draftee to make an immediate impact. His physique is more mature than that of any other draftee.
Robinson has unquestionable rebounding ability. His strength and length will give him a huge edge on the boards.
Robinson has to grow on offense, but if he can develop his postgame by even a small degree, he'll be better than current starting power forward Jason Thompson.
With Robinson, DeMarcus Cousins, Marcus Thornton, Travis Outlaw and Isaiah Thomas in the lineup with Tyreke Evans and Thompson coming off the bench, the Kings look like a playoff contender.
That the Kings dealt their second-round pick to the Indiana Pacers isn't a big deal since the Kings may not have drafted a significant player at the No. 36 spot.
Portland Trail Blazers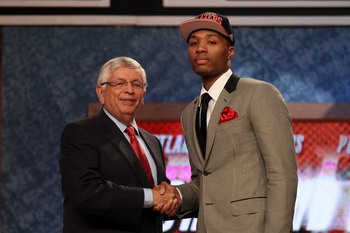 Elsa/Getty Images
Grade: A+
The Portland Trail Blazers drafted the exact players they needed. Damian Lillard is a scoring point guard who should fit the Blazers well. He'll push the pace for a team that was middling, at best, offensively in 2011-12. Of course, he'll also provide much-needed scoring for a Trail Blazers team that was No. 16 in scoring average last season.
The pick of Meyers Leonard serves to fill a gaping hole that was left when the Trail Blazers traded Marcus Camby to the Rockets. Leonard has unique physical tools. He was one of the biggest players in the draft and one of the two or three most athletic big men in the draft as well.
On offense, Leonard relies mostly on a hook shot. He also plays well off the pick-and-roll. On the boards, he usually won his battles, although he often lost out against superior rebounders.
It's hard to tell just how well his shooting and rebounding abilities will play out in the pros, but he should at least be a decent center in the NBA.
In the second round, the Blazers caught a sleeper in Will Barton. The Memphis product has a fine ability to drive to the hole and score, and he does a good job of drawing fouls on drives. Barton will also serve as a good defensive aide off the bench.
Golden State Warriors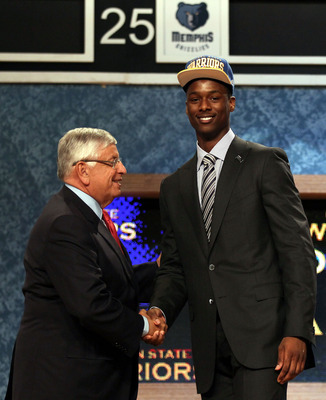 Elsa/Getty Images
Grade: B
The Golden State Warriors picked up a pretty good scorer for the future in Harrison Barnes. Barnes is a fairly confident and effective shooter. He prefers perimeter shots to driving to the basket, which will help spacing for a Warriors team that tends to see players attack the basket more than they take outside shots.
Barnes won't turn into a premier scorer, and he's fortunate to land on a Warriors team that is bursting at the seams with shooters. With the cast of scorers around him, like David Lee, Klay Thompson and Stephen Curry, Barnes won't face undo pressure to carry a high-scoring load.
The Warriors made a nice pick in the second round by adding Draymond Green. Green has a good jump shot. Whether he can rebound or defend is yet to be seen, but he has his shooting ability going for him.
Toronto Raptors
Elsa/Getty Images
Grade: D+
The Toronto Raptors squandered an opportunity to make a big pick, and instead made an average one at No. 8. Terrence Ross is a decent prospect, but won't turn out to be as potent a scorer as Austin Rivers, who was available at the time.
Whereas Rivers is a dynamic offensive player all around, Ross is relatively tame and mainly shoots outside jumpers. Whereas Rivers is creative, Ross is mechanical.
If the Raptors really wanted Ross, they could have traded down six to eight spots, where he was projected.
The Raptors' second-round picks, Quincy Acy and Tomislav Zubcic, have no discernible professional qualities, rendering them useless picks.
Detroit Pistons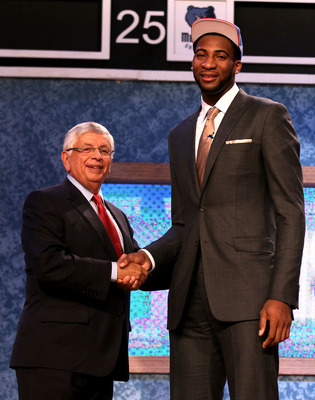 Elsa/Getty Images
Grade: C
Andre Drummond had already dropped at least four spots beyond where he was expected to go when the Detroit Pistons took him at No. 9. As far as need goes, the Pistons probably filled a bigger hole than anywhere else in the lineup.
Still, Drummond is anything but an exciting pick. He's big, strong and capable of being a terror on both ends, but doesn't use his strength well. He plays less physical than he's capable of playing.
The Pistons' second-round picks aren't much to talk about. Khris Middleton's shortcomings as a catch-and-shoot guy and an isolation threat could lead him to embarrass himself in the NBA. Kim English is a very limited player as a spot-up shooter and not much else.
Houston Rockets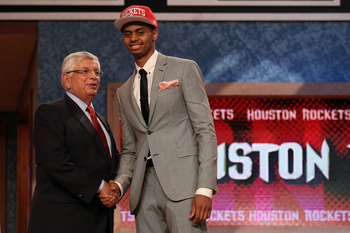 Elsa/Getty Images
Grade: C
Three words sum up this response to the Rockets' draft: thanks for trying.
The Rockets traded up for Milwaukee Bucks' No. 12 pick and acquired the No. 18 pick from the Minnesota Timberwolves in an attempt to swing those picks for a higher pick, per the Houston Chronicle.
But nothing materialized and the Rockets were stuck looking like fools with three mid-first-round picks to use on average to above-average prospects. Jeremy Lamb might turn into a good scorer, but he didn't show much promise in his last season at Connecticut. He was inconsistent on offense and didn't select shots well.
Royce White is quite talented, but he's also out of shape.
Terrence Jones is a big, strong, long power forward who needs someone to help him keep his head on straight.
The Rockets have simply too many question marks with the players they drafted to say they found the players needed to get them over the hump and into playoffs.
Milwaukee Bucks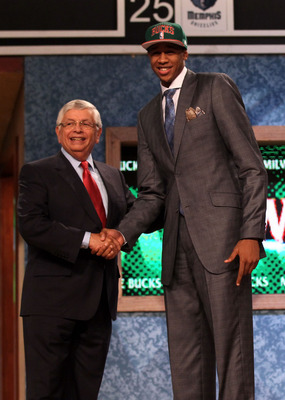 Elsa/Getty Images
Grade: B
The Bucks received a bonus by trading down and getting Samuel Dalembert, along with the No. 14 pick. Dalembert is just the defender that Scott Skiles craves, although the weathered coach probably doesn't want to deal with the episodes that Dalembert had with the Rockets in 2011-12.
John Henson was probably the best player the Bucks could have drafted at No. 14. He's underdeveloped physically, but has shown himself to be a potentially dangerous offensive player. He could become a dynamic scorer for the Bucks.
Doron Lamb was a solid second-round pick. Lamb is a good scorer who can hit three-pointers and drive to the basket. His ability to connect at point-blank range is questionable, but he's smart enough to figure out when he can utilize his driving capability.
Phoenix Suns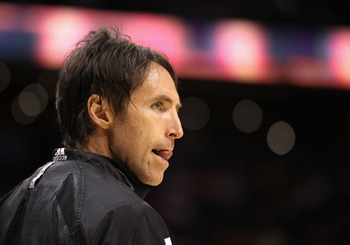 Christian Petersen/Getty Images
Grade: B+
That sound you hear is Steve Nash packing his belongings in preparation for his impending move to his next basketball destination. Nash told ESPN that the Suns seem to be headed into future without him. While it's unclear whether he said that with the pick of Kendall Marshall in mind, it didn't increase the likelihood of him returning.
The pick of Marshall seems like the beginning of the franchise's preparation for the post-Nash era. Marshall is a pure passing point guard. He isn't much of a shooter at all. He has strong passing skills, although he sometimes makes risky passes.
If he tightens up his fundamentals, Marshall could be on his way to becoming a fantastic replacement for Nash.
That's a purely conditional statement. Marshall has great potential to be a star point man, and the Suns will surely be betting hard that his talent pans out.
Keep Reading