Pitt Football: 3 Recruits Who Must Step Up This Year
Chad Voytik needs to step up. Photo from greenvilleonline.com submitted by Chad Voytik
With yet another coaching change for Pitt, it means a little more rebuilding is on the way. The new coaching staff is likely to try some of their recruits as they try to convert to a much different system than a year ago.
This article takes a look at the three recruits Pitt needs to step up into significant roles early on in their careers. Top offensive lineman recruit Adam Bisnowaty was not considered because he is likely to redshirt after an offseason surgery.
Begin Slideshow

»
Chad Voytik needs to earn the backup job to gain experience for the future.
Quarterback has been a source of frustration for Panthers fans ever since Tyler Palko graduated. In fact, since then Pitt has only had one solid year from the position, when Bill Stull had a big senior year. The program has used Stull, Kevan Smith (who left the team to play baseball), Pat Bostick (who left the team to be an announcer), Tino Sunseri and Trey Anderson (a true freshman walk-on last year) under center.
To get Pitt back to the glory days, Paul Chryst needs to find a consistent quarterback. The Panthers don't need a Russell Wilson, but someone who could be consistently effective. Tino Sunseri will be the starter this year due to his experience and the lack of experience from the competition. However, the program needs someone to step up as the backup.
Pitt needs that guy to be Chad Voytik, a 4-star recruit from Tennessee. Sunseri is a senior and has just one more year left so getting Voytik playing time, even as the backup, will be important for the program going forward if they believe that he is the future. Voytik, a U.S. Army All-American from last year, may not have the arm strength of Mark Myers or the leadership of Sunseri yet, but he has the tools to eventually lead the Panthers.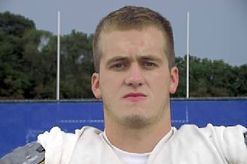 JP Holtz is a well-rounded tight end. Photo from post-gazette.com
In his time at Wisconsin, Paul Chryst liked to use his tight ends as weapons in the passing game. The Badgers consistently produced some of the better pass-catching tight ends in the country year after year. Chryst will try to do the same thing at Pitt.
Obviously Hubie Graham is going to be the top guy, but after Graham there are some questions. Sophomore Drew Carswell isn't a great blocker, and though he can catch the ball and make plays, Paul Chryst may want a better blocker. Brendan Carozzoni hasn't done much to date and may not be much of a pass catcher.
This could leave the door open a bit for 4-star recruit J.P. Holtz. Holtz is already 6'4", 230 lbs, so he comes in at a good size. He moves well for a bigger guy, which is why some schools wanted him as a defensive end, but he's also a solid blocker. Holtz has the ability to be a well-rounded tight end that fits perfectly into the system.
It would make sense to work Holtz into the rotation, since the Panthers will likely use plenty two-tight end sets. After Hubie Graham, Holtz may have the best combination of receiving and blocking skills of the group.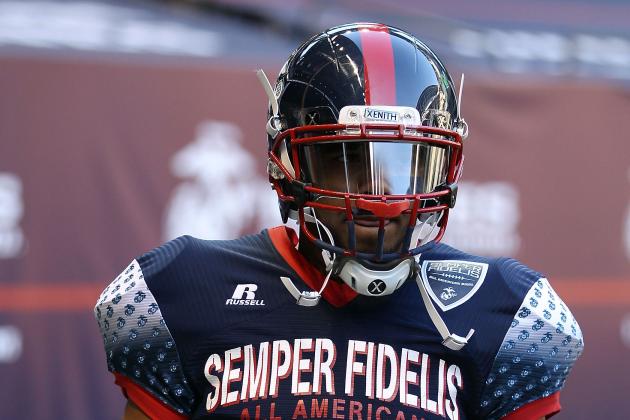 Christian Petersen/Getty Images
Pitt needs Rushel Shell to step up as a freshman.
On paper the Panthers have a deep unit at running back. Ray Graham is a potential All-American, Isaac Bennett showed promise as a freshman and then had a big spring and Malcolm Crockett is a talented redshirt freshman. However, that doesn't tell the whole story.
Graham is coming off of a major knee injury that ended his 2011 season early. That means that he may not be the same player in his first year back, assuming he is even at 100 percent. Even if he is healthy, he will need someone else to step up to split the carries in a run-heavy offense just to keep him fresh.
The question is who is going to share the carries. While Bennett showed promise last year and had a big spring, he has to prove in the summer that he wasn't just a spring superstar. Crockett has promise as well, but he is yet to take a live snap in a game. So that means that Pitt could need to look elsewhere for help.
They likely won't need to look further than at Rushel Shell. The local 5-star recruit who turned down the likes of Alabama and Ohio State to stay home after a record-setting high school career has the combination of size, speed and power that could make him the next superstar back for a school quickly gaining a reputation for producing talented backs.