2012 Olympic Swimming Trials: Did Ryan Lochte Take on Too Many Events?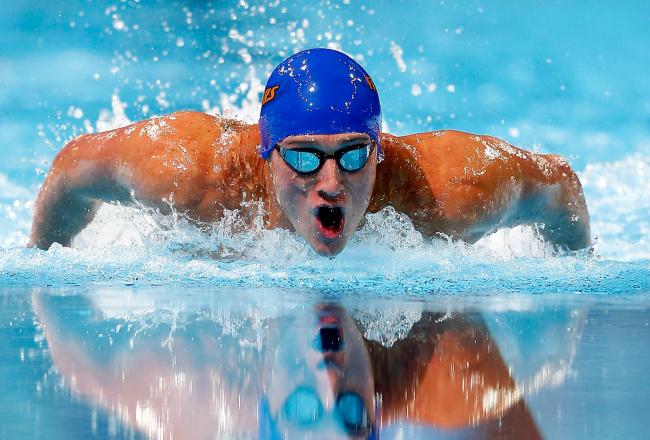 Jamie Squire/Getty Images
Ryan Lochte's bid to keep up with Michael Phelps at the 2012 U.S. Olympic Swimming Trials may have exhausted him to the point of not being able to swim. After he gingerly got out of the pool after the men's 100-meter butterfly semifinals, he told NBC's Andrea Kremer that he wasn't feeling 100 percent:
After third swim of the night, @ryanlochte tells @andrea_kremer "I don't feel so hot." TBD on whether he'll swim 100m fly final.

— NBCOlympics (@NBCOlympics) July 1, 2012
Despite having already dropped the 100-meter backstroke to focus on the 200-meter freestyle, Lochte has taken on an immense workload at the trials, culminating in a three-swim night on Saturday.
All within an hour, Lochte swam in the 200 back final, 200 individual medley final and 100 free semifinal. Before this year, a night like that had never been attempted.
World-class athlete or not, it's not hard to see why Lochte didn't want to be in the water anymore after that last race.
After that 100 fly and his unprecedented triple, an exhausted @ryanlochte asked to sit before retreating to the warm down area.

— Wayne Drehs (@espnWD) July 1, 2012
If he decides not to swim the 100 fly final tomorrow, Lochte will still be on the books for four individual events in London: 400 IM, 200 IM, 200 free and 200 back. Add in any relays he may do, and he's looking at a minimum of five events.
Perhaps it's time for Lochte to take a step back.
Before the 2012 Games, he has been so concerned with having a leg up on Phelps in their rivalry that he has forgotten to swim for himself, not for Phelps or the rest of the world. It's finally caught up to him.
On the other hand, Lochte will see exhaustion as a temporary side effect; a natural risk in scaling the mountain he is attempting to scale. His initial comments to Kremer were made right after his third race in an hour.
He may very well wake up tomorrow morning and decide he was being silly. After all, just one race tomorrow will seem easy after the ordeal he endured tonight.
Lochte could also use this as a mental test. If he can push through one more race tomorrow, it would help him greatly in his physical and mental preparation for the Olympics.
These trials could mark another point of growing up on Lochte's journey to being better than Phelps.
This article is
What is the duplicate article?
Why is this article offensive?
Where is this article plagiarized from?
Why is this article poorly edited?