San Francisco Giants: Mat Latos Has the Giants Seeing Red, Again
July 1, 2012

Tony Medina/Getty Images
In a week that started with four straight dominate performances by San Francisco Giants starters, the tables have turned over the past two days. Nearly getting shut out by Mike Leake (3-5) in a complete game effort last night, Mat Latos (7-2) echoed his performance, allowing only one run as the Cincinnati Reds beat the Giants 2-1.
Latos, formerly of the division rival San Diego Padres, has had quite a bit of success pitching against the Giants in the past. Earlier this year, on April 24th in Cincinnati, Latos went seven scoreless innings against the Giants as the Reds won the game 9-2.
Saturday's win was Latos's seventh win of the season, allowing only two hits, a one-out double in the third to Brandon Crawford and a one-out triple in the ninth inning to Brandon Belt.
Belt would score on Gregor Blanco's ground out to short, putting the Giants within one run of tying the game, but it never felt that close. The next hitter was Ryan Theriot, and with two outs, Theriot left the bat on his shoulder as he watched the called third strike sail across the plate.
With the win, Latos improved to 4-3 in 11 games lifetime against the Giants with a 2.19 ERA. At AT&T Park, his ERA is even lower at 1.67 over six games.
Barry Zito (6-6) ended up losing the game, but he pitched well. Allowing only one run over six innings, Zito pitched himself in and out of jams all day. In the fourth inning, Zito surrendered his only run, when, with two outs and a runner on first base, he walked three straight.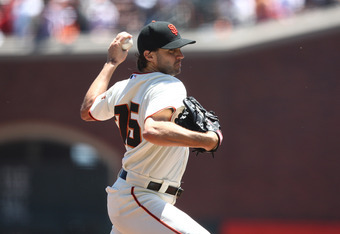 Tony Medina/Getty Images
Zito hadn't issued a free pass in the first three frames, and then suddenly couldn't find the strike zone.
When asked after the game about why the sudden loss of control, Bochy remarked, "occasionally he does that, I thought he was pitching smart though, he wasn't giving in. At times when he would get into a jam, other than the bases loaded walk, I think he probably got a little quick there with men on base when he was in the stretch."
Bruce Bochy commenting further about the overall outing he received from his pitcher was very positive.
"It was a good effort, he got off a couple innings and was battling himself and his command, but to go six innings and give up just one run, that's a great job."
Coming off seven scoreless innings against the Dodgers on Monday, the first of four consecutive shutouts pitched by the Giants staff, Zito pitched well enough to win but didn't get any run support. It was a case of the other guy was just better, and Bochy had much to say about Latos after the game.
"He had command of all his pitches, threw a lot of strikes, and used all of them (pitches). We knew what we were going into, but when a good pitcher's on top of his game you do all you can to compete and try and get some runs, but we just had a tough time today."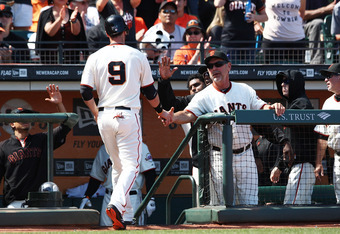 Tony Medina/Getty Images
Zito echoed Bochy's comments when asked about Latos, "he was definitely pounding the strike zone more than we're used to seeing. He had his good rhythm out there the whole time, we couldn't really get to him except in the ninth a little bit."
Zito finished by saying, "you just got tip your cap to him, go out tomorrow and try and split a series."
The Giants wrap up the series and their seven-game home stand tomorrow at 1:05 p.m. To salvage Game 4 and earn a split, the Giants send Ryan Vogelsong (7-3) to the mound against Bronson Arroyo (3-5) for the Reds.
Unless otherwise noted, all quotes were obtained first-hand.