US Olympic Swimming Trials: Phelps, Lochte Obscure Each Other's Greatness
July 1, 2012

Jamie Squire/Getty Images
Rumor has it there were eight swimmers in Saturday's men's 200-meter individual medley final at U.S Olympic Trials.
I couldn't tell you, though. I only saw two.
Michael Phelps and Ryan Lochte, Ryan Lochte and Michael Phelps—over 200 meters and four strokes they treated fans to one of the most exquisite swimming performances you'll ever see. Like near facsimiles of one another, they went splash for splash, never separated by more than an arm length.
Phelps beat Lochte by 0.09 seconds, and tomorrow's headlines will surely focus on the implications of that microscopic margin.
But let's forget about winners and losers for a moment.
In our compulsive rush to compare these two, we risk losing perspective on their dual greatness. Or to put it another way: Ryan Lochte and Michael Phelps are so near in skill to one another, we forget how much better they are than everyone else.
Take Saturday's final: Phelps finished in 1:54.84, while Lochte finished in 1:54.93.
The next fastest swimmer in the pool—Conor Dwyer, if you must know—clocked a 1:58.92. The next fastest swimmer in the world this year has a 1:56.66.
If you're more of a visual learner, consider the images from Saturday night.
Phelps and Lochte were clear of the field within seconds of the firing gun. At 100 meters, the race for Team USA's two Olympic spots in the event was effectively over. By the final length, NBC hardly had a camera angle wide enough to get the rest of the competitors on screen (not that it would've wanted one).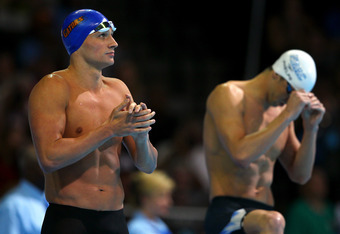 Al Bello/Getty Images
It was, in a very tangible sense, as if the other swimmers didn't exist.
They might as well not have.
Phelps and Lochte have become so tied to one another, it's near impossible to see what's around them.
We are compelled—by some combination of our own narrow thinking and their superiority—to create a dichotomy. There must be a winner and a loser—a best swimmer alive and a second best.
We forget what's beyond that, namely the hundred or so elite professional swimmers who inhabit some lesser plane of competitive existence.
What I write here won't change any of that. It's in our nature to separate winners from losers. That's why we play these games.
But we can at least use moments like Saturday night's final to take stock of what we're seeing.
This narrative is more than a rivalry, and its players deserve recognition that goes beyond the other's shadow.
Here's mine.