Dave Brandon Schedules Disappointing PAC-12 Opponents for Michigan
July 1, 2012

Craig Mitchelldyer/Getty Images
On June 27th, the University of Michigan announced its out-of-conference scheduling for 2014, 2015 and 2016. If you're not familiar with the teams that will be facing the Wolverines, this schedule shows who they're going to be playing in the near-future.
2014

Aug. 30
Appalachian State
Sept. 6
at Notre Dame
Sept. 13   
Miami (Ohio)
Sept. 20

Utah
2015
Sept. 3
at Utah
Sept. 12   
Notre Dame
Sept. 19
Oregon State
Sept. 26
UNLV
2016
Sept. 3
TBA
Sept. 10   
at Notre Dame
Sept. 17
Colorado
Sept. 24
TBA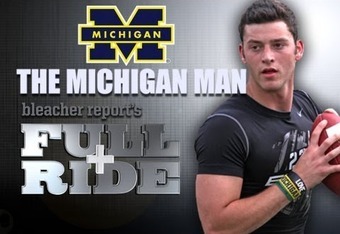 Facing Appalachian State again should provide some vindication to fans that have been embarrassed for many years since Michigan's humiliating defeat in 2007. It's quite certain that Brady Hoke won't underestimate them like Lloyd Carr's team did. 
As usual, the Wolverines play Notre Dame until they take a break for two seasons in 2018 and 2019. 
As you can see, Michigan and Utah play a home-and-home series. In 2015, the Wolverines host Oregon St., while in 2016 they host Colorado. 
Utah has been respectable for the last decade, but Oregon St. and Colorado are just bad teams. 
Those who had hoped the Wolverines would have scheduled a more exciting team like USC, Oregon or Stanford must be very disappointed.
It's not like athletic director Dave Brandon is afraid to schedule difficult opponents. Michigan has to play the defending national champion, Alabama, to begin the 2012 season. Shortly thereafter, they not only play Notre Dame again but also must play a tricky Air Force team. 
A tough schedule makes exciting games more desirable to watch in person and on television. ABC will pull in great ratings on September 1st, when Michigan and Alabama face off. 
Now, compare those ratings to when Michigan faces Colorado. They simply won't be the same.