Wimbledon 2012 Results: Updating Latest All England Club Action
July 1, 2012

Clive Brunskill/Getty Images
There may not have been a Rafael Nadal-level upset in third-round action at Wimbledon, but that didn't mean Saturday wasn't action-packed. Complete results can be found here, but read on for some of the highlights:
Yaroslava Shvedova d. [10] Sara Errani (6-0, 6-4)
The performance of the tournament was turned in by the unseeded Shvedova, who didn't lose a single point in the first set. The Kazakhstan native became the first woman ever to accomplish the feat, and the first player of either gender to pull it off in a Grand Slam tournament.
Like Lukas Rosol—the Czech who stunned Nadal but was eliminated in his own third-round match in straight sets—Shvedova isn't likely to have long to enjoy the glow of her success. She faces sixth-seeded Serena Williams, a four-time Wimbledon champ, in her next match.
[6] Serena Williams d. Jie Zheng (6-7, 6-2, 9-7)
The last American left in the women's draw, Williams didn't exactly play her best tennis on Saturday, but she was good enough. The opening set against Zheng was the first Williams had dropped in the tournament.
Serena can't take Shvedova lightly after the latter's third-round performance, but she also shouldn't have too much to worry about. Shvedova is a career doubles specialist who had never made it out of the second round in six prior singles appearances at the All-England club, and she won't be getting any further than the fourth round this year.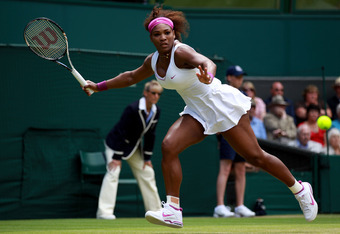 Clive Brunskill/Getty Images
[16] Marin Cilic d. Sam Querrey (7-6, 6-4, 6-7, 6-7, 17-15)
It wasn't quite up to the standard of Nicolas Mahut and John Isner's record-setter from two summers ago, but Cilic and Querrey did battle it out in the second-longest match in Wimbledon history. When Cilic finally broke Querrey's serve at 15-15, he was able to close out the match (barely) before encroaching darkness would have forced a resumption of play on Monday.
Cilic will be the distinct underdog on Monday, when he'll square off with fourth-seeded crowd favorite Andy Murray. Murray played a tough match of his own on Saturday—he defeated Marcos Baghdatis 7-5, 3-6, 7-5, 6-1—but nothing nearly so draining as what Cilic just endured.
[7] David Ferrer d. [30] Andy Roddick (2-6, 7-6, 6-4, 6-3)
After a terrific start, Roddick faded badly in getting bounced by Ferrer, who made his fourth straight trip to the fourth round at the All-England Club. Roddick, a three-time finalist at this event, hasn't made the quarters since 2009.
Ferrer draws hard-hitting Argentine Juan Martin Del Potro in what should be one of the most competitive fourth-round matches. Del Potro is always dangerous, but grass does him no favors (6-4 lifetime at Wimbledon) and Ferrer will likely eke out another win in four or five sets.