MLB All-Star Voting: One Star from Each Team Guaranteed to Visit Kansas City
July 1, 2012

Ezra Shaw/Getty Images
The 2012 All-Star game is on July 10 at Kauffman Stadium in Kansas City, and the selection show will be held Sunday July 1. 
With the game and the selection show quickly approaching, let's take a glance at each MLB team and determine which players have earned a trip to Kansas City. 
Of course, not every team deserves to have an All-Star representative, but since the MLB requires that each team is represented, we'll take a shot at picking the top player from each club. 
A.L. East
New York Yankees: Derek Jeter, SS
Derek Jeter is the most popular Yankee, which means he's automatically one of the more popular players in baseball. His .303 average will be more than enough for an All-Star nod. 
Baltimore Orioles: Jason Hammel, P
The Orioles are playing solid baseball despite the lack of true star power. With that in mind, Jason Hammel deserves the nod with his 8-3 record. 
Boston Red Sox: Will Middlebrooks, 3B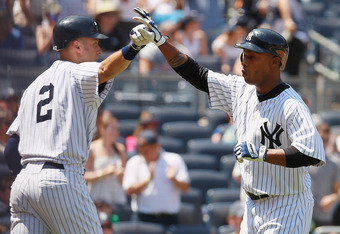 Mike Stobe/Getty Images
Will Middlebrooks has been consistent at the plate with a .307 average, but the rookie has also added some pop with 10 home runs on the year. 
Tampa Bay Rays: David Price, P
The Rays have been lacking at the plate, but David Price has been solid on the mound with an 11-4 record and a 2.92 ERA. 
Toronto Blue Jays: Edwin Encarnacion, DH
Jose Bautista and Edwin Encarnacian have a combined 48 home runs on the season, but Encarnacian has the better average at .289. 
A.L. Central 
Chicago White Sox: A.J. Pierzynski, C
A.J. Pierzynski has been solid behind the plate, but unlike most catchers, he is an offensive weapon as well.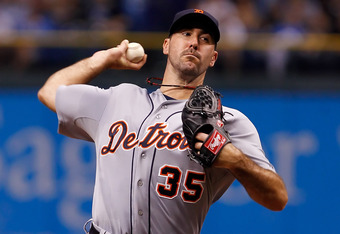 J. Meric/Getty Images
Cleveland Indians: Asdrubal Cabrera, SS
Cleveland's starting pitching has been lacking, so we'll have to turn to position players to find an All-Star. Asdrubal Cabrera has been serviceable in the middle and is leading the team with a .292 average. 
Detroit Tigers: Justin Verlander, P
Justin Verlander is one of the best pitchers in the game and has maintained a 2.69 ERA. 
Kansas City Royals: Alcides Escobar, SS
The Royals are typically lacking in talent, but Alcides Escobar has been a pleasant surprise in the middle with a .318 average. 
Minnesota Twins: Joe Mauer, C
The former MVP's long-ball has been lacking this year, but Joe Mauer is still producing with a .324 average and a .415 on-base percentage.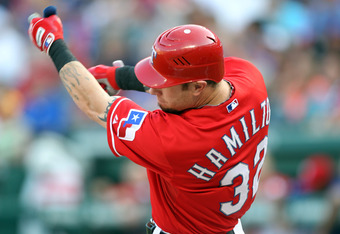 Layne Murdoch/Getty Images
A.L. West
Texas Rangers: Josh Hamilton, CF
Josh Hamilton is currently the best player in the league and will eventually win A.L. MVP, barring any unforeseen disasters. 
Los Angeles Angels: C.J. Wilson, P
Albert Pujols had a slow start, which might not sit well with some fan voters. Meanwhile, C.J. Wilson is 9-4 with a 2.36 ERA. 
Oakland A's: Brandon McCarthy, P
Brandon McCarthy has the lowest ERA on the team at 2.64 and is sitting with a 6-3 record.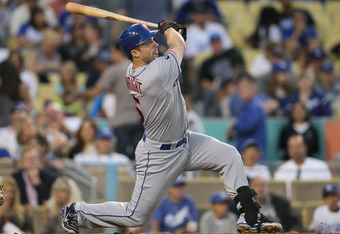 Victor Decolongon/Getty Images
Seattle Mariners: Kyle Seager, 3B
Kyle Seager is hitting a modest .253, which happens to be the second-best average on the woeful Mariners. Seager also has 10 homers and 46 RBIs. 
N.L. East
Washington Nationals: Gio Gonzalez, P
The Nationals are a talented team ready to make the first serious run of their short history. Leading the way on the mound is Gio Gonzalez, who has already accumulated 10 wins. 
New York Mets: David Wright, 3B
If David Wright's MLB-leading .359 average isn't enough to get him in, his popularity in a big market is.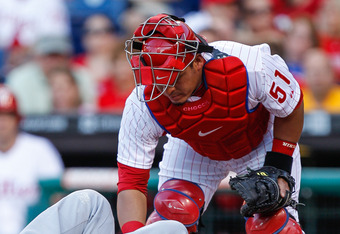 Brian Garfinkel/Getty Images
Atlanta Braves: Jason Heyward, RF
Jason Heyward is leading the team with 12 homers and has put together a respectable .272 average. He's not spectacular, but he's one of their best hitters. 
Miami Marlins: Hanley Ramirez, 3B
The Marlins do not have a single pitcher with a winning record, so Hanley Ramirez is the best they have to offer
Philadelphia Phillies: Carlos Ruiz, C
Carlos Ruiz has the second-best average in baseball at .358 and has provided 11 homers and 43 RBI's. 
N.L. Central
Cincinnati Reds: Joey Votto, 1B
The former MVP is having another solid year with a .354 average and 14 home runs. And with Albert Pujols out of the picture, he's finally the dominant first baseman of the National League. 
Pittsburgh Pirates: Andrew McCutchen, CF
If a .344 batting average and a .399 on-base percentage isn't enough, the star center fielder also has 15 homers and 51 RBI's. 
St. Louis Cardinals: Carlos Beltran, OF 
The defending World Series champs are trailing Pittsburgh and Cincinnati in the division, but Carlos Beltran is certainly carrying his weight with 20 home runs on the season. 
Milwaukee Brewers: Ryan Braun, LF
Ryan Braun's steroid accusations are troubling, but that won't keep the reigning N.L. MVP out of the All-Star game.  
Houston Astros:  Jed Lowrie, SS 
The Astros are struggling with a 32-45 record, but Jed Lowrie has been a pleasant surprise on offense with 14 home runs and 33 RBIs. 
Chicago Cubs: Bryan LaHair, 1B
It's tough to find an All-Star on a team that could eventually lose 100 games, but Bryan LaHair gets the pity vote for 13 home runs and a .288 average. 
N.L. West
San Francisco Giants: Matt Cain, P
With former Cy Young winner Tim Lincecum struggling, Matt Cain has stepped up with nine wins and a 2.53 average. 
Los Angeles Dodgers: Chris Capuano, P
Clayton Kershaw gets all the publicity, but Chris Capuano is leading the team with a 2.69 ERA and nine wins. 
Arizona Diamondbacks: Wade Miley, P
Rookie starting pitcher Wade Miley is riding high with a 9-3 record and a 2.19 ERA in 90.1 innings. Miley will start off a promising career with a rookie All-Star appearance. 
Colorado Rockies: Carlos Gonzalez, LF
Carlos Gonzalez is hitting with a remarkable .338 average, and he also has 17 bombs and has batted in 58 runners. 
San Diego Padres: Chase Headley, 3B
San Diego is greatly struggling with only 28 wins on the season. They have no worthy players, but Chase Headley is the top candidate for the pity vote.