Euro 2012 Final: Why Spain's Lack of Goals Is No Cause for Concern Against Italy
July 1, 2012
Jasper Juinen/Getty Images
Spain has not exactly dazzled opponents with its attack at Euro 2012, but that does not mean that Italy will outscore La Roja in the final. 
Besides a 4-0 thrashing of a poor Ireland side, the Spaniards have not produced many goals. Their first match was a 1-1 tie against Italy and it took them 88 minutes to grab a goal in the final group stage game against Croatia. 
In the quarterfinals, the team looked headed for another 1-0 victory before being awarded a late penalty kick. In the most recent match against Portugal, the winner had to be decided in penalty kicks after a scoreless draw. 
Italy does not have a sparkling goal-scoring record either, but the team—Mario Balotelli in particular—certainly did look dangerous against a rock-solid German defense.
Looking at the semifinal results, one might be tempted to say Italy has the edge going into the final act of the tournament. But Spain has been playing exactly the way they always have at recent major tournaments.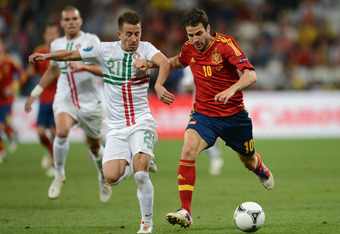 Jasper Juinen/Getty Images
Despite Spain's shocking amount of talent in the attack, the team's modus operandi is not to pile on the goals. 
This was perfectly displayed in the 2010 World Cup when the same core group of players led La Roja to its first victory at the storied tournament via four consecutive 1-0 wins. 
The Euro 2012 squad has had some kinks to work out with Carles Puyol and David Villa out due to injury. This has led to the team playing with six midfielders and no strikers for much of the tournament. 
Still, the strength of the Spanish team has always been in the midfield, and the group has been dominant once again. The Spaniards lead the tournament in possession statistics by controlling the ball 67 percent of the team and pass success percentage with a mark of 88.7. 
The team's tiki taka brand of football is designed to tire out and frustrate opponents. Italy will spend the majority of the game chasing the ball around the field and when they finally get control of it, they will be too fatigued and out of sorts to put together a quality attack. 
This is why Spain has not allowed a goal since it played the Italians in the opening round of group games. La Roja has also not allowed a goal in an elimination game at a major tournament since they lost to France in the 2006 World Cup. 
Spain does not need a lot of goals to win. In fact, it almost always just needs one.
The team has been dominant at Euro 2012, even if the scoreline hasn't always reflected this. The Spanish will continue to knock the ball around with maddening pace and accuracy in the final, and that will be the key to victory—even if it produces just one goal.