West Virginia Football Recruiting: 10 Offensive Prospects to Keep an Eye on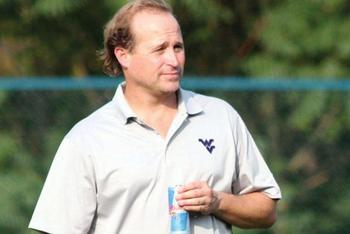 Photo courtesy of everydayshouldbesaturday.com
The man with the infamous Red Bull can has proven to be one hell of a recruiter.
As of now the coaching staff has reeled in seven commits including 4-star linebacker Darrien Howard.
Coming off a solid year, in which the team ended the season with a bang, many members of the staff are picking up where they left off.
Running backs coach Robert Gillespie, as well as DB coach Daron Roberts have quickly joined the ranks of some of the best recruiters in the country, and both were named recruiter of the year in 2011.
West Virginia is still riding the momentum from a historic 70-point explosion in the Orange Bowl, and recruits on the offensive side of the ball take notice.
Prospects see how players such as Tavon Austin and Stedman Bailey make big plays in this offense, and they envision themselves in those roles.
There are several prospects interested in the Mountaineers, and in the slideshow, we will take a look at the standouts.
Enjoy.
Running Back: Wendell Smallwood Elkton, Maryland

Smallwood in Action.

Smallwood is the definition of size and speed at the running back position.
At 5'11" and 200 pounds, this prospect has great size and his 4.40 40-yard speed has coaches very excited about this player.
He is a 3-star recruit by both Rivals and ESPN, and with a monster senior season, look for Smallwood to gain that coveted 4-star rating.
This speedy RB is one of the best players in the state of Maryland, and he has an outstanding offer list to back that ranking up.
He has offers from the likes of Auburn, Connecticut, Boston College to go along with the Mountaineers. Smallwood is unique in the way he runs the rock, as he has the ability to run through you as well as take it to the house on any given play.
In the WVU spread offense, he will undoubtedly make an excellent every-down back and will have the opportunity to compete for playing time from day one.
Smallwood has already made it to Morgantown once this summer as he made a visit in early June. He really enjoyed the visit, and will likely make another visit either this summer or for an official visit.
Keep an eye out for Smallwood.
Running Back: Daryl Chestnut Miami, Florida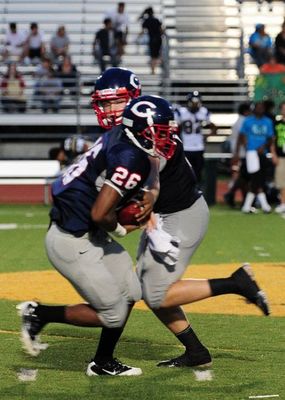 Photo Courtesy of wvillustrated.com
Chestnut is a rising prospect in Florida and he has offers from the likes of Florida State, North Carolina State, Texas Tech, West Virginia and many others.
As a junior, he rushed for over 500 yards with eight touchdowns while sharing carries with another West Virginia target, Lorenzo Woodley.
Not bad for a guy splitting carries with another 3-star RB according to Rivals.
At 5'9" and 190 pounds, this prospect is very fast, and when he sees a crease in the defense, he quickly is at his top end speed which is faster than most (Chestnut runs a 4.40 40-yard dash).
Much like many of the other RB targets, he has a very good relationship with position coach Robert Gillespie, which isn't bad considering he was one of the top recruiters in all of college football a year ago.
Running Back: Zaire Williams Sickerville, New Jersey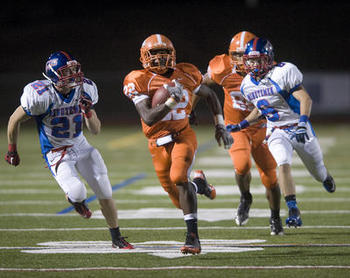 Photo Courtesy of Goldandbluezone.com
The Mountaineers are the outright leader for this player out of New Jersey, and Mountaineers fans should be excited if he chooses the Blue and Gold.
If he were to choose West Virginia, he would turn down offers from Wisconsin, Iowa, Pitt and Purdue among others.
The coaching staff are targeting two of Williams' teammates, which will only help in his recruitment, particularly since they were all on hand for the WVU 7 vs. 7 contest earlier in June.
He is a 3-star recruit by Rivals, and he is more of a bruiser, although he does show deceptive quickness on film.
At 5'11" and 200 pounds, he has very good size to mix things up a bit Dana Holgorsen's high-powered offense.
He is scheduled for an official visit to Morgantown for the Marshall game, and while you shouldn't expect his recruitment to carry on much longer after, you never know with recruiting.
Running Back: Jamel James Katy, Texas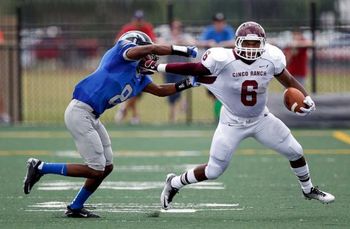 Photo Courtesy of www.wvillustrated.com
James is your prototypical big back. At 6'0" and 220 pounds, this RB has offers from some of the elite programs in the country as Florida State, USC and LSU have all offered to go along with the Mountaineers.
Once a firm Arkansas commitment, he is one of the many recruits that decided to pursue other schools after the abrupt departure of Bobby Petrino.
As a junior he rushed for over 1,000 yards with 16 touchdowns.
West Virginia leads for this talented back, and he plans on visiting Morgantown in late July. Expect a commitment shortly after.
He is a 4-star recruit by ESPN, and this would be an excellent pickup for the coaching staff.
James is your prototypical every-down back, and he is a power runner with speed as he clocked in a 4.50 in the 40-yard dash.
Running Back: Taquan Mizzell Virginia Beach, VA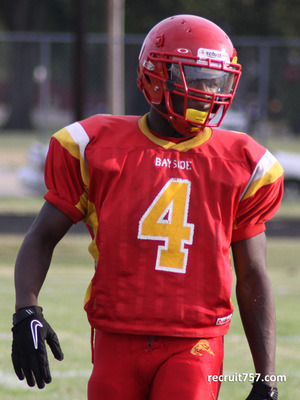 Along with James, Taquan "Smoke" Mizzell is among the best running backs in the country, and there is an outside chance that Mizzell will earn a 5-star rating from Rivals.
Currently he is the No. 43 overall player in the country, and he currently has the Mountaineers in his top two.
Rivals recruiting analyst Mike Farrell has Mizzell on his "Stock Rising" list due to his performance at the 5-star camp a few weeks ago.
At 5'10" and 185 pounds with legit 4.44 speed, Smoke is the perfect package at running back, and he is great between the tackles as well as catching the ball out of the backfield.
He has a very extensive offer list with the likes of Notre Dame, Ohio State and Miami, but this race will come down to Virginia, West Virginia and Clemson.
WVU is pulling out all the stops, and their two best recruiters, Daron Roberts and Robert Gillespie, are in pursuit of this talented prospect.
Wide Receiver: Levonte Whitfield Orlando, Florida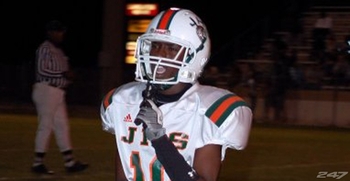 Photo Courtesy of 247Sports.com
Once a Miami commit, Whitfield has opened up his recruitment and is now considering the Mountaineers.
At 5'9" and 170 pounds, Levonte "Kermit" Whitfield is built in the mold of Tavon Austin, and has a very similar skill set.
He has the ability to play running back and slot, and it is this versatility that has lead recruiter Joe DeForest excited about this Floridian. Whitfield is a 4-star recruit by ESPN, and is ranked No.124 out of all prospects.
WVU is in his top six, and he plans to take an official visit to Morgantown this fall. He is also considering Florida, Florida State, Clemson and South Carolina as well.
Will the Mountaineers steal another commit out of Florida?
Only time will tell.
Wide Receiver: Andre Patton Wilmington, Delaware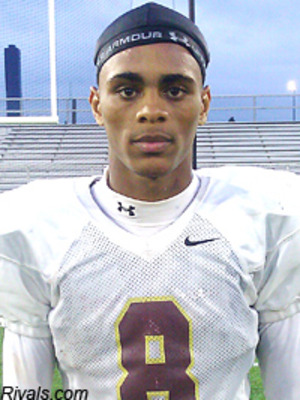 Patton is a big WR target, and at 6'3" and 200 pounds, this playmaker is heavily favoring West Virginia. He has offers from several East Coast programs such as Pitt, Syracuse, Boston College and North Carolina State.
He is a great route-runner and would develop into a very solid deep threat for the Mountaineers.
Patton is a 3-star prospect by both Rivals and ESPN.
This prospect has a very high ceiling, and he is another prospect who is intrigued by the thought of playing WVU's spread offense.
Wide Receiver: Daikiel Shorts Elkton, Maryland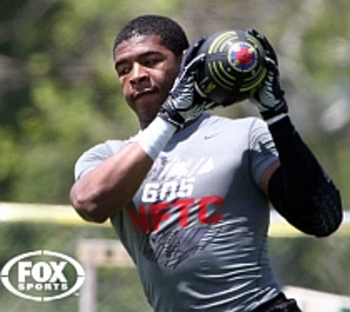 Shorts is another WVU prospect from Maryland, and he is a teammate of current WVU target Wendell Smallwood. He is a 3-star prospect by both Rivals and 247Sports, and is a big-time talent.
He been on the Mountaineers coaching staff's radar for some time, and the recruit is excited at the potential of playing in Holgorsen's wide open offense.
At 6'1" and 200 pounds, Shorts has the talent and size to play both wide receiver and safety in college. This athlete has great size and hands, and the Mountaineer staff is recruiting him on offense.
He visited the program earlier this summer, and will likely visit again this fall on an official visit.
West Virginia is definitely the program to watch here along with Boston College and Maryland; Boise State has offered as well.
Wide Receiver: Jacky Marcellus Immokalee, Florida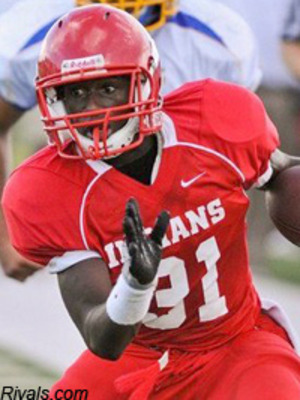 Marcellus is another Florida athlete with West Virginia among his top schools after receiving an offer. His lead recruiter is defensive line coach Erik Slaughter, who recruits central Florida.
At 5'8" and 180 pounds, this shifty athlete is being recruited as both a receiver and a running back.
Like many of the players on the list, he was a fan of the Mountaineers performance in the Orange Bowl, and is enamored with the possibility of playing in the spread.
His other notable offers include Vanderbilt, Cincinnati and Rutgers.
Wide Receiver: Tyler Boyd Clairton, Pennsylvania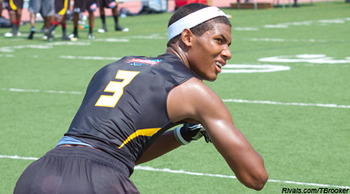 Without a doubt the most talented receiver on the West Virginia recruiting board is Tyler Boyd.
A 4-star recruit by all the recruiting publications, this athlete has the skill set to be a star at the next level.
He has been on campus several times, and the Mountaineers are thought to be the leader in this recruitment, with Ohio State looking to gain ground.
At 6'1", he has solid height and outstanding speed, and he has admitted he grew up a Mountaineers fan.
This player is an exceptional talent and has well over 20 offers.
One aspect that helps the Mountaineers in this recruitment is his friendship with WVU commit Chavas Rawlins.
This battle will be between the Buckeyes and the Mountaineers, and you have to think if proximity to home is an issue, WVU is in great shape.
Keep Reading

WVU Football: Like this team?