Gymnastics Olympic Trials 2012: Why Sam Mikulak Can't Be Chosen for Team USA
June 30, 2012

Ronald Martinez/Getty Images
It seemed like Sam Mikulak was a shoo-in for the U.S.A. men's gymnastics team at the conclusion of the first day of Olympic trials Thursday night. He was spot-on in all his routines and led the all-around standings in the first night of trials with a score of 91.8.
Mikulak injured his ankle after landing his vault during his last event Thursday night. He only competed on the pommel horse in the second and final day of trials Saturday night, which meant he gave up his chance to be one of the two automatic selections for the Olympic Team.
In an Associated Press article, His father Stephen Mikulak said the ankle was "black and blue" and the swelling began when trainers removed tape after Thursday's competition.

Mikulak had extensive treatment on Friday and took his time stretching on Saturday while Golder consulted with U.S. men's team coordinator Kevin Mazeika and USA Gymnastics team doctor Larry Nassar. 
Mikulak originally injured his ankle during a meet in Puerto Rico last summer when he broke both of his legs. It's been a long but constant recovery for him. Mikulak won the all-around in the Big Ten and NCAA championships in 2011 but after his injuries, he took runner-up both times in 2012.
When I watched Mikulak's drama unfold I couldn't help but think about David Sender, who won the 2008 Visa Championships. Right before Olympic trials, he rolled his ankle and positioned for a spot on Team U.S.A.
He didn't earn a spot on the team—not even as an alternate.
Sender had been positive that he would represent U.S.A. at Beijing in 2008.
I often wonder if it was the wrong decision for him to not compete at trials and if the selection committee used that against him.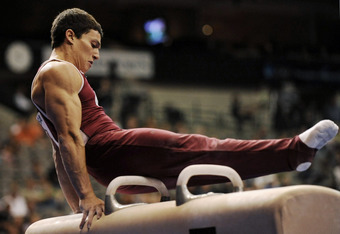 Ronald Martinez/Getty Images
Unrelated, Sender since retired and staged a comeback for the 2012 Games. He took 14th out of 15 in the final standings from Visa's and Trial's and that's with Mikulak not completing all four days of competition. 
I believe that Mikulak's story is going to be the same as Sender's. The selection committee is going to worry that his ankles won't hold up and not grant him a slot on the team, much to the nations dismay. 
It does help that Mikulak still competed on pommel horse Saturday night. His score of a 14.4 was the fifth highest on Saturday.
Pommel horse is one of Team U.S.A.'s weakest event and I think Mikulak wanted to make a point that his horse skills were still intact and something that makes him indispensable. 
Danell Leyva and John Orozco, each named as automatic selections to the Olympic team, finished second and third, respectively, on pommel horse. Alexander Naddour, a pommel horse specialist, won the event. The remaining gymnasts can step it up on pommel horse, and maybe the selection committee will decide to take a pommel horse specialist instead of an all-arounder like Mikulak. 
Although Mikulak is a strong gymnast and has been a front-runner for a spot on Team U.S.A., there are plenty of other healthy competitors who are more than capable to take his spot: Jonathan Horton, Jake Dalton, Chris Brooks, Paul Ruggeri, Steven Legendre.
The pool of gymnasts is so deep that when the selection committee looks at everything, it is going to decide that the skills Mikulak has to offer are not worth risking him being unable to compete at all.
You can contact Emily Bayci by e-mailing emilybayci@gmail.com or follow her on Twitter @EmilyBayci. Follow @EmilyBayci