Seattle Mariners: Is Justin Smoak a Bust or a Prospect?
July 2, 2012
Hannah Foslien/Getty Images
What happens to the Seattle Mariners if Justin Smoak does not develop?
What if his performance now is what he will be in the future?
Justin Smoak is just a prospect. He is only 25 and should develop into a big-time slugger. Smoak definitely should be good—remember the last 14 games of his rookie year when he batted .340.
He is a jewel of a prospect, isn't he?
Justin Smoak has been called a terrific prospect. With bat speed and explosiveness mixed with defensive prowess at a prime position, Smoak was the No. 12 overall prospect, according to Sports Illustrated's top 20 prospects of 2009, just below guys like No. 9 Buster Posey, No. 11 Madison Bumgarner and No. 11 Carlos Santana.
We heard him related to guys like Chipper Jones and Mark Teixeira. We heard about how he will one day turn into a star.
But let's look at the present—the tangible stats he produces rather than the abilities scouts once drooled over.
Justin Smoak is a career .221 hitter. He is eating away at the middle of the lineup with every at-bat that ends in a double play or a pop out. A stat that Dave Cameron of U.S.S. Mariner pointed out here; Justin Smoak has the worst batting average of any first baseman who has been given 1,000-plus at-bats at this stage in his career. The absolute worst.
Now, I want Justin Smoak to be good. I really do. The Mariners have him under contract for a very reasonable price and we really need good power hitters in our lineup.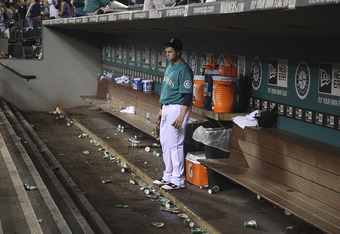 Otto Greule Jr/Getty Images
But we need hitters, not just prospects.
Currently, Smoak is slumping. No one will deny this.
In his last 21 games he is batting .117 with nine hits and three RBI. Given the baserunners occupied during his at-bats, Smoak has a -10.01 RE24, meaning he has cost the Mariners 10 runs when an average Mariners' batter would not have cost them any runs.
Everyone slumps, but Smoak's slump is brutal, long and does not seem to be stopping anytime soon. His slump is starting to look like his average. That is the scary part.
So why does the organization think so highly of him, and why do fans still believe he will pull it together?
Because Seattle traded away Cliff Lee, a world-class pitcher, for Justin Smoak and other prospects. Because Smoak in his first 14 games seemed to be exceptional. Because the fanbase was told by scouts, front-office people, and so-called "experts" that Justin Smoak was the real deal.
What is frightening is that the Mariners do not have anyone to replace Justin Smoak.
No one can step in and play the power bat while Smoak works through his slump, because well, that's what Smoak is supposed to do. That's what the Mariners were told Smoak would do. Bringing up Mike Carp to bat in Smoak's place for 10 games won't win anything. The Mariners need a permanent solution for the long term, not a Band-Aid.
This is the problem. Seattle puts up with these numbers because we believe that Justin Smoak is a permanent solution, and so we close our eyes to his ugly numbers and remind ourselves that he is still a prospect. He's bound to get better, right?
1,000 at-bats is a lot.
What do you do when your prospect is an anchor? When the piece that should help rebuild is actually collapsing instead?
Maybe Justin Smoak turns it around. Maybe he goes on a hitting streak and rights his batting average for this season. Maybe he still proves that he will be a serviceable starter, or even a star hitter.
Maybe.
But until then, Mariners fans, do not think of Justin Smoak as the next great hitting prospect or someone who will be in our lineup for years to come. Justin Smoak has not proven either of those things. The Mariners are trying to develop a young core, and Smoak needs to play his role in this core.
Temper your expectations M's fans. Justin Smoak is merely a Mariners player, not a long-term solution or a Band-Aid. Judge him accordingly and be prepared to throw away the notion that Justin Smoak is going to get better.