Euro 2012 Preview: Italian Pressure Will Nullify Spain's Tiki-Taka
June 30, 2012
Michael Steele/Getty Images
Facing Italy in the final of Euro 2012, Spain is going to be unseated as world champions thanks to their own playing style.
Over the past four years, La Furia Roja have perfected their tiki-taka possession tactics, as well as their intense, high pressure defense. It's a strategy that has worked amazingly well since Euro 2008, and has gotten them back into the final at a third consecutive major tournament.
If they win, they'll be the first team in history to win three major titles in a row.
But they won't.
Against Germany, Italy showed off a combination of tactics that are sure to undo Spain, if the Italians play similarly.
Like the Spanish, the Italians played extremely high pressure the entire game. This was especially effective in midfield, where Germany was supposed to hold their greatest advantage. With players like Mesut Özil and Bastian Schweinsteiger running the show for the Germans, one would think that Germany would've enjoyed the lion's share of possession and scoring chances.
Yet, it was the Azzurri who held serve throughout the match.
How did they do it? Pressure.
They didn't allow the Germans time on the ball, they shut down passing lanes and as a result, they won the ball back quickly.
After they won the ball, however, they did not look for great spells of possession, as the Spanish do. They were extremely varied in their attack. They tried a good dose of long balls to Mario Balotelli and Antonio Cassano. They stretched the wings out wide and played through the middle. They even launched a number of long shots towards goal, many of them stretching Manuel Neuer.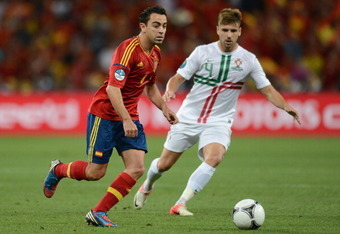 Jasper Juinen/Getty Images
And that is why Spain will fall to Italy.
Spain's tactics are that of an arrogant team. They hold onto the ball for ages, but do little with it. They generally create few chances and essentially play "keep away," taunting their opponents.
To counter this, most teams have simply parked the bus in front of goal, giving the Spanish acres of space in midfield, but limiting space around the box. This is effective in suffocating Spain's chances, but offers little in the way of offense.
If Italy is brave enough to use the high-pressing tactics they showcased against Germany, they will have a legitimate chance of dethroning the machine that is Spain.
Just as they did against Germany, they will undoubtedly win the ball a number of times in the midfield and then expose Spain with counterattacks, just as we saw Portugal do. Italy showed the world exactly how deadly they can be on the break, and Balotelli is looking for that Golden Boot. One goal and he's got it.
One goal and a classic Italian defensive display might be all it takes to derail Spain's historic night.