NHL Free Agents 2012: Rangers & Teams Likely to Make a Big Splash in Free Agency
July 1, 2012

Bruce Bennett/Getty Images
The New York Rangers are one team sure to be active in free agency on Sunday, when teams can begin signing their own players and ones from outside the organization.
There are several teams who will be looking to make a major splash in free agency to help them reach their goals next season. Let's look at three of those teams.
The Penguins will be a very intriguing team in free agency because they could chase a number of the top stars on the market. Their need for a shut-down defenseman could make Pittsburgh one of the teams with the great chance to sign Ryan Suter.
I assumed when PIT made big moves to clear cap space, it was for a run at UFA Parise but it seems UFA Suter is more likely primary target.

— Bob McKenzie (@TSNBobMcKenzie) June 23, 2012
Whether the Penguins go after a forward or a defenseman in free agency, it's almost certain that they will be aggressive in trying to strengthen their team.
They have an opportunity to be legitimate Stanley Cup contenders for the next three to five years if they make the right moves this summer.
Detroit Red Wings
The Red Wings have more salary-cap space this summer than they have had in years thanks to the departures of defensemen Nicklas Lidstrom (retirement) and Brad Stuart (trade).
General manager Ken Holland will attempt to add the young star player that the team currently lacks right now, whether it be a goal scorer or an elite defenseman.
Detroit's need for a top-pairing defenseman makes Ryan Suter an obvious fit, but will he want to be the guy who takes over for Lidstrom?
New York Rangers
The Rangers are always one of the teams expected to be active in free agency because they have an owner willing to spend money and a general manager in Glen Sather that loves to bring star players to New York City.
With the need for a star winger that can score goals, you can expect the Blueshirts to make a splash in free agency.
Sather today: "I think we're going to be fairly aggressive in free agent market."

— Larry Brooks(@NYP_Brooksie) June 23, 2012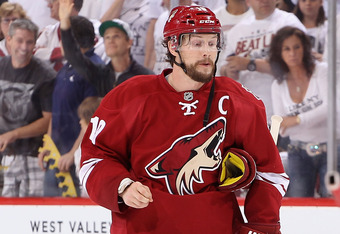 Christian Petersen/Getty Images
Even though Parise signing with the Rangers seems unlikely, there are other options for Sather in the free-agent market.
Veteran forward Shane Doan of the Phoenix Coyotes would be an ideal fit for the Rangers because of his toughness and offensive ability. Olli Jokinen would also be a good target to add depth at the center position.
Whether Sather is aggressive in the free agent or trade market in the offseason, the Rangers will certainly be one of the more interesting teams to watch over the summer.