Euro 2012 Final: Why Even If Spain Loses, They Fall as Honorable Champions
June 30, 2012
Jasper Juinen/Getty Images
Tomorrow, the Euro 2012 final will be contested between the past two World Cup champions in Spain and Italy.
Remarkably, for the third time since the tournament shifted to 16 teams in 1996, the final is a rematch between two nations that came out of the same group.
For Spain, a victory could cement their status as the greatest international side in the history of football, as it will mean they have won an unprecedented three consecutive major tournaments.
But what if La Roja lose?
Well, it may just emphasize the dignity of these great champions.
Imagine this, if you would:
You are an athlete competing in a big competition.  Throughout the history of your career, this one opponent has just had your number.  You have never really beaten them, and in fact, you have already just barely survived against them at the start of this competition.
Suddenly, in a match with a slightly lesser opponent, you have an opportunity.  With a spot in the next round completely sealed for yourselves, you realize that if you just lay down for a few minutes to this opponent, they will join you in the next round instead of that dangerous opponent.
What do you do?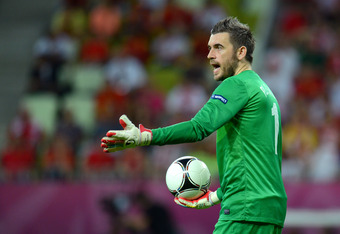 Shaun Botterill/Getty Images
Obviously, you're not going to walk the ball into your own net, but could you really be faulted for letting up a little?
That is just the situation in which Spain found themselves during their last group match with Croatia.
Italy, that bogey opponent that had frustrated them over the years, was just about complete with a 2-0 victory over Ireland.  Meanwhile, with about a minute left, Spain had a 1-0 lead over Croatia.
The situation was clear.  If both matches finished with that scoreline, it would be Spain and Italy into the quarterfinals.  However, if Italy's match stayed the same and Croatia drew level with Spain, it would be Spain and Croatia.
Hence, the ball was in Spain's court.  So what did they do?
To their great credit, Spain did what any honorable champion would.  They finished the match they had started.
So what if Spain lose to this Italian monster that they could have vanquished with one conceded goal?
In short, they fall like great warriors should.
As the old proverb goes, "it is better to die with honor than to live with shame."
With a loss, Spain will become a living embodiment of this moral.
Win or lose on the pitch tomorrow, this Spanish side has already proven that they are champions.
For the latest news in the world of football, follow me on Twitter: @Fw1812