NBA Draft 2012 Grades: Top-Notch Picks and Devastating Flops
July 1, 2012

Elsa/Getty Images
With the 2012 NBA draft now in the rear-view mirror, coaches are pondering how they'll utilize their new toys, and fans are dreaming of future possibilities. 
Although, some fans are depressed over questionable picks and are wondering why they even bother.
A few teams were able to step up and fill needs accordingly while significantly improving their overall level of talent. Other teams struck out and are begging their fans for the benefit of the doubt.
Let's take a look at the top picks of this year's draft, as well as the biggest head-scratchers...
Top-Notch Picks 
No. 1 Overall: Anthony Davis, PF (New Orleans Hornets)
How can the top talent of the draft not be considered a great pick, regardless of how obvious it is? 
Anthony Davis, the top talent of the draft, will use his 6'10" size to provide the Hornets with the defensive big man they need to reshape the franchise. 
No. 5 Overall: Thomas Robinson, PF (Sacramento Kings)
Prior to the draft, we heard the buzz that the Kings were highly interested in Thomas Robinson at No. 5 overall.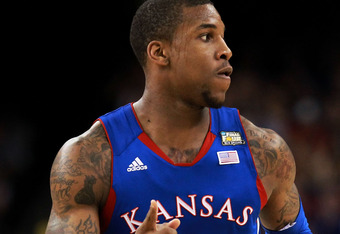 Ronald Martinez/Getty Images
The Kings not only drafted a player who was frequently mocked as a No. 2 overall pick, but they got a player they were particularly infatuated with. 
No. 9 Overall: Andre Drummond, C (Detroit Pistons)
Some say Andre Drummond is too raw and that the Pistons could have found immediate help with the No. 9 pick. 
On the other hand, they picked up the player with the most raw talent and walked away from the draft with the best center of this year's class. 
No. 12 Overall: Jeremy Lamb, SG (Houston Rockets)
The Rockets had three first-round picks and they made them count by selecting Jeremy Lamb (No.12), Royce White (No.16) and Terrence Jones (No.18). 
Lamb in particular was a great pick. He was one of the best prospects outside of the top 10 and will provide the team with solid shooting. 
Now, the only question is whether Houston trades some of their first-round commodities for proven talent. 
No. 17 Overall: Tyler Zeller, PF (Dallas Mavericks)
Tyler Zeller initially had a miserable draft night after he was the last player chosen out of the 14 players in the green room. 
However, things began to improve for Zeller after he was drafted by a playoff-caliber team. The Mavs got the size they need and Zeller has been given an opportunity to succeed. 
No.21 Overall: Jared Sullinger, PF (Boston Celtics)
Jared Sullinger slipped fairly deep into the first round due to concerns over his back problems. Although, he has the talent to succeed if his back is no longer an issue.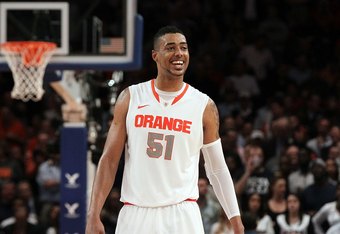 Jim McIsaac/Getty Images
The Celtics needed size and they found incredible value in Sullinger. 
No. 28 Overall: Perry Jones III, PF (Oklahoma City Thunder)
Perry Jones III took a draft-day dive deep into the first round, likely due to knee concerns and his questionable character. 
But it all worked out in the end. He gets to play for a great team, and the Thunder maximized their pick's value. 
No. 29 Overall: Marquis Teague, PG (Chicago Bulls)
The Chicago Bulls were the No. 1 seed of the Eastern Conference in the playoffs, but their Championship dreams were demolished along with Derrick Rose's knee. 
The Bulls learned a tough lesson on having a backup plan in place. Marquis Teague could possibly be that Plan B. 
Devastating Flops
No. 8 Overall: Terrence Ross, SG (Toronto Raptors)
The Raptors had other areas of need on the team. With DeMar DeRozan already on the roster, this pick made little sense. 
Even if they did need help at the position, they selected Terrence Ross far too early. 
No. 13 Overall: Kendall Marshall, PG (Phoenix Suns)
Steve Nash is obviously on the downside of his career, but is Kendall Marshall really a viable replacement? 
No. 15 Overall: Maurice Harkless, SF (Philadelphia 76ers)
With Andre Iguodala already on the roster, what was the point of this pick? 
Moe Harkless has potential, but he'll struggle for playing time early on in his career. 
No. 22 Overall: Fab Melo, C (Boston Celtics) 
The Celtics were able to add a couple of big men with Jared Sullinger and Fab Melo, and while Sullinger has great potential, where does Fab Melo fit in? 
Melo can't play offense, at least not yet, and it will take plenty of work and development before he's NBA-ready.