FC Barcelona: The Biggest Differences Between Pep and Tito
July 1, 2012

David Ramos/Getty Images
For many FC Barcelona fans, it still hasn't sunk in that Pep Guardiola won't be in the home dugout for the start of next season.
That realization may only sink in when their first preseason game with Hamburg kicks off in a little over three weeks time.
Some see it as the end of a dynasty that may never be repeated again, others are excited at the prospect of a new era of Catalonia domination.
Whether your cup is half full or half empty—there is always the option to top it up!
Tito Vilanova is seen by many as an exact replica of the Barca legend that is Guardiola. And it's that stability that led the 42-year-old to be announced as his close friend's successor a full month before the season came to a close.
The decision was welcomed with open arms by the Barcelona family, and although many will expect the same philosophies and characteristics to continue under the new regime—they may be surprised.
Vilanova is very much his own man and not just "Pep's twin" as many are led to believe. There are plenty of differences between the two.
Firstly, Tito is significantly calmer than his predecessor—a trait that will be tested in his first season.
Many outside Barcelona didn't realize who Vilanova was before the now infamous eye gouging incident during last summer's Supercopa game with Real Madrid.
If Jose Mourinho didn't know who he was then, he certainly does now. But perhaps the most important part of the whole incident was missed. 
Of course the focus was all on the self proclaimed "Special One," but the reaction (or lack of reaction) both at the time of the incident and directly after was very important.
There was no retort, no confrontation and in fact very little from the mouth of Vilanova. 
I suspect the reaction would have been very different if Guardiola was the person on the other end of the gouge, and I'm sure Mourinho realized this too.
In a twisted way, the fact that he went for the assistant coach (probably knowing of his calmness) may be a backhanded compliment to Vilanova.
"He's like Guardiola, only calmer." -Sergio Busquets (via The Guardian)
Calmness will be a massive plus if Barcelona are to continue building momentum—something they perhaps lost during those last two disastrous months of the Guadiola era.
But Vilanova is a smart man—he won't change things just to differentiate himself from his friend.
His planning and preparation are extraordinary and the amount of detail he puts into tactical matchups are revolutionary.
Guardiola focused plenty of attention on attack during his time in charge. There was really no need to make any drastic changes at the back.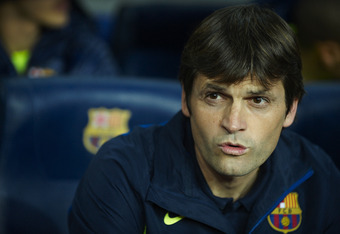 Manuel Queimadelos Alonso/Getty Images
But Vilanova is very much a man to build from the back and that's exactly where the spotlight will be.
It was very interesting that in his first press conference, he openly admitted it was a problem—something Guadiola refused to blame on countless occasions.
The honesty was refreshing and although he is close to many of the players, there are rumors that the likes of Victor Valdes could lose his place (via victorvaldesfan.com) if he doesn't improve after a disappointing campaign.
Defence is the best form of attack—a 180 turnaround from Pep.
Both of these differences may have a positive effect heading into the new regime.
But perhaps the main thing separating Guardiola and Vilanova may lead to the latter's biggest problem: experience.
You can't teach it, you can't learn it, you've just got to give it your best shot.
And that's the million dollar question: can he succeed in his first managerial job?
Of course, every person needs to start somewhere and learn their trade, but to take charge of a club like FC Barcelona is an entirely different beast altogether.
Many have tried and failed to live up to expectations when taking charge of a huge club for the first time after several years.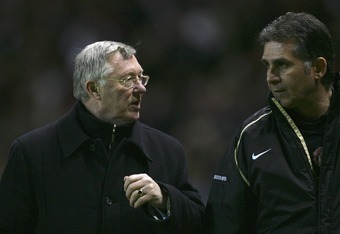 Richard Heathcote/Getty Images
Brian Kidd and Carlos Queiroz of Manchester United are classic examples.
Kidd spent an illustrious 10 years under Sir Alex Ferguson before taking charge of Blackburn Rovers for one season (they were relegated). He is currently the assistant manager at Manchester City.
Queiroz is a little closer Vilanova's situation. He went to Real Madrid—where the expectations are certainly on par with Barcelona's—was sacked a year later and returned to be an assistant to Sir Alex for another four years.
Even Guardiola spent a year in charge of Barcelona B before taking the hot seat. 
Can Vilanova break the mold?