Spain vs. Italy: Keys to Azzurri Pulling off Massive Upset in Euro 2012 Final
July 1, 2012

Michael Steele/Getty Images
When a team is coming off a European championship and a World Cup win over the past four years, it is a pretty good bet that it is going to be favored in every match it plays.
That has been the case with Spain in Euro 2012 and they will once again be a heavy favorite in the finals on Sunday when they face a surprising Italian squad that few expected to make it this far.
Italy has always been an international power in soccer and even won the 2006 World Cup, but things have gone stale since then. Most of the stars from six years ago are retired or their skills have eroded, so Azzurri has had to turn to younger options.
Those players finally seem to be coming of age, and it has resulted in something very special for Italy.
Here are the biggest keys that the Italians must execute in order to upset Spain and win their first Euro title since 1968. 
Outstanding Goalkeeping from Gianluigi Buffon
Goalkeeper Gianluigi Buffon may be 34 years of age, but he continues to play as well as he ever as, particularly in Euro 2012.
Buffon was the man who led Italy to a World Cup title in 2006, and he may be the hero again if Italy can beat Spain. It is quite clear that Spain has the talent edge on Italy, so regardless of what the Italians do, there is a pretty good chance that Spain is going to end up with more shots and scoring chances.
With that in mind, Buffon must be up to the task on Sunday, as there is a high probability that he will have to make some huge saves.
Buffon has done that in the tournament thus far, particularly in the penalty-kick shootout against England and in the semifinals against Germany. If Buffon isn't on his game, then Italy doesn't stand a chance. He is a big-game performer, though, so he should be just fine. 
Compete in the Possession Battle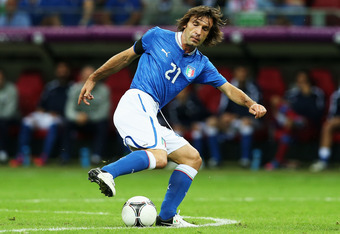 Alex Grimm/Getty Images
One of the things that makes Spain such a special team is its ability to control the ball for large chunks of the match.
La Roja features a myriad of skilled midfielders such as David Silva, Andre Iniesta, Cesc Fabregas, Xabi Alonso and others, so it is nearly impossible for the opposition to win the ball from them at times. It would be silly to suggest that Italy needs to win the possession battle in order to win the match because that is nearly impossible, but Azzurri needs to be competitive in that area at the very least.
Italy doesn't compare to Spain when it comes to controlling the ball and linking up effectively on passes, but it isn't a slouch either.
Andrea Pirlo in particular will be key for the Italians—he is still one of the best playmakers in the world. Italy must play strong as a unit when it comes to keeping the ball away from Italy, but Pirlo is the guy who can make it happen for long stretches.
As long as Italy doesn't let Spain's possession get out of hand, it should be able to hang in there. 
Get to Penalty Kicks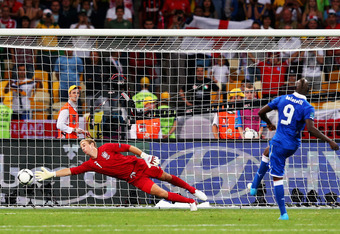 Alex Livesey/Getty Images
Some might say that playing for penalty kicks is a losing mentality, but when you're playing Spain, winning at any cost—regardless of how cheap it may be—has to be the priority. Penalty kicks are an imperfect way of ending a 120-minute stalemate, but they are part of the rules and they are something that Italy should attempt to utilize.
The Italians already used penalty kicks to their advantage once when they beat England in the quarterfinals, and they must try to do something similar against Spain.
Italy is the only team to score a goal against the Spaniards in this tournament as the sides played to a 1-1 draw in the group stage, but Italy can't expect to go toe-to-toe with Spain and outscore it. Italy did manage to do that against Germany to the surprise of many, but Spain is a different animal.
Spain may very well still win in penalty kicks, but it becomes a tossup, essentially. Portugal had Spain on the ropes, but its penalty takers ultimately choked. Italy has some cool-headed scorers, though, so penalty kicks are what Azzurri should strive for.
Follow @MikeChiari on Twitter