Counting Down the Top 10 Players in the NFC East: No. 10, Brian Orakpo
July 9, 2012

Patrick Smith/Getty Images
We're counting down the top 10 players in the NFL's most popular division. This is based mainly on what went down in 2011, but we've projected a little as well. Whittling it down to two handfuls of guys was no easy task—it felt as though a couple dozen Dallas Cowboys, New York Giants, Philadelphia Eagles and Washington Redskins were worthy of the top 10. 
No. 10: Brian Orakpo, Linebacker, Washington Redskins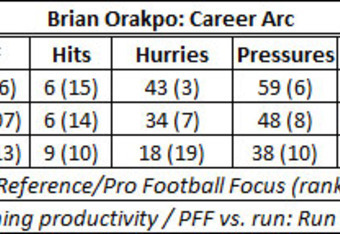 We kick it off with the only Redskin to make the list: 25-year-old edge-rusher extraordinaire, Brian Orakpo. And before you go about accusing me of stretching to include Orakpo so that all four teams can be represented on this list, consider that Pro Football Focus rated him as the fifth-most productive pass-rushing outside linebacker in football last year with a score just a shade below that of DeMarcus Ware.
He undoubtedly has to increase his sack total. Orakpo had the same number of hurries as Ware (43 apiece) but he finished with 10.5 fewer sacks. Sacks are overrated, though, so he only loses some points for struggling to close. I get the feeling that'll change very soon anyway.
Small stuff that counts: he also batted more passes than all but two players at his position, stayed healthy (again) and took very few penalties. Those are bonuses that don't make up for the fact that Orakpo is pretty much a terrible run defender, but it actually appeared as though he improved quite dramatically in that area as well in 2011.
Despite the fact his sack total didn't soar, you only had to watch Orakpo last year to see how much better he became. He should have been in the Pro Bowl for the third time in as many years, but I'm sure he'd prefer to be honored by the Bleacher Report NFC East blog anyway.