NBA Rumors: Five Teams That Should Be Vying for Steve Nash
June 30, 2012

Christian Petersen/Getty Images
The NBA draft this year was void of a number of quality point guards and therefore, veteran Steve Nash will be a hot commodity in free agency. There are five teams already vying for his skills with plenty more waiting in the ranks.
According to Pro Sports Daily, Toronto, Dallas, and Brooklyn have all expressed interest in Nash and are willing to sign him to a contract worth more money or for a longer period of time than the Phoenix Suns. In addition, the New York Knicks and Miami Heat have expressed their interest but cannot offer him the same type of big contract.
For Dallas, the viability of signing Nash is entirely up to Derron Williams. After the retirement of Jason Kidd and a lackluster draft, the Dallas Mavericks are in desperate need of a point guard if Williams does not sign with the team. Consequently, signing Steve Nash will be a big priority of Dallas this offseason.
It would be very interesting to see Nash go back to Dallas and play with old buddy Dirk Nowitzki, with whom Nash had so much success early in his career. While Dallas cannot run like they used to in their younger days with Nash and Nowitzki, having one of the best passing point guards in the game would make Dallas a very dangerous team with shooters all over the court.
As for Brooklyn, if Williams decides to leave, the Nets are in serious trouble, especially considering they will have to compete for fans with the New York Knicks. Therefore, signing a big name like Steve Nash would be a huge step for the franchise, and greatly improve their team's production on the court. However at this point in his career, Nash's only real concern is an NBA title and without Williams the Nets are sunk. As a result, even if the Net's offer Nash a big time contract, it seems unlikely he will be playing in Brooklyn.
The Toronto Raptors are another team that is actively pursuing Nash. They have been irrelevant in the NBA ever since Chris Bosh moved to Miami and signing Nash would certainly put them back on the map and perhaps in playoff contention. Also, Steve Nash is originally from Canada and could feel quite comfortable playing for the only franchise north of the border.
They have some decent pieces in place with DeMar DeRozan, Andrea Bargnani, and Jerryd Bayless, however they would have a tough time getting past either the Heat or the Knicks in the eastern conference and therefore, they seem to be a long shot for landing Nash.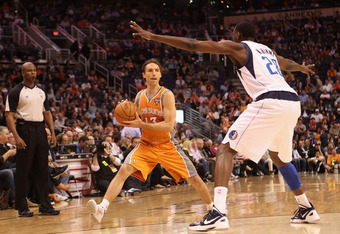 Christian Petersen/Getty Images
The Knicks do not have the same salary cap space as the three teams mentioned above, and cannot offer Nash the same type of big money, long-term deal. With Nash, the Knicks would have a legitimate chance to contend for a title, especially after the dismantling of the big three in Boston. In my mind, this would be the best option for Nash as the team is stacked with premiere scorers in Carmelo Anthony, Amare Stoudemire, J.R. Smith, and Tyson Chandler, all who would greatly benefit from Nash's passing prowess and make the Knicks a very tough out in the playoffs.
The Heat is another team that has been rumored to be interested in Nash. He would certainly improve the skill set at point for the team and give them a terrific shot to repeat. However, his game does not fit as well with the Heat as it does with the Knicks. LeBron likes to have the ball in his hands in order to make plays off the dribble or in the post, and is not necessarily looking for his shot off of a pass. That being said, Nash would be very productive in transition with this team and give them a dangerous three-point shooter to kick out to on LeBron or Wade's penetration. If Nash lands in Miami, the Heat will be, without a doubt, the favorite to win the title in 2013.
All in all, Dallas and New York seem to be the best fit for Nash. Dallas is close to his long time home in Phoenix, they employ his old friend Dirk Nowitzki, and are once again championship contenders with Nash running the point. In New York, Nash would have a plethora of scorers in which to defer to, he is familiar with Amare Stoudemire, and the team would be the favorites to meet the Heat in the eastern conference finals with Nash running the offense.
While I would like to see Nash end up in the Big Apple, it seems more likely he will end his career where he started it, in Dallas, as they can offer him more money and would appear to be a more comfortable transition for the veteran.