7 Ways the WWE Championship Feud Could End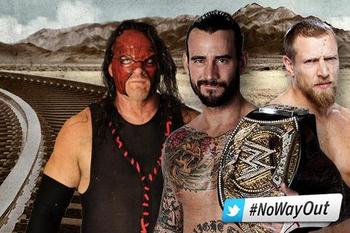 Photo courtesy of WWE.com
The WWE Championship feud appeared to have dwindled down to just two superstars on last week's episode of Monday Night Raw.
But make no mistake—there are four people who are still very much involved in this rivalry.
Even though it'll be CM Punk vs. Daniel Bryan for the WWE title at Money in the Bank, AJ will be the special guest referee for that match, and Kane is sure to be lurking around somewhere.
What's gone down over the last couple of months between these four has been the most interesting thing on WWE TV recently, and it looks like we've still got a way to go before it's all settled.
So, just how might that happen? And how could this interesting love square reach its finality?
Here are seven ways that the WWE Championship feud could end.
7. All Three Men Fall for AJ and Have a Match for Both Her and the WWE Title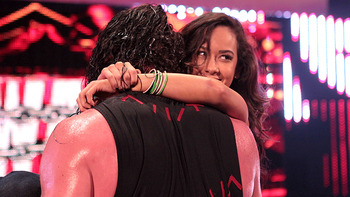 Photo courtesy of WWE.com
At this point, it's unclear exactly how Kane, CM Punk or Daniel Bryan feel about AJ.
We've seen hints from each guy that they're interested in pursuing a relationship with her, but we've also seen them all basically claim that they want nothing to do with her.
So, what if the end result is that all three men actually do fall for AJ?
Let's say that Kane, Bryan and Punk eventually all profess their love for her (and mean it), and the WWE Championship feud ends up being a feud over AJ as well.
Even though Kane doesn't have a title shot lined up right now, he's still very much involved in what's going on and could easily get himself another WWE Championship match.
Perhaps something will go down that causes whoever the new GM is to make a Triple Threat match (just like at No Way Out) in which the winner wins both the WWE title and AJ's affection.
This would be the be-all, end-all match for this three-way rivalry (or at least this stage of it) with the two centerpieces of it (the WWE title and AJ) going to whoever earns them.
6. Punk Loses or DQ Finish at Money in the Bank, Regains the Title at SummerSlam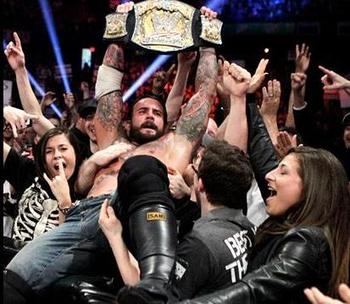 Photo courtesy of WWE.com
Daniel Bryan has lost two straight WWE Championship matches on pay-per-view, but he was protected in the process.
At Over the Limit, he made CM Punk tap out just a split second after Punk pinned him, and at No Way Out, he wasn't involved in the finish at all, as Kane was the one who actually got pinned.
That leads me to believe that the WWE is going to protect Bryan at all costs by having his losses come with controversy.
So, I think that we could see one of three situations play out at Money in the Bank: Punk loses relatively cleanly, or either Punk or Bryan gets disqualified.
In both scenarios, however, the end result is the same: Punk vs. Bryan facing off one more time (with No DQ rules) at SummerSlam to end this feud once and for all.
The idea is to keep both men looking very strong while giving us a final SummerSlam match between the two that, no matter what the result, would be the end of this rivalry.
5. AJ Keeps Flip-Flopping Who She Screws Over Until the Feud Is Done
This has already happened to an extent.
Although AJ hasn't made it clear whose side she's really on, she has—at one point or another—screwed CM Punk, Daniel Bryan and Kane out of a victory, making it appear to be inadvertent each time.
I think that could very well continue.
Being that AJ is going with this "crazy chick" gimmick, it wouldn't be surprising to see her continually screw over all three men as this feud goes on.
Crazy chicks tend to do, well, crazy things, so it would play perfectly into AJ's character for her to keep interfering in matches without ever really showing favoritism toward any of the three guys involved.
The idea is that she's a lunatic who either can't make up her mind or is screwing over all three guys involved just because she's a bit psychotic.
Sadly, I've seen real-life circumstances where chicks do stuff like AJ is doing purely for their own entertainment, and I think AJ could do the same until the feud ends, ultimately revealing that her intentions were simply to get noticed and get the spotlight (which obviously worked).
4. A Double Turn for Punk and Bryan
CM Punk is firmly entrenched as the No. 2 baby face in the WWE, while Daniel Bryan is arguably its top heel.
But due to the incredible rise in popularity of his "Yes!" chants, Bryan has almost accidentally become somewhat of a tweener.
Sure, he acts like a heel, but he often gets the reception of a baby face, receiving far more cheers than boos.
When Punk was in a similar situation last year, his popularity as a heel ultimately resulted in a full-fledged face turn, which is something I could see happening with Bryan this year.
Better yet, a double turn (with Bryan turning face and Punk turning heel) could even be a possibility as well.
Although I doubt that the WWE will want to turn its second-biggest star heel, you never know if the situation might present itself for that to happen.
This WWE title feud between Punk and Bryan could continue through SummerSlam and beyond, and it could end with Punk going bad and Bryan going good.
3. The Money in the Bank WWE Title Winner Cashes in on Whoever's Champion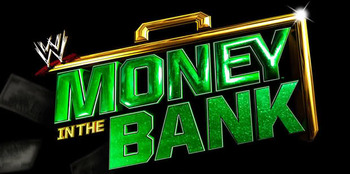 Photo courtesy of WWE.com
Now is the time of year when CM Punk's WWE title reign could be just a split second away from ending.
At this month's Money in the Bank pay-per-view, four former WWE champions—Chris Jericho, Big Show, Kane and John Cena—will all be competing in a MITB match, with the winner earning a shot at the WWE title that can be cashed in at any time over the next year.
That means that Punk could find himself with a new WWE Championship feud in the blink of an eye.
Punk has a lot of history with all four competitors in the MITB match, so I could certainly see any one of them cashing in on him at Money in the Bank or shortly thereafter to presumably end Punk's title reign.
This would make even more sense if it was Kane who won and cashed in on Punk, or even Daniel Bryan, for that matter.
Although there's always the chance that the MITB WWE title match winner won't cash in until way down the road, whoever leaves that Punk vs. Bryan match at the next PPV as WWE champion might have a short-lived reign.
The MITB match winner could easily cash in on Punk or Bryan, win the WWE title and end that feud once and for all in order to start a new one.
2. AJ Ends Up with No One, Punk Retains and Moves on
Everyone seems to be debating about who AJ will end up with.
But here's what might be a more appropriate question: What if AJ ends up with no one?
Given how unstable she is and how hard it has been to gauge what she is truly thinking, there's a big part of me that thinks she could ultimately reveal that she doesn't have feelings for Kane, CM Punk or Daniel Bryan.
When it comes to crazy chicks in the WWE, it's all about them.
They can be extremely selfish and manipulative, and everything they do—although it may appear otherwise—is actually for their own benefit.
Thus, it certainly wouldn't be out of the question for AJ to end up using this love square storyline for her own selfish purposes rather than because she has legitimate feelings for either Kane, Punk or Bryan.
Although she's affected the outcome of numerous matches so far, perhaps she'll throw us a curveball at the end, play it fair and count the 1-2-3 when Punk beats Bryan at Money in the Bank because she's already gotten what she wanted (that spotlight I mentioned earlier).
Then, it would be time for all parties involved to gradually go their separate ways.
1. AJ Reveals She's Been Working with Bryan and Helps Him Win the Title at MITB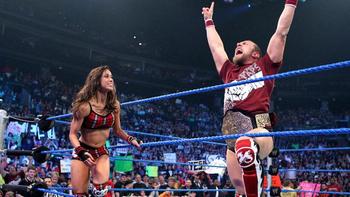 Photo courtesy of WWE.com
If the WWE wants to turn both AJ and Daniel Bryan into huge heels, then this is the way to go.
Imagine that this storyline plays out through Money in the Bank or even beyond, and that the big reveal is that AJ has actually been in cahoots with Bryan this entire time.
Would it be a bit predictable and lacking in logic? Of course.
But the fans would absolutely despise AJ and Bryan if AJ counted a quick pin for Bryan at Money in the Bank to help him become the WWE champion and end CM Punk's lengthy title reign.
At the moment, it doesn't appear as if AJ or Bryan want anything to do with each other, which is precisely why this would work so well.
They would have fooled Punk, Kane and the entire WWE Universe, and we'd all feel stupid and betrayed because of it.
Plus, this would set up what would be the true end of this rivalry: Punk chasing Bryan to regain the title in what would make for a great continuation of the storyline that would result in Punk winning back his belt later this year.
Drake Oz is a WWE Featured Columnist for Bleacher Report. You can follow him on Twitter and ask him any wrestling-related questions on Formspring.
Keep Reading