7 Reasons Why Daniel Bryan Should Win the WWE Title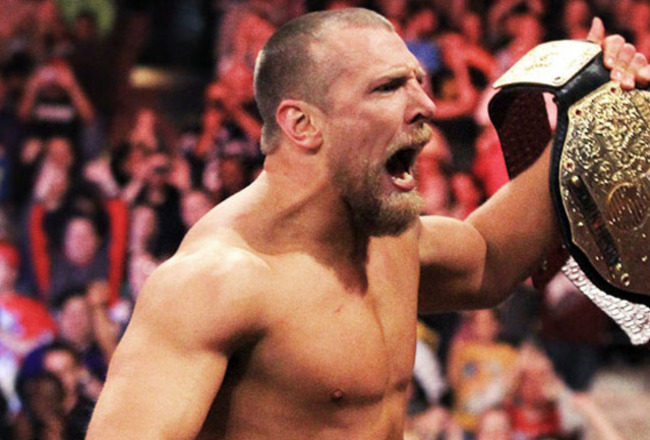 Photo courtesy of WWE.com

Daniel Bryan has been right on the cusp of a WWE Championship win for the last couple of months, but it always seems to evade his grasp.
At Over the Limit in May, Bryan made CM Punk tap out, but it came a split second too late as Punk had already pinned Bryan for the 1-2-3.
Then the next month at No Way Out, it looked like Bryan could walk away with the WWE title once again, but Punk pinned Kane in the Triple Threat match to prevent that from happening.
As you can see, Bryan has been oh-so-close to achieving his dream of becoming WWE Champion, but every time it looks like that's gonna happen, well, it doesn't.
But that has to change, and Bryan has to beat CM Punk at Money in the Bank to become WWE Champion for the first time.
Here are seven reasons why Daniel Bryan should win the WWE title.
7. Every Current WWE Titleholder Is a Babyface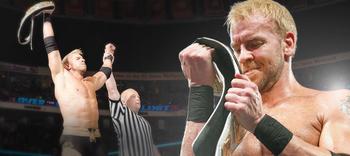 Photo courtesy of WWE.com
One of my biggest frustrations with the WWE right now is that it's totally dominated by babyfaces.
Yes, every current titleholder in the company is a face: CM Punk as WWE Champion, Sheamus as World Heavyweight Champion, Santino Marella as United States Champion, Christian as Intercontinental Champion, Layla as Divas Champion and Kofi Kingston and R-Truth as the WWE Tag Team Champions.
Isn't that absolutely ridiculous?
While I get that it's in the WWE's nature to push babyfaces to "overcome the odds" and beat the heels, it's borderline absurd that every WWE title has been in the possession of a good guy (or girl) since Over the Limit in May.
That has to change, and the man who has to change it is Daniel Bryan.
The WWE needs to have at least one heel champion, and I honestly can't think of anyone better to end the babyface reign of terror than the No. 1 contender for the WWE Championship.
6. There's Not Much More That Punk Can Do as WWE Champion
Photo courtesy of WWE.com
There comes a point when a champion has accomplished just about everything that he could accomplish as that champion.
I think CM Punk has reached that point.
He's wrestled five-star matches (John Cena at Money in the Bank in 2011), he's defended his title against a boatload of top stars, he's cut awesome promos, he's put on great feuds, etc.
Although I wouldn't go so far as to say that Punk has become stale as WWE Champion (I actually don't think that's the case), I just don't think that there's much more he can do as the holder of the most prestigious title in the company.
He's accomplished quite a lot over the last year, in which he's consistently been involved in the WWE title scene, and especially since November 2011, when he started his current reign.
While I'm not pining for the WWE to take the belt off of Punk, I do think that it could be a smart move to put the belt on someone different for the first time in roughly eight months.
That someone different? Daniel Bryan, of course.
5. His Pay-Per-View Losing Streak Has to End at Some Point
Daniel Bryan is just like Chris Jericho.
What I mean by that is that Jericho, who has yet to win a pay-per-view match since his return in January, can lose big match after big match and still be taken seriously as a top star.
And Bryan apparently has that gene, too.
He's lost four straight big pay-per-view matches now, having lost to Sheamus at WrestleMania and Extreme Rules and CM Punk at both Over the Limit and No Way Out.
Yet, in true Y2J-like fashion, Bryan is still over in a major way as one of the WWE's best main eventers.
But after losing those four big-time matches (all on PPV nonetheless), I think it's time for Bryan to pick up a much-deserved major victory, and there's no better way for him to do that than by defeating Punk to become the WWE Champion at Money in the Bank.
While Bryan is one of the few stars who doesn't necessarily need wins to stay over, the fact that he's lost so much makes him more than worthy of winning the big one.
4. He Deserves It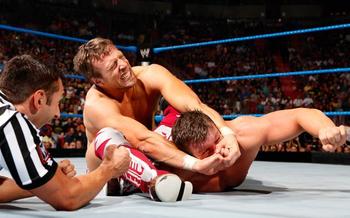 Photo courtesy of WWE.com
I realize that this is a very broad statement, but I think that Daniel Bryan should win the WWE Championship simply because he deserves to.
Over the course of 2012, no one in pro wrestling has done the things that Bryan has done.
He's gone from someone we thought might never win a World title in the WWE to a World Heavyweight Champion and one of the biggest stars in the industry.
By all accounts, Bryan has already exceeded all of his expectations in the WWE, progressing to an elite level both as an in-ring performer and as a character on the biggest stage in the world.
His matches are always superb, his promos continue to be as well, and his character has been arguably the most compelling one on WWE TV over the last six months or so.
Bryan has worked his tail off to become--at least in my view--the top overall performer in the WWE, and he deserves to be rewarded for that.
I mean, if Bryan doesn't deserve a run as WWE Champion, then who the hell does?
3. A Lack of Fresh Challengers for CM Punk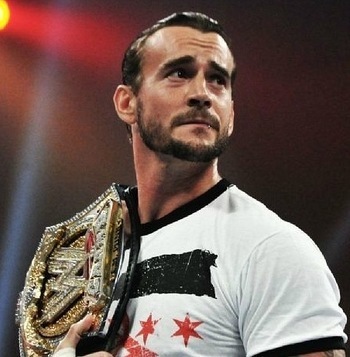 Photo courtesy of WWE.com
With the WWE roster as thin as ever, CM Punk has already run through most of his top challengers.
At some point over the last year or so, he's defended his title against the following stars: Alberto Del Rio, John Cena, The Miz, Dolph Ziggler, R-Truth, Kofi Kingston, Mark Henry, Chris Jericho, Daniel Bryan and Kane.
Of course, he didn't have lengthy feuds with all those guys I've mentioned, but for the most part, he's been involved with a majority of the WWE's top stars while WWE Champion.
Especially with the current heel-face alignment in the WWE, there aren't really a ton of fresh options for Punk to feud with for the WWE title at the moment.
Other than Wade Barrett (who's injured) and Cody Rhodes, I can't think of very many must-see feuds that Punk hasn't already had over the last couple of years.
Getting the belt off of Punk and putting it on Daniel Bryan would open up the possibility for some major never-before-seen WWE title feuds, such as Bryan vs. Cena and Bryan vs. Randy Orton.
2. He's More over Now Than He Likely Ever Will Be
Superstars heat up and cool down all the time.
Someone like Dolph Ziggler is on fire right now, while I think it's safe to say that someone like Alberto Del Rio has lost a lot of the momentum that he built up early on his WWE run.
I make this point because I want to stress that, sure, Daniel Bryan is the hottest act in the wrestling business at the moment. But no one really has any idea how long that will last.
Although Bryan is over like rover right now, he may very well be at the peak of his career in terms of popularity.
Thus, the WWE has to capitalize on his insane popularity while it can.
The company has done that by placing him in high-profile angles and matches and by trademarking the "Yes" phrase, but it needs to go even one step further.
It needs to put the WWE Championship on Bryan while his character is at its climax and the fans want to see him.
We don't know if Bryan will cool off considerably next week, next month or next year, but since he's on fire right now, there's no better time to give him a run with the WWE title than at this very moment.
1. The Face Challenger Chasing a Heel Champ Makes for a Better Story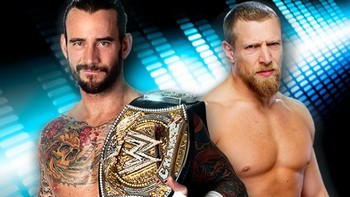 Photo courtesy of WWE.com
Going back to slide No. 7, the WWE has a big problem in that every current titleholder is a babyface.
Why? Because it's hard for us to be interested in WWE programming when all the good guys are already on top.
Although this isn't always true, the average wrestling fan tunes into Raw and SmackDown to see good fight and claw its way to the top to triumph over evil.
But when every champion is a good guy, where's the intrigue? Why should I care about the WWE when, as it's currently situated, good has always prevailed over evil?
I shouldn't be seeing good guys running the WWE. I should be seeing bad guys running the WWE and the good guys trying to change that.
I've always maintained that having a babyface challenger chase a heel champion makes a much better story than vice versa because of that huge payoff at the end when the good guy eventually topples the bad one.
That's no different when it comes to the WWE title picture, either.
The typical fan wants to see CM Punk triumph over Daniel Bryan, but that story loses a lot of its luster when (like the Y2J-Punk) feud, the good guy is already on top of the world.
All it takes to change that is putting the WWE title on Bryan, having Punk chase him, and creating a better story and more interesting TV program because of it.
Drake Oz is a WWE Featured Columnist for Bleacher Report. You can follow him onTwitter and ask him any wrestling-related questions on Formspring.
Keep Reading