NHL Rumors: Best Fits for Kings Backup Goalie Jonathan Bernier
June 30, 2012

Dave Sandford/Getty Images
The Los Angeles Kings will have the ability to improve their team after winning the Stanley Cup by trading talented backup goaltender Jonathan Bernier during the summer.
Here's the latest from Andy Strickland of TrueHockey.com:
#LAKINGS told Bernier they would look to move him once a contract with Quick was finalized

— Andy Strickland (@andystrickland) June 28, 2012
Strickland also reported on the Kings' progress with Bernier.
#LAKings havent been satisfied with Jonathan Bernier offers...told they're hoping for 1st round pick

— Andy Strickland (@andystrickland) June 30, 2012
Let's look at three teams who would be smart to consider trading for Bernier.
Toronto Maple Leafs
If Bernier is available, then it's hard to imagine the Toronto Maple Leafs not having interest, given their issues at the goaltender position.
He may be too unproven for the Leafs' liking, but he would certainly be an upgrade over what they have between the pipes right now.
Would Leafs general manager Brian Burke be willing to give up a first-round pick for a young player?
The last time Burke did that he made one of the worst trades in recent memory.
New Jersey Devils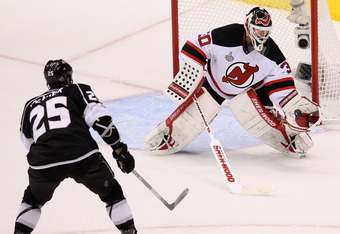 Jeff Gross/Getty Images
With Martin Brodeur's future with the team uncertain for the first time in a while, the Devils could be looking for a new goaltender this summer.
New Jersey would be a great fit for Bernier because if Brodeur isn't there, then Bernier would likely be the starter.
The issue for the Devils is that they probably wouldn't be able to offer Bernier a lucrative contract next summer, when he is set to become a restricted free agent.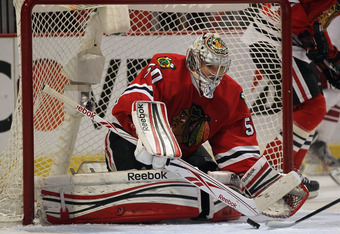 Jonathan Daniel/Getty Images
The Blackhawks will likely be one team willing to make an upgrade at the goaltender position if the right deal comes along in the offseason.
A veteran would be the best option for Chicago, but Bernier is a better talent than current starter Corey Crawford.
The Blackhawks also have some nice prospects that could interest Los Angeles in a possible deal for Bernier.
Nicholas Goss is an NHL Featured Columnist for Bleacher Report and was also the organization's on-site reporter for the 2011 Stanley Cup Final in Boston.