Wimbledon 2012 Schedule: Day 7 TV Coverage, Matches and Bracket Guide
June 30, 2012

Julian Finney/Getty Images
With Day 7 of Wimbledon approaching on Monday, the storylines are heating up. Whether it's No. 2 seed Rafael Nadal losing to unseeded hopeful Lukas Rosol on Thursday, or Roger Federer nearly regaining his form, this year's tournament is shaping up to be can't-miss action for tennis fans.
To help get you into the action, we have provided you with the latest coverage, as well as information on schedules, TV coverage and live streaming.
Bracket Guide
Ladies' Bracket
Maria Sharapova is obviously the talk of the ladies' bracket after her inspiring grand slam win during the French Open.
No.1-ranked Sharapova will take on Sabine Lisicki (No.15) for a spot in the quarterfinals. Sharapova defeated Lisicki in the Wimbledon semifinals a year ago and is expected to make a deep run in the tournament.
If Sharapova advances to the quarterfinals, she'll take on 24-year-old German Angelique Kerber (No.8) for a spot in the semifinals, where No.3 seed Agnieszka Radwanska will be her likely opponent barring an unforeseen upset.
Also making noise is Serena Williams (No.6), who is fresh off a defeat over Jie Zheng. Williams will have to get past Petra Kvitova (No.4) if she wants a shot at the semifinals.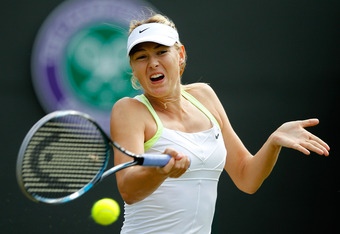 Paul Gilham/Getty Images
But Belarusian Victoria Azarenka (No.2) is in the best position of all. She will face inferior opponents until at least the semifinals, but if she goes into "cruise control" she may be overwhelmed once she faces stiffer competition later on in the tournament.
Men's Bracket
Novak Djokovic, who suffered a devastating loss in the French Open Championship against Rafael Nadal, will not have to fret over a possible repeat of misfortune thanks to Nadal being handed an elimination by unseeded hopeful Lukas Rosol.
Djokovic will face fellow Serbian Viktor Troicki (No.34) for a likely spot in the quarterfinals.
Things are looking good for the No.1-ranked Serbian, but he must remain focused and avoid an upset if he wants to claim the sixth grand slam of his career and his second major win of 2012.
Moving on.
At 30 years old, Roger Federer stumbled in the third round against Julien Benneteau, but he should find a place in the quarterfinals with an anticipated defeat over Xavier Malisse.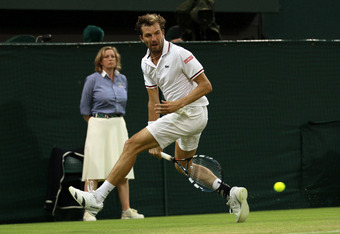 Clive Brunskill/Getty Images
David Ferrer (No.7) and Andy Murray (No.4) are the top-seeded players in their group. The smart money is on Ferrer, who made it to the semifinals in the 2012 French Open, but don't count out Murray, who is five years younger and desperate to make a major splash for the first time in 2012.
In the final group, everything is wide open with the absence of Nadal.
No.5-ranked Jo-Wilfried Tsonga is the top ranked player of the group and made it to the Wimbledon semifinals last year.  Although Mardy Fish (No.10), who has returned to action after heart surgery, could ultimately prevent him from even making the quarterfinals.
Matches to Watch on Day 7
Djokovic will take on an overwhelmed Viktor Troichi, but it's always fun to watch the best perform no matter how one-sided it is. 
Roger Federer stumbled in the third round, so while Xavier Malisse will have his work cut out for him, be sure to check out this match in case there's an upset. 
Also, don't miss Mardy Fish as he takes on his first high-ranking opponent of the tournament, Jo-Wilfried Tsonga. 
On the ladies side, Maria Sharapova will face Sabine Lisicki. If Sharapova wins and advances to the quarterfinals, she'll likely face Angelique Kerber in a can't-miss match between two high-ranking hopefuls. 
Check out Wimbledon.com for full Day 7 schedule.
TV Coverage (Monday, July 2)
Round 4  7 a.m. – 5 p.m. ET  ESPN2
Round 4 Centre Court 8 a.m. – 3 p.m. ET ESPN
Repeat Coverage 5 p.m. – 9 p.m. ET  Tennis Channel
Live Video and Radio Streaming
Future TV Schedule
| | | | |
| --- | --- | --- | --- |
| Tuesday, July 3 | 7 a.m. - 5 p.m. | Women's Quarterfinals | ESPN2 |
| Tuesday, July 3 | 8 a.m. - 1 p.m. | Women's Quarterfinals CC | ESPN |
| Wednesday, July 4 | 7 a.m. - 5 p.m. | Men's Quarterfinals | ESPN2 |
| Wednesday, July 4 | 7 a.m. - 5 p.m. | Men's Quarterfinals CC | ESPN |
| Thursday, July 5 | 7 a.m. - 5 p.m. | Women's Semifinals | ESPN |
| Friday, July 6 | 7 a.m. - 5 p.m. | Men's Semifinals | ESPN |
| Saturday, July 7 | 9 a.m. - 2 p.m. | Women's Final | ESPN |
| Sunday, July 8 | 9 a.m. - 3 p.m. | Men's Final | ESPN |