Spain vs. Italy TV Schedule: Breaking Down Sunday's Euro 2012 Final
July 1, 2012

Jasper Juinen/Getty Images
With the final of the 2012 UEFA European Championships upon us, it's time to break down what will be the most anticipated matchup of the year.
These two international football powerhouses in Spain and Italy are squaring off in an absolute grudge match for supremacy. With some of the best players in the world on both sides of the ball, there is little doubt from fans and experts alike that this will be a great game.
Date: Sunday, July 1, 2012
Start Time: 2:45 p.m. ET
TV Coverage: ESPN
Live Stream: ESPN3.com
Spain's Player to Watch: Cesc Fabregas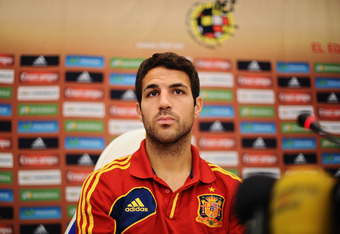 Jasper Juinen/Getty Images
Despite coming off the bench in a few of Spain's games this tournament, there has been no player that has pushed the offensive tempo more consistently than Cesc Fabregas.
If Spain wants to win the game, they should have their star out on the pitch from the start. If anyone knows how dangerous the Italians are and how to stop them for 90-plus minutes, it's the Spanish striker.
Fabregas told the Times of India about what he thinks of the competition his team faces Sunday:
They have a very competitive team. They are very experienced at the back and up front, and they have players who had excellent seasons for teams like AC Milan, Inter Milan and Juventus. They have strong players like Balotelli, tricky players like Cassano, and in midfield they have special players like (Claudio) Marchisio and (Andrea) Pirlo, who's had a great tournament.
This is a candid interview from a usually reserved star, but it proves that they are not taking this matchup lightly. With the 2012 Euro title on the line, the Spanish must start Fabregas and let him play all game.
Italy's Player to Watch: Mario Balotelli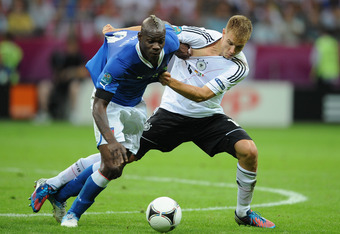 Christopher Lee/Getty Images
As if there was anyone else on the Italian side that the world was focused on, Mario Balotelli has become the face of the side no matter if they like it or not.
While the star has been amazing over the last few games, there is little doubt that the drama that follows Balotelli is not far off. All it takes is one bad comment, and the wheels will fall off.
BBC Football Analyst Mark Lawrenson breaks down the fine line Balotelli can cross and the predicament it could put his team in:
As good as Mario Balotelli was for Italy in their semi-final win over Germany, I can still see him doing something stupid or sulking in the final. In many ways I'd like to see Italy win it because Cesare Prandelli has been tactically astute, he has got his players playing for him and I like the way his team plays.
With all eyes focused on the young star, the pressure is something that he has never faced at this level. If he can keep his head on straight while still playing the game with the same intensity, there is a chance Italy walks away with a big win.
Prediction: Italy 2, Spain 1
With both teams not wanting to cost their nation a loss and feel the brunt of the public backlash, this will be a defensive struggle that will see just a few glimpses of the pure offensive talent on the pitch at anytime.
The Italians may not have the depth of offensive firepower like Spain, but their stars are just as talented. If Italy can find a player like Mario Balotelli streaking down the pitch, there is little doubt the team can net the ball twice.
Spain can do the same, but they looked disheveled against Portugal. Italy will use and abuse them.
Check back for more on World Football as it comes, and don't miss Bleacher Report's Soccer Page to get your fill of all things soccer.