Spain vs. Italy: Plotting Both Teams' Road to the Euro 2012 Final
June 30, 2012

Shaun Botterill/Getty Images
Spain and Italy will take part in Sunday's European Championship final at the gleaming Kiev Olympic Stadium, refurbished just in time for this summer's tournament.
It will be a far cry from the last time the two teams faced each other, just three weeks previously at the Gdansk Arena.
Then it was a 1-1 draw, marked by goals from Cesc Fabregas and Antontio di Natale. But perhaps more so because of the audacious formation (4-6-0) set forth by Spanish manager Vincente del Bosque, and the profligacy of Italian striker Mario Balotelli, who combined some superb bits of individual skill with what has become a standard inability to display any sense of urgency in front of the goal.
Oh, how things have changed in the four games each team has played since that Sunday.
Spain rolled through Ireland 4-0 before dispatching Croatia 1-0 in a nervy display that nearly saw the Croats take a second-half lead but for an ill-placed header from Ivan Rakitic off a sublime Luka Modric cross that fired right at keeper Iker Casillas, who parried the effort away to safety.
Emerging first from Group C with those seven points, Spain made short work of France in the quarterfinal, allowing Les Bleus just four shots on goal in an emphatic 2-0 victory marked by a Xabi Alonso brace on the day he celebrated his 100th cap in the national colors.
With a semifinal against their Iberian neighbors Portugal up next, some wondered whether Spain might be undone by manager Paulo Bento's impressive group, led by a Cristiano Ronaldo firing on all cylinders.
After a tense 0-0 battle that lasted 120 minutes, with Spain nearly finding the winner on at least two occasions during the extra periods (Andres Iniesta came desperately close), La Furia Roja emerged victorious in a tension-filled shootout that saw Ronaldo left off the list of penalty takers.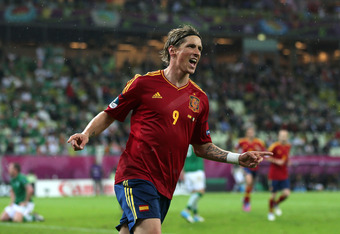 Alex Grimm/Getty Images
The main question now facing Del Bosque is whether he will start a striker against Italy, or remain with the midfield-heavy group that took the pitch on June 10.
It must be said that Spain have looked far more comfortable, and infinitely more dangerous, without a lead striker. 
Alvaro Negredo, the Seville front man who enjoyed a terrific La Liga campaign in 2011-12 during which he scored 14 goals, was far too ineffective against Portugal, offering little more than the erratic Fernando Torres, who has coupled a stirring brace against Ireland with inexplicable bouts of inefficiency during the tournament he dominated in 2008.
A hint at the path Del Bosque might take against Cesare Prandelli's side might have come in the 54th minute of that Portugal match. That's when Del Bosque, fed up with Negredo's inability to amount to anything remotely resembling a dangerous attack against the central defensive pairing of Bruno Alves and Pepe, substituted Negredo for Fabregas.
A 4-6-0 might just be on the cards at the Olympic Stadium, and given Fabregas's fine form during these championships—he's scored two goals despite being forced to deal with erratic playing time as Del Bosque continually tinkers up front—one would think the Barcelona man has earned the right to a starting post.
The Italy-Spain faceoff on Sunday seems such a far cry from the question-riddled side that entered this summer's tournament.
Prandelli has taken one of World Cup 2010's biggest disappointments—Italy failed to make it past the group stage, flopping spectacularly against the likes of European rivals Slovakia—and transformed it into a cohesive unit steeped in defensive quality and practicality that is eerily reminiscent of the 2006 World Cup winners.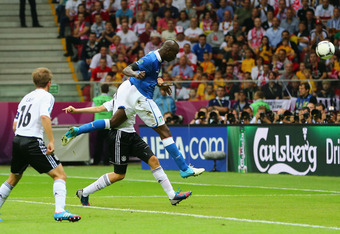 Alex Grimm/Getty Images
After the 1-1 draw against Spain, Italy did enough to earn another 1-1 tie with Croatia before seeing off Ireland 2-0 and grabbing second place in the group.
Italy dealt with penalties of their own against England in the quarters, dominating during normal time but never finding the goal that would see them through. While midfielder Andrea Pirlo's cheeky "panenka" penalty will be remembered most fervently, Gianlugi Buffon is also to be commended for his display during the Azzuri's win over the Three Lions.
Whereas they had been favorites against a decidedly poor England squad, Italy entered their semifinal against Germany—widely regarded as the best team in the tournament up to that point—as clear underdogs.
Thanks to one Mario Balotelli, however, they emerged 2-1 winners after the Manchester City striker unleashed a tremendous amount of quality to power a first-half brace that left Joachim Low's side shell-shocked, and pushed Italy into the ascendancy, where they remained, defensively compact as ever, until Mesut Ozil pulled back a consolation penalty in the game's dying seconds.
So now, the teams that met in their first group match meet again with far more on the line.
A lot changes in the course of 21 days. Spanish left-back Jordi Alba has become one of the players of the tournament, and has seen his stock rise exponentially. His just-finished move to Barcelona verifies that sentiment.
It must be said, however, that Alba is one of the rare Spaniards who has been on fire in every game. La Furia Roja, winners of Euro 2008 and World Cup 2010 have looked a bit less dominant during their campaign this summer.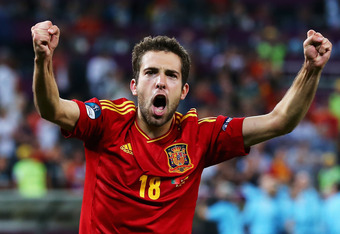 Martin Rose/Getty Images
Their passing is as delicious as ever, but it seems somewhat less penetrative than two summers ago.
Whether that's due to the absence of striker David Villa—Spain's all-time leading scorer—is a matter for debate, but the Barcelona man's ingenuity in the penalty area would be welcome indeed.
But Spain remain as difficult to break down as ever, evidenced by the one goal they've conceded during their five games up to this point.
They've certainly had their moments of frailty (see: Croatia), and right-back Alvaro Arbeloa is a frequent worry. Italy will certainly be cognizant of that avenue on Sunday.
One would think, however, that if Balotelli can recreate some of his brilliant display from Thursday, Italy will be difficult to beat.
In Buffon, who is playing in his umpteenth tournament after making his debut at France '98, they have one of the greatest keepers in the world, who aside from a nervy start to the Germany match has looked the part.
Prandelli's defense is vigorous, and will give Spain no quarter. We saw that on June 10, when Italy's 3-5-2 helped stifle much of Spain's attacking incisiveness, apart from one brilliant David Silva pass that found Fabregas for his goal.
At the very least, we're in line for a treat of a football match. There are stars aplenty on both sides, many of whom are playing superbly at the moment. 
From Pirlo to Balotelli, Italy have the ability to strike with lightning speed and then retreat into their defensive shell. If they score first, one would think they have a terrific chance at victory.
But that will be difficult against Spain, who have that wondrous midfield that is the envy of every team in world football. It's hard to say how much longer the likes of Xavi will continue donning the national uniform, but he has once again looked like the imperious navigator in the middle of the park.
A low score should be expected. The question is, who will find the back of the net first?