2013 NBA Mock Draft: Highlighting Biggest Names You Should Know for Next Year
June 30, 2012
Streeter Lecka/Getty Images
The 2012 NBA draft is just two days expired, but it's never too early to start looking ahead to the 2013 draft and the potential players who will make up the first round. 
While the following mock draft will likely be nowhere close to what unfolds next June, we can still get a better hold on the players to whom you should get yourselves acclimated over the next 12 months. 
In the following mock, we highlight the biggest names to know for the 2013 NBA draft.
1. Charlotte Bobcats: Nerlens Noel, PF/C, Kentucky
Kentucky won a national championship last season with No. 1 pick Anthony Davis leading the way, mostly on the defensive end of the floor.
Next season, the Wildcats are getting a player similar to Davis in incoming freshman Nerlens Noel.
At 6'11" with a 7'4" wingspan, Noel could repeat the season Davis had in 2011-12 and then follow in his footsteps as the first pick in the 2013 draft.
Critics will say that he needs to be more efficient offensively and his frame is far from filled out. (He's just 216 pounds.)
But they were saying the same things about Davis.
Noel is a good bet to lead the NCAA in shot-blocking next year. 
2. Washington Wizards: Cody Zeller, PF/C, Indiana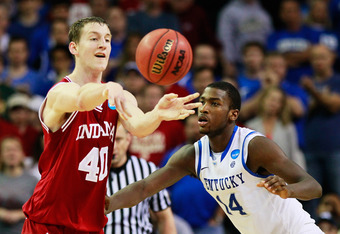 Kevin C. Cox/Getty Images
Zeller's brother Tyler went No. 17 overall in Thursday's draft.
But Cody is the more polished player of the two, and he's likely to be in the running for the No. 1 pick come next summer. 
If he continues to build on his already-solid post game while getting more consistent with his mid-range jumper, Zeller is plenty capable of being the first pick.
He's the kind of complete post player most teams in the NBA simply don't have right now. 
3. Cleveland Cavaliers: James McAdoo, SF/PF, North Carolina
Kevin C. Cox/Getty Images
The upside of McAdoo is off the charts, and no one should be surprised if he emerges as one of the best players in college basketball next season.
He'll certainly get the opportunity as a key player on what should be a good North Carolina team.
At 6'9" McAdoo is an elite athlete, but he can also shoot the basketball, finish at the rim, defend and rebound. 
4. New Orleans Hornets: Shabazz Muhammed, SG/SF, UCLA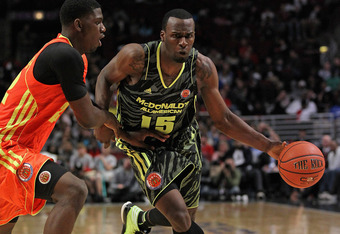 Jonathan Daniel/Getty Images
There was likely no better scorer in high school basketball last year than Shabazz Muhammed, and he's taking those scoring talents to the West Coast and UCLA next season.
If the left-handed shooting guard continues to fill up the bucket at UCLA, he's likely to be a one-and-done. 
One area in which Muhammed could use some improvement is his perimeter shooting, but that's getting picky.
He's a complete scorer who can light up the scoreboard in more ways than anyone in this class.
5. Sacramento Kings: Alex Poythress, SF/PF, Kentucky
At this point, we can expect a couple of Wildcats to be top picks in every draft.
Poythress, an incoming freshman, will likely follow Noel from Lexington to the NBA after one season. 
6. Brooklyn Nets: Steven Adams, C, Pittsburgh
At 7'1" and 245 pounds, Adams has the kind of size and length that NBA teams drool over.
What makes him a top-10 pick next year is the athleticism that goes along with the size. He runs the floor effortlessly for how big he really is. 
A big first year at Pittsburgh should be enough for Adams to be a high pick next June. 
7. Golden State Warriors: Kentavious Caldwell, SG, Georgia
Caldwell is a smooth 2-guard who is effective from distance but also fearless at hitting the glass.
8. Toronto Raptors: Adonis Thomas, SF, Memphis
Thomas needs to get better with his perimeter offense, but his length and athleticism give him a shot at cracking the top 10. 
9. Detroit Pistons: Rudy Gobert, C, France
The best international player available, Gobert has a 7'9" wingspan and is surprisingly agile for his size. 
10. Minnesota Timberwolves: Tony Mitchell, SF, North Texas
Mitchell is a high-volume scorer and rebounder, and another year of experience will do his lottery stock wonders. 
11. Portland Trail Blazers: Alex Len, C, Maryland
Len is as green as it gets in terms of young center prospects, but his ceiling is tall. The tools are all there, as is the size (7'1"). 
12. Milwaukee Bucks: Alec Brown, C, Wisconsin-Green Bay
This draft appears to be loaded with quality big men, and Brown is just another example.
He's 7'1" with a 7'0" wingspan. 
13. Phoenix Suns: B.J. Young, PG, Arkansas
Young will have to show that he's capable of handling the point, but he's a scorer to watch as a combo guard at Arkansas this season. 
14. Houston Rockets:  C.J. McCollum, PG, Lehigh
McCollum was the leading scorer for a Lehigh team that upset Duke as a No. 15 seed in March.
Another season should give him the experience he needs to make the jump. 
15. Philadelphia 76ers: Isaiah Canaan, PG, Murray State
The leader of a Murray State team that stormed out to a fast start in 2011, Canaan is now a year away from being a potential lottery pick.
He's a scoring point guard more than a distributor. 
16. New York Knicks: C.J. Aiken, SF/PF, St. Joseph's
Aiken wasn't a big scorer during his freshman season, but he did show a productive ability to block shots.
Once the offensive side comes around, Aiken will finally start scratching his tall ceiling.
17. Dallas Mavericks: Otto Porter, SF, Georgetown
The scoring on the offensive end hasn't appeared yet for Porter, either. But like Aiken, he's an elite defender who just needs more offensive polish to become a likely first-rounder.
18. Utah Jazz: Andre Roberson, SF, Colorado
Few players will give as much effort as Roberson on a nightly basis, but his jump shot needs to get better for him to crack the lottery. 
19. Orlando Magic: Ryan Harrow, PG, Kentucky
Harrow transfered from NC State to Kentucky and lost a year in the process. He's also undersized, at just 5'11", but he'll make his share of plays for the Wildcats in 2012-13. 
20. Denver Nuggets: Trevor Mbakwe, PF, Minnesota
Mbakwe needs to be a more dominant presence in the Big Ten this season. His size (6'8", 240 pounds) is perfect for one of the nation's toughest conferences. 
21. Boston Celtics: Mason Plumlee, PF, Duke
Mason probably should have followed his brother, Miles, into the 2012 NBA draft. Miles went 26th overall to Indiana, but Mason is the better player.  
22. Los Angeles Clippers: Myck Kabongo, PG, Texas
Few players in the country are as fast baseline to baseline as Kabongo. He needs to add some weight to handle the transition to the NBA, however. 
23. Atlanta Hawks: Deonte Burton, PG, Nevada
Burton averaged 14.8 points and 4.2 assists in leading Nevada at the point last season. 
24. Los Angeles Lakers: Reggie Bullock, SG, North Carolina
Bullock was mostly a role player last season, but he'll step into a bigger role in 2012-13. If he handles it well, Bullock could vault up the board. 
25. Memphis Grizzlies: Patric Young, PF, Florida
It's hard not to see Brandon Bass when you look at Young, a powerful forward who stands 6'8" and weighs 245 pounds. 
26. Indiana Pacers: Jeff Withey, C, Kansas
Withey isn't going to blow anyone away athletically, but he's a technically sound big man who can play in the middle of an NBA defense. 
27. Miami Heat: Ian Miller, PG, Florida State
Miller has little problem scoring the basketball, but he needs to become more polished in the other areas of playing point guard to be worthy of a first-round pick next June. 
28. Oklahoma City Thunder: C.J. Leslie, SF/PF, NC State
Leslie is an explosive athlete who routinely plays above the rim.
He can also defend three or more positions, giving him the kind of defensive versatility NBA coaches love. 
29. Chicago Bulls: Dario Saric, SF, Croatia
Like most European big men, the 6'10" Saric needs to add some weight. But he's a smooth player who can hit jumpers and run in transition. 
30. San Antonio Spurs: Jamaal Franklin, SG, San Diego State
Franklin's numbers last season—17.2 points and 7.9 rebounds a contest—were impressive for the 6'5" shooting guard.