Why Portugal Are the True Winners of UEFA Euro 2012
June 30, 2012
Lars Baron/Getty Images
Tomorrow at 2:45 p.m. EST, Spain will face Italy to decide the winner of Euro 2012. No disrespect to either team, but the team that truly won this tournament will not be playing in the championship.
That team is Portugal.
The Portuguese have had one of the most talented rosters in all of international soccer for the past eight years, with players like Bruno Alves, Pepe, Helder Postiga, Nani, Joao Moutinho, Fabio Coentrao and of course Cristiano Ronaldo.
However, they have not been able to transform that talent into success on the international level in recent years.
At Euro 2012 they lost to Spain in penalty kicks, during which Ronaldo didn't even get a chance to attempt one, but for the first 90 minutes of that game, Portugal outplayed their opponents beautifully. t
They just were unable to convert on the chances they had.
Spain was also the team that ousted the Portuguese in the 2010 World Cup Round of 16. In that game Spain had their way with Portugal and cruised easily to a 1-0 win.
In Euro 2012, Portugal looked like the most complete and dominant team on the pitch at times.
Their third-place finish is their highest finish since placing second in Euro 2004—which coincidentally they hosted.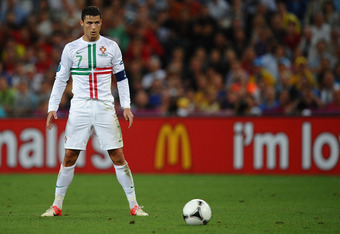 Laurence Griffiths/Getty Images
One of the biggest factors of Portugal's performance was the dominant play of their star player, Cristiano Ronaldo.
Ronaldo has struggled in international play in the past. This time he was able to produce one of the best individual performances of any player at Euro 2012.
Ronaldo registered tournament highs in goals (3), shots (35), shots on target (15) and minutes played (480).
He was clutch, as well, as he scored the winning goals in matches against the Netherlands and Czech Republic. Moving Ronaldo back to left flank paid off well for Portugal, as he played much like he does for his club team, Real Madrid.
Still, it wasn't all Ronaldo for the Portuguese at Euro 2012. Their defense was top notch, as they only allowed 4 goals all tournament. 
And they also had great play from other players.
Moutinho played the cross that allowed Ronaldo to head in their go-ahead goal against the Czech Republic in the knockout stage.
Pepe was amazing on defense and also netted a goal against Denmark in the group stage.
Alves was another crucial part of the immaculate defense Portugal played all tournament and he played exceptionally well in their loss to Spain.
And Nani was effective game-in and game-out for Portugal, using his speed to create havoc all over the pitch.
After disappointing finishes at Euro 2008 (seventh place) and the 2010 World Cup (11th place), Portugal has found a rhythm and proven to countries around the world that they are a real threat to win the 2014 World Cup.
Follow Brandon on Twitter: @jeffeb91 
Follow Brandon on Tumblr: http://i-w-r-i-t-e.tumblr.com/