NBA Draft 2012 Grades: New Orleans Hornets and What They Must Add to Roster
June 30, 2012
Chris Graythen/Getty Images
Thursday night the New Orleans Hornets swarmed the NBA as they picked up three uniquely talented players who each come from winning traditions and who fill needs for this particular team. 
Though Dell Demps was emphatic throughout the draft process that it was "best player available" at all times, there is no doubt the Hornets also had a plan of how they wanted to rebuild their current roster. 
Anthony Davis is as close to a sure thing as a draft prospect can be. Not only does he provide great length and agility on the defensive end, but his offensive skill set is off the charts and he should develop into a great offensive player in the Hornets' system. 
With the No. 10 pick, the Hornets took Duke guard Austin Rivers who was actually considered the No. 1 player coming out of high school a year ago (Davis was a late bloomer who was No. 2). At Duke, Rivers displayed great intangibles and ability to score the basketball from anywhere on the floor. 
Questions have rose to the surface over his ability to play point guard due to 0.9 assist-to-turnover ratio (in other words he had more turnovers than assists). In spite of that, Monty Williams believes Rivers is a guy who can play "some point" for the Hornets. 
More importantly though, the Hornets wanted a player who could create his own shot and thus open more opportunities for teammates. He will likely never be Kendall Marshall in terms of his ability to get others great shots. But he is young enough and studious enough to improve greatly in his ability to run the offense. 
Finally, in the second round, the team added Davis' one-year teammate at Kentucky Darius Miller, who is a very good shooter and perimeter scorer. He is also a very good defensive player. He won't start, but there's little doubt Miller will contribute to the team's success right away.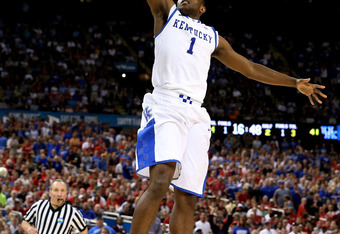 Ronald Martinez/Getty Images
Though Rivers may not have been the first choice of yours truly at No. 10, I have to give the Hornets an A- for their efforts Thursday. 
They got three players who will work hard and will improve as individuals, and as a team, from day one in the building. 
Combined with the likely re-signing of Eric Gordon, the Hornets have a young nucleus with two possible Olympians, an All-American and a bunch of other proven commodities at the NBA level. But there are still issues for this team. There are still areas the team must improve and gain depth on their roster. 
Center
When the team sent Emeka Okafor packing to Washington along with Trevor Ariza, it was obvious that they would have to make some sort of move for a center. As it stands now, Gustavo Ayon would be the team's starting center. 
While Ayon has a nice game, and improved dramatically a season ago, he is not a starting center on a contending team. 
The team has said it will not re-sign Chris Kaman, which is hard to believe since he also would have provided offense for an offensively starved team. 
JaVale McGee has been a name floated out there as a guy the team could look to add in free agency. After McGee and Kaman, there isn't much starting quality frontcourt help available in free agency.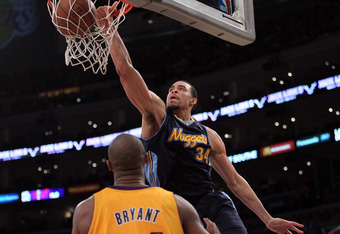 Jeff Gross/Getty Images
In other words, if not Kaman or McGee, the Hornets may have to get creative at the "5", something they've done successfully under Dell Demps already. 
Small Forward
With the impending buyout of Rashard Lewis and his gargantuan deal, the Hornets lack a sure thing at small forward. Most likely, Al-Farouq Aminu will get every opportunity to win that job. Perhaps Darius Miller fits into the Hornets' plans at this position but he figures to be a bench, energy, scoring, defense guy not a starter. 
Unless the team can package any of its remaining assets for Andre Iguodala or Rudy Gay, which seems unlikely at best, the team is going to be awfully young and inexperienced at what has become the game's most important position. 
Point Guard
The Hornets have done a great job of acquiring character guys and players who fill certain roles (Austin Rivers: irrational confidence guy, scorer, potential last second shot guy; Anthony Davis: protect the rim and post defense; Eric Gordon: lock down defender and go-to scorer; Jarrett Jack: irrational confidence and clutch scorer; Greivis Vasquez: offense initiator and great passer; Carl Landry [if he re-signs]: tough guy down low, rebounder, post scorer). 
Unfortunately no one in that group is a guy who puts together the ability to score and pass the way that elite NBA point guards do. The point guard spot appears to be a position the team will play by committee, similar to the way most NFL teams operate the running back position, or the way some baseball teams operate the closer role. 
It often works in the NFL. It doesn't work so well in baseball. One must also remember the football coaches mantra about having more than one quarterback: "If you have more than one quarterback, you don't have a quarterback."
Obviously depth and possessing a quality backup is always the goal. But the team does not possess a player who can do it all.
There has been mild speculation that the Hornets could look to reacquire Darren Collison, a player the team eschewed out the door when Dell Demps and Monty Williams took the reigns of the franchise back in 2010, but who had great success as a rookie in the teal and gold. 
The team could also inquire about the Houston Rockets' Kyle Lowry, or another on-the-block point guard. Vasquez or Jack would certainly be on their way out in such a deal. 
So there you have it. It is clear the Hornets are still a work in progress, with questions abounding in regards to their roster. 
The good news is the team has talent, character and a great coach. So anything is possible.