Claude Giroux: Why He Will Be the 2013 Hart Trophy Winner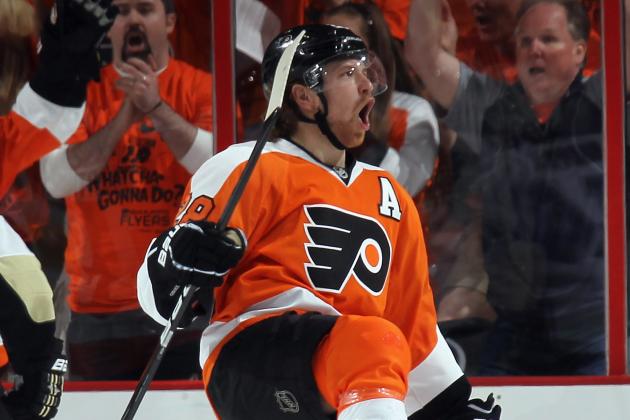 Bruce Bennett/Getty Images

Evgeni Malkin of the Pittsburgh Penguins took home the 2011-12 Hart Trophy as the league's most valuable player, an award that was well deserved as Malkin carried the team in a year heavily defined by the absence of captain and superstar Sidney Crosby.
Some fans, both in Philadelphia and league wide, felt that the fact that Philly's Claude Giroux was not even nominated for the trophy was a major snub.
Giroux finished third in points and second in assists and carried the Philadelphia Flyers to the playoffs despite the fact that the team had traded away its former captain and top scorer in the offseason and lost its current captain to injury last autumn. Giroux's role as a breakout star and central figure in Philly was established last season, yet the NHL failed to recognize him come the NHL Awards.
While 2011-12 did not see Giroux honored as he deserved, the Flyers' center is almost certainly the frontrunner for the Hart Trophy in 2012-13.
Begin Slideshow

»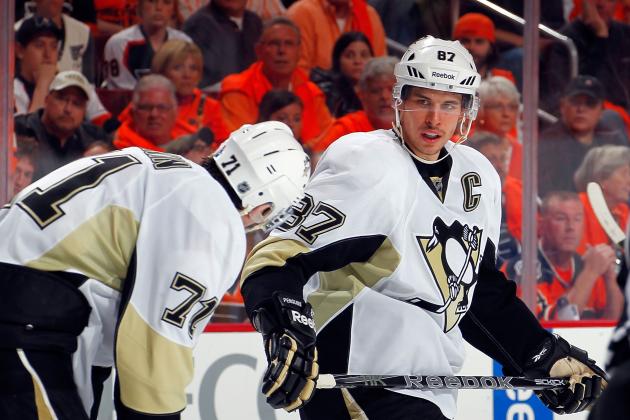 Paul Bereswill/Getty Images

There is no argument that the two biggest competitors for the Hart Trophy are Sidney Crosby and Evgeni Malkin. Pittsburgh's Big Two spend more time in the spotlight than anyone else and have made a habit of lighting up the scoresheet.
However, the fact that these two play on the same team could potentially work against them in the Hart Trophy race. When Malkin kept the Pens competitive last year in Crosby's absence, he was leading the team despite missing the best player in the world. It would appear that neither one of these players can truly be "Most Valuable" when both are playing, if the team can still be competitive without one of them.
On the other hand, if the Flyers lost Giroux, the ship would likely sink. That makes him more valuable than Crosby or Malkin playing together.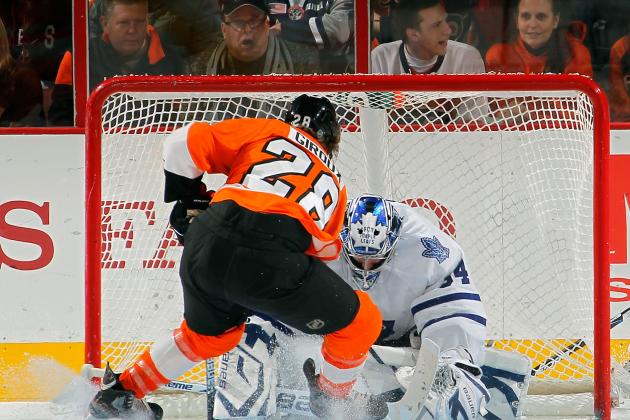 Paul Bereswill/Getty Images

Last season, having been given a bigger role and more responsibility, Giroux set career highs in goals, assists and points.
In fact, in four NHL seasons, Giroux has finished every year with career highs in goals, assists and points, and there is no reason to believe he will stop now.
Giroux missed five games due to a mild concussion, the first time in three years he did not play a full season. If he stays healthy in 2012-13 and continues to grow with more responsibility on Philly's potent offense, Giroux will break 100 points and his career highs yet again.
Once Giroux hits triple-digit point production, it will be impossible to ignore him as a Hart candidate.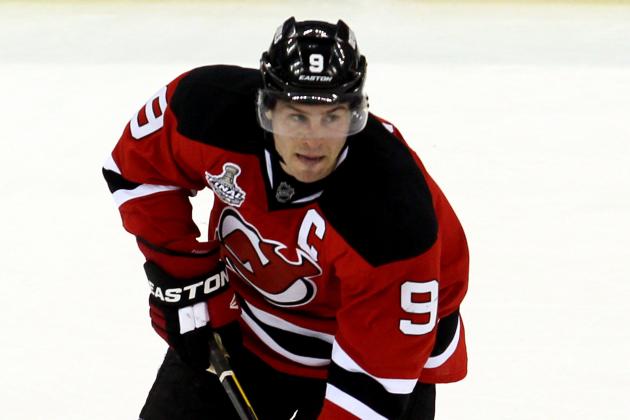 Jim McIsaac/Getty Images

As Giroux's 28 goals in 2011-12 would indicate, the Hearst, Ontario native is not a natural goal scorer; Giroux is a setup man at heart.
Giroux contributed 65 assists last season, despite playing on a line with Jaromir Jagr and Scott Hartnell for most of the season. Jagr's age certainly affected his production, and while Hartnell had a career year, few would consider the redheaded pest a true goal machine.
Philadelphia has ample cap space to address its needs, and while their primary focus should be on defense, the team won't hesitate to pad its potent offense if the opportunity arises.
Pipe dream or not, if the Flyers acquire a player like Zach Parise, both Giroux and Parise can expect to hit career highs easily.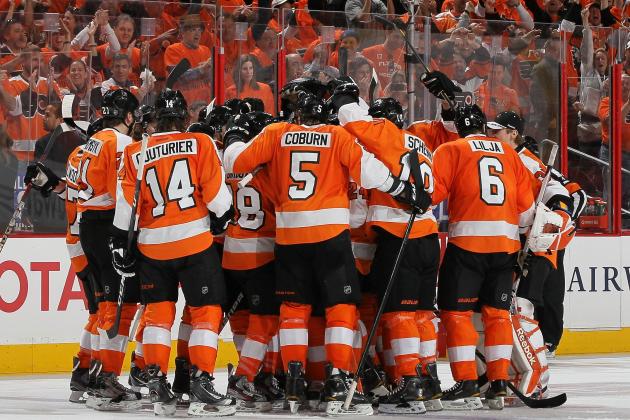 Jim McIsaac/Getty Images

One of the reasons that 60-goal scorer Steven Stamkos never had a chance to win the Hart Trophy despite his nomination was because the Tampa Bay Lightning finished tied for 10th in the Eastern Conference and therefore missed the playoffs.
How can a player be considered valuable if his team does nothing of value?
Malkin and Henrik Lundqvist had entirely different experiences. Lundqvist led his team to the top of the Eastern Conference. Malkin's Penguins finished within a point of the New York Rangers and found themselves the odds-on favorite to win the Stanley Cup.
Translation: team success gets you noticed.
Giroux's young Flyers finished with the third-best record in the Eastern Conference, and appear poised to be a better team next year. Young players like Brayden Schenn and Sean Couturier will be a year wiser and more dangerous and the team is addressing its defensive needs in the absence of Chris Pronger.
Barring a rash of sophomore slumps, the Flyers will be spending all of 2012-13 getting themselves—and their superstar center—noticed across the NHL.
Bruce Bennett/Getty Images

Being on the cover of EA Sports' NHL 13 may not be an automatic ticket to Hart Trophy candidacy, but Giroux's fan-selected victory does send a strong message: the NHL is taking notice of what is happening in Philadelphia.
Giroux himself is mild-mannered and soft-spoken, and he doesn't command the media attention of a Sidney Crosby or Henrik Lundqvist (Giroux was not even one of the central figures in HBO's 24/7 coverage of the weeks leading up to the Winter Classic), but his pure production has propelled him from unnoticed third-line center to one of hockey's most recognizable faces in just a year.
And there is no denying that name recognition plays a major role in selecting Hart Trophy candidates.
With Giroux now among the NHL's most well-known stars, there is no excuse for Philadelphia's pride and joy to be snubbed of a nomination in 2012-13.
And if his growth is any indication, there is no doubt whatsoever that Giroux will be a frontrunner for the Hart by the time the season comes to a close.
The only thing working against Giroux? That's not the trophy he wants.