Odds on Who Wins the Arizona Cardinals' Starting Running Back Job
July 2, 2012

Christian Petersen/Getty Images
Normally, the odds are good that a 1,000-yard running back's starting job is safe. For the Arizona Cardinals and Beanie Wells, however, that may not be the case.
Wells was on his own in 2011. He performed well, setting career-highs with 245 carries for 1,047 yards, 4.3 yards per carry and 10 touchdowns.
This season, Wells will have company in the backfield. And depending on the health of both he and Ryan Williams, the fourth-year power back from Akron, Ohio, may find it difficult to keep his job.
Which back emerges as the starter by Week 1 may be solely up to Wells.
Beanie Wells
As noted above, Wells set career-high marks in every major statistical category last season as Arizona's predominant rushing threat.
He played in 14 games, missing both matchups with the division-rival Seattle Seahawks because of a nagging knee injury. Wells had offseason surgery to repair the damage to his knee, and he now must rely on rehab and hope he's ready to go by July 24—the day the Cardinals report for training camp.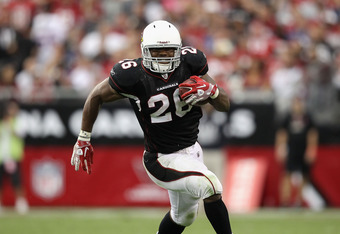 Christian Petersen/Getty Images
[Click here to view full training camp schedule.]
In late-May, Wells told Kent Somers of AZCentral.com the surgery was just a scope but didn't provide much else. "It's coming along pretty good," Wells said. "No setbacks at all, I'm feeling confident about being ready when the time is right."
The 230-pound running back was asked if the meniscus was involved in the surgery, to which he replied: "Naw, not really meniscus. It was a little more complicated."
As someone who has dealt with a torn meniscus, I can tell you with a good degree of confidence that playing football on the level at which Wells plays would be nearly impossible with such an injury. Depending on the severity, it's difficult even to stand up without searing, stabbing pain throughout the knee.
I realize professional athletes have access to far better medical resources than a lowly sportswriter, but that type of injury creates a feeling of almost no stability within the knee, in my experience. Cutting up field and running over defenders would be nearly out of the question.
Wells stated he's confident he will be ready when the time is right, and that time needs to be July 24. If he misses any significant portion of training camp and/or the preseason, his fellow rehabbing teammate may make the coaches' decision for them.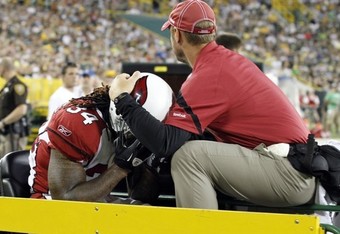 Ryan Williams
The injury Ryan Williams suffered last preseason in Green Bay could potentially have ended his pro football career before it even began. But, thanks to modern medicine and an unflappable will to make a name for himself in the NFL, he is right on schedule to return to action this season.
Although Williams' injury was horrific and devastating, he cannot be broken that easily—if at all.
"You can't break me," he told AZCardinals.com.
Arizona selected Williams with the No. 38 overall pick of the 2011 NFL draft despite the running back position being well stocked with able-bodied players.
Because of new draft strategies that suggest the team take the best available player, rather than a player who best fills a "need," the Cardinals found themselves a gem with the former Virginia Tech standout.
Head coach Ken Whisenhunt and the entire Cardinals draft crew had Williams rated as the 15th-best player on the team's top 120 board. Whisenhunt was quoted by Darren Urban of AZCardinals.com as saying that taking the best players available makes the team better.
"Let's face it, guys," Whisenhunt said. "We were 5-11 last year (in 2010). We've got to get better as a football team. When you take the best players available in your opinion—we put a lot of work into this—we become a better football team."
Williams is certainly a better runner than Tim Hightower, the man whose number he wears and whose position on the depth chart he took.
Whisenhunt said he liked that Williams was able to hold onto the football in traffic. "I like that, since it's certainly been an issue for our running backs the last couple of years."
Hightower fumbled nine times during his final two seasons in a Cardinals' uniform, losing eight of them.
Wells has had his own fumbling issues, but it was not as big a problem last season. He fumbled four times, but unlike Hightower's in the past, they were not debilitating blows to the team's chances at winning a game.
Who Will Win the Starting Job?
The main factor in who starts at running back will be the readiness of Wells and his surgically repaired knee. All signs point to Williams being ready to make a difference, so now it's up to Beanie.
No matter who wins the job, Arizona's running game should be a vastly different monster in 2012.
The addition of Williams to the offense will allow Whisenhunt and offensive coordinator Mike Miller to be creative in their play-calling. With his shifty moves and extreme cut-back ability, he will be a threat to score in many varying ways.
Wells and Williams have the potential to develop into one of the premier running back tandems in the league as long as both remain injury-free. As I stated in a previous article, a healthy Wells and Williams will lead the Cardinals back to the playoffs.
Placing odds on who will be the starter is difficult, but right now—and because we don't have a current update on Wells' knee and whether he will be ready for the start of the season—the odds are stacked in Williams' favor. He has proven that he is nearly fully recovered from the nasty injury that ended his rookie season, and he is as excited as can be to get back on the field.
Following Arizona Cardinals Fan Fest, which was held at University of Phoenix stadium for the first time, Whisenhunt also seemed excited for the youngster when talking with Darren Urban:
"He looked good," Whisenhunt said. "You forget his quickness, his vision. There is always a little trepidation on your first action like that. It was good to get it out of the way. Now it's out of his head."
If Wells proves his knee is 100 percent, though, there is little doubt he will be the starter. Until that time comes, he is in danger of losing his starting job.