NBA Draft 2012: Breaking Down Most Mind-Numbing Decisions of Round 1
July 1, 2012

Elsa/Getty Images
As easy as it may have been for the New Orleans Hornets to select Anthony Davis No. 1 overall and the Washington Wizards to take Bradley Beal at No. 3, not every team decided to take the intelligent, safe route when it came to their picks.
Sometimes risks pay off, but organizations are normally better off when they are more calculated.
Several teams went for a home run in the first round, but those types of picks wind up being strikeouts more often than not. That isn't to say that there is no chance that they pay off in the long run, but the initial investments aren't looking particularly good on a few choices.
Here are the three of the most mind-numbing decisions from Thursday's first round, complete with analysis of what picks the teams in question should have made.
Cleveland Cavaliers Take Dion Waiters Over Thomas Robinson
There had been whispers that the Cleveland Cavaliers were possibly interested in Syracuse guard Dion Waiters leading up to the draft, but nobody truly believed that they would take him at No. 4. Trading up to No. 2 and selecting Beal looked like a possibility, but Cleveland decided to stand pat.
As luck would have it, Kansas power forward Thomas Robinson was still on the board when their pick came up, but the Cavs did the unthinkable as they actually took Waiters.
Waiters is a very talented player with explosive quickness that allows him to get to the basket, but he isn't a great shooter and he will have to adjust after playing in a zone defense for the Orange. Waiters also didn't start a game this past season.
Robinson, on the other hand, was Kansas' go-to guy and he showed an ability to score inside, shoot from mid-range and rebound with ferocity. Robinson would gave been the perfect interior complement to point guard Kyrie Irving, but the Cavaliers blew it.
New Orleans Hornets Take Austin Rivers Over Kendall Marshall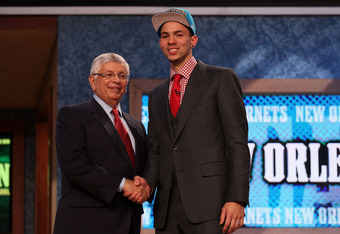 Elsa/Getty Images
The Hornets did well with the first pick as they made the no-brainer selection of Davis, but when they had the chance to make their draft one of the ages, they let style rule over substance.
The Hornets took a major step back last offseason when they were essentially forced to deal point guard Chris Paul to the Los Angeles Clippers, and it is truly impossible to find a suitable replacement for a player of Paul's caliber anywhere, especially in the draft.
With that said, the Hornets could have gotten themselves an awfully good distributor in the form of North Carolina point guard Kendall Marshall. Instead, the Hornets took Duke guard Austin Rivers in hopes of making him a point guard.
Rivers is the more talented and gifted player, but he is also somewhat selfish and simply won't translate as a point guard. Marshall has some holes in his game, but he utilized the talent around him to perfection at UNC and would have been a great supporting piece to go with Davis and Eric Gordon.
Houston Rockets Take Royce White Over Tyler Zeller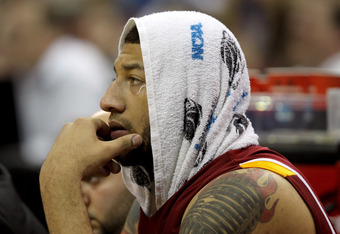 Jonathan Daniel/Getty Images
The Houston Rockets had three first-round picks, and although I really liked what they did at No. 12 and No. 18 respectively by taking Jeremy Lamb and Terrence Jones, their No. 16 selection left something to be desired.
Houston went with Iowa State forward Royce White at that spot, and while he is an intriguing prospect, there were better fits available. White is an undersized power forward with a great post-up game and passing ability, but he comes with some baggage and may not have an NBA skill set. On top of that, the Rockets already have a good deal of power forward-types on the roster.
What Houston lacks, however, and has since the retirement of Yao Ming, is a true center.
The Rockets dealt the only viable one on their roster when they sent Samuel Dalembert to the Milwaukee Bucks as part of a package to move from No. 14 to No. 12 in the draft.
North Carolina big man Tyler Zeller was on the board and would have been a great pick. He isn't overly physical, but he is a true seven-footer who can run the floor and rebound. His odds of NBA success seem much higher than White's in my view.
Follow @MikeChiari on Twitter