Miami Heat: Understanding and Appreciating Chris Bosh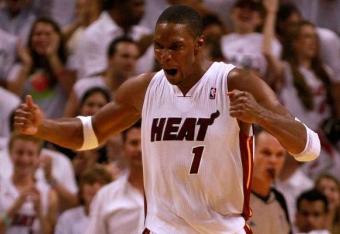 As is customary when winning a championship, the most visible players make the rounds on the talk show circuit and describe what the experience of "winning it all" felt like.
Now, as you can imagine, the lure of the interview never really has as much to do with what the athlete says (because it's usually cliched) as it does how he says it.
Which is why it wasn't until I saw Chris Bosh's appearances on Jimmy Kimmel and Live with Kelly this week that I began to appreciate the road to redemption he walked this season.
It's a road that you may have never noticed because of his playful demeanor during those interviews. Or, really, because the bigger story that's overshadowed the Miami Heat since the Big Three era was born was LeBron James' fall from grace .
In hindsight, maybe that's when Heat fans started taking Chris Bosh for granted, as his decision to join Miami was totally eclipsed by James' decision the day after.
In any case, as Bosh's face more honestly depicted his feelings than his words did, I thought about all the criticism he experienced from us Heat fans over the years.
As one of his former critics, I remember why that was the case.
Simply put, he was an All-Star who was getting paid like a superstar.
And on a team that was built to become a dynasty, Bosh's contract seemed like the team's weakest link.
Sure, I remember the handful of Heat fans who came to his defense, arguing that the criticism he received for his lack of production was unfair, that he was more worthy of recognition as a former franchise player who sacrificed to be a third option.
But that argument never held water with me. I never cared how many points he had. All I wanted from him was to rebound and do it consistently.
Heck, even he acknowledged that shortcoming when he came into this season bulked up and set a goal of averaging 10 rebounds a game.
So, what did he ultimately average during the regular season? 7.9 rebounds, which was actually a slight drop from the 8.3 rebounds he brought down last season.
But it doesn't matter anymore.
Because, although some will point to Bosh becoming more popular during his absence in the second and third round of the playoffs, more will remember it during the NBA Finals, when he averaged nearly 10 rebounds to go along with one block a game.
And, well, maybe we should all be thanking Heat coach Erik Spoelstra more so than Bosh for putting him in a position, literally, where he could thrive.
Spoelstra, after all, was just as maligned by us as Bosh, if not more.
Nevertheless, Bosh's move to center proved to be the winning formula that transformed Miami from a championship contender to a champion.
And I realized something important that kept me from not only recognizing this, but also rejecting the idea that Miami should sign a big man to its mid-level exception instead of Ray Allen
There is no center in the NBA that is dominant enough on the offensive end who could legitimately exploit Miami's lack of size. Heck, for all the discussion surrounding Dwight Howard this past season, he is only averaging 18 points a game for his career.
In fact, a case could be made that the only center in the league who could come close to devastating the Heat's newly discovered small-ball approach is Andrew Bynum. And Miami doesn't need to worry about that because he plays in the Western Conference, plays with Kobe Bryant, a notorious ball-stopper, and is one of the biggest knuckleheads in the league.
Which is to say, I am now on board with the Heat signing Ray Allen to its mini mid-level exception.
I should also point out that I was never against the move. (Although I can understand why you may have thought that; my Celtics hatred often spills into columns and becomes easily misconstrued). I never believed Allen was damaged goods.
Rather, I thought the Heat would've been better served using the money on a big man.
Now, thanks to Bosh, I realize that is not the case.
Still, it will be easy to give the credit to LeBron if the Heat do sign Allen, given the latest assist he dished out on Twitter earlier this week, capping off an already remarkable MVP season.
It will be just as easy as it was to overlook Bosh's plight and the internal criticism he faced since it was never on the same level as the external criticism that LeBron faced.
But, oh, how it must have stung just a little bit more.
In both of his interviews, Bosh prefaced the glory of winning a championship with the agony of how gut-wrenching the game of basketball can be to a player.
Just as I heard him say that for the second time, I thought about how much of a role someone like me played in that agony.
Someone who was as critical of Bosh as they were devoted to the team he was on.
Which is when it dawned on me that the guy I was watching cared as much about winning the hearts of Heat fans as winning a championship.
For whatever reason, one specific moment during the NBA playoffs came to mind.
It was Game 5 of the Eastern Conference finals, when Bosh returned from the abdominal strain and scored his first points on a three-point play, no less.
At the time, I wrote the moment off as a player who was happy to finally be back on the court and able to contribute.
Now, there isn't a part of me that doesn't believe it was actually the reaction of a guy who wanted desperately to prove himself to the thousands of Heat fans watching in the crowd and at home.
Well, he has our support now.
And, during those times in the future when he fails on the court, I'll remind myself of that moment.
This article is
What is the duplicate article?
Why is this article offensive?
Where is this article plagiarized from?
Why is this article poorly edited?

Miami Heat: Like this team?