Vanderbilt Football: 5 Offensive Difference Makers for 2012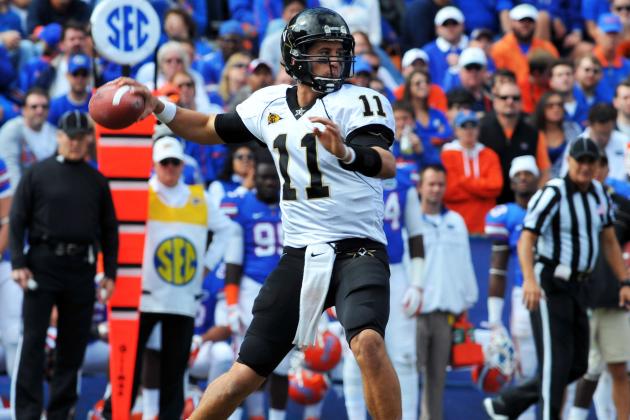 Al Messerschmidt/Getty Images

It's clear that head coach James Franklin has the Vanderbilt football program moving in the right direction. 2012 should be another season for the Commodores to push for a bowl berth.
The Vanderbilt offense was somewhat of a roller coaster ride last season, but Larry Smith has since graduated.
With South Carolina coming into Nashville for the season-opener in front of a national audience, the Vanderbilt offense will have a tough test right out of the gate.
These five difference-makers will have to play well throughout the season for the Commodores to improve on their 6-7 record in 2011.
Begin Slideshow

»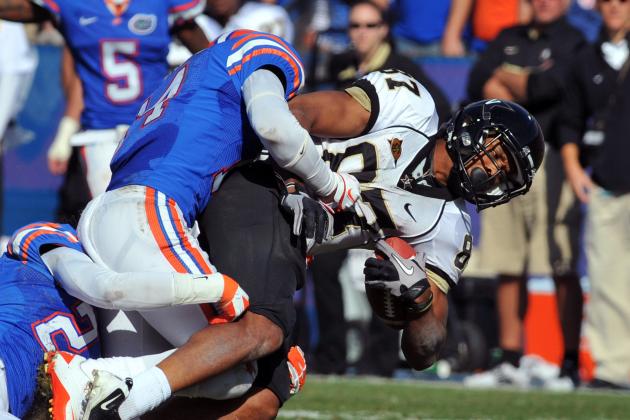 Al Messerschmidt/Getty Images

It's always difficult for a wide receiver to flourish in a vertically-challenged offense, but that's exactly what Jordan Matthews had to deal with last season.
Fortunately for Matthews and the rest of the team, Jordan Rodgers provided a huge spark for the offense. It gave us a chance to see how much potential Matthews has heading into his junior season.
Matthews enjoyed a breakout season in 2011 with 778 yards receiving. He also became a one-man wrecking crew over the second half of the season, and it will be interesting to see if he continues that trend to start against the Gamecocks.
If Matthews can follow up last season with another strong showing, then the Commodores will get their fair share of points.
That's something that the Commodores have rarely had since Jay Cutler wore the black and gold.
Projected Stats: 47 receptions, 750 yards, 5 touchdowns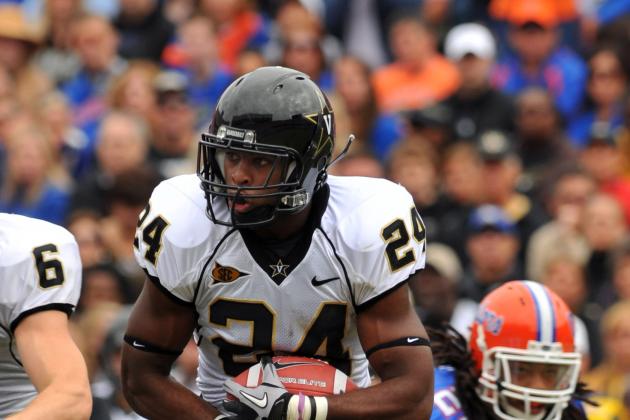 Al Messerschmidt/Getty Images

Wesley Tate is arguably the most versatile player on the offense. He's got a lot of speed and can really make solid contributions as a receiver out of the backfield.
Tate is the younger brother of former Notre Dame wide receiver and current Seattle Seahawks wide receiver Golden Tate.
Last season Tate had 187 yards receiving in very limited action. If his offensive touches increase, then he should be able to really add another dimension to this offense.
However, the depth chart is very crowded at running back for Tate to see any consistent action at running back.
James Franklin has to figure out a way to get him on the field on normal basis as a guy in the slot, or maybe even in a two-back set. It wouldn't make sense to waste his talent when your offense still has plenty of room for improvement.
Projected Stats: 23 receptions, 225 yards, 2 TD, 12 rushes, 85 yards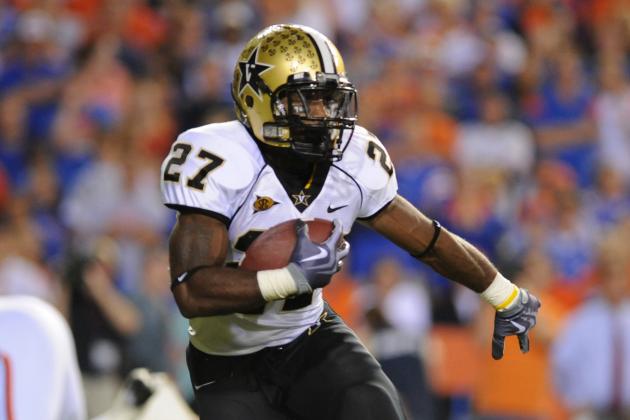 Al Messerschmidt/Getty Images

Warren Norman has been plagued by the injury bug for a solid chunk of his Vanderbilt career.
Norman looked to be improving during Spring practices, but it's still very uncertain if he'll ever be able to contribute as much as he did in 2009.
However, if Norman does return to his form as a freshman, then the Commodores could be in for the best season in decades.
The Commodores don't necessarily need him to be in the dominant form that broke SEC freshman records, but he will make a huge difference if he can at least be available for the entire regular season.
Norman making consistent contributions to the offense will preserve this next running back to be in top form towards the end of the season.
Projected Stats: 70 rushes, 550 yards, 3 TD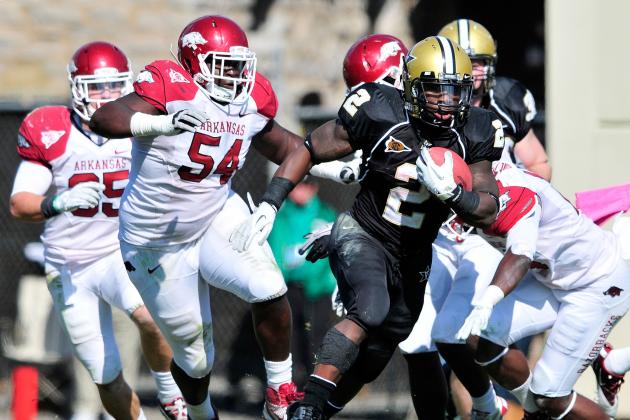 Grant Halverson/Getty Images

When Warren Norman was lost to injury during the horrendous 2010 season, it allowed Zac Stacy to emerge as a great running back as well for this Vanderbilt team.
Stacy was the unquestioned top guy at running back last season. He rose to the challenge by finishing with nearly 1,200 yards.
He was also a key difference-maker in four of the Commodores' six wins.
The Commodores should have shocked Arkansas as well, and that also was thanks in large part to Stacy being a one-man wrecking crew.
Stacy should give the Commodores another solid season rushing the football. He will keep the Commodores competitive even in games that they may have no business being in, when you look at the matchup on paper.
Another 1,000-yard season would be huge for this team, and that's really not all that much of a stretch with a competent quarterback finally under center.
Projected Stats: 160 rushes, 860 yards, 6 TDs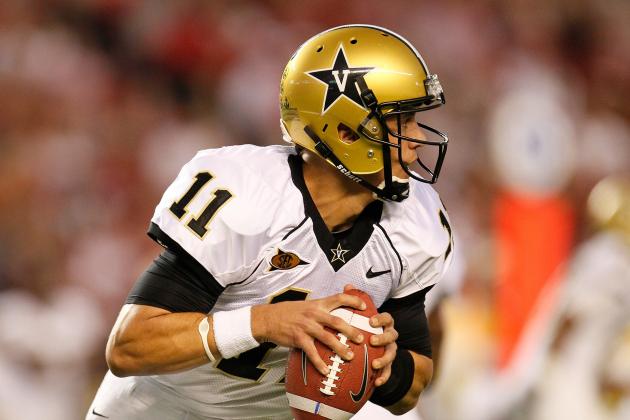 Kevin C. Cox/Getty Images

Could Jordan Rodgers be the solution to all of the problems the Commodores have had since Jay Cutler left?
He certainly showed glimpses of that last season, and he has all the tools you want to see in a quarterback who's up against SEC defenses every week.
What should be so exciting for the Commodores is that Rodgers didn't play up to his full potential last season. It was obvious that, at times, he was just winging it.
And, he still led this team to win three of its last four.
Tough losses against Arkansas and Tennessee still left a lot to be desired.
Now that Rodgers will have a full offseason to prepare as the starting quarterback, expect great strides to be made in 2012.
Rodgers also has a solid rushing attack to back him up to go along with some wide receivers who are steadily improving
It's important to remember that Rodgers was dealing with an inexperienced group of receivers as he was thrown into the fire in place of Larry Smith.
This whole offense should look a lot crisper this season, and Rodgers should have this team pushing for another bowl berth.
Projected Stats: 2,100 passing yards, 13 TD's, 9 INT's, 58 comp. percentage