14 Best College Football Movies and Documentaries Ever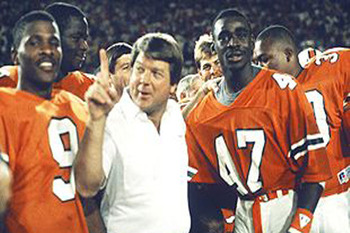 Good college football movies are harder to find than you might imagine.
There are several solid documentaries, including the recent pieces that are part of ESPN's 30 for 30.
The films on this list are the best of the two genres.
The documentaries are incredibly well done, informative and enjoyable, while the movies that are part of this list offer a more comedic or dramatic flair to the list.
We enjoy our movies, and we enjoy football, and these films offer the best of both worlds.
14. Horse Feathers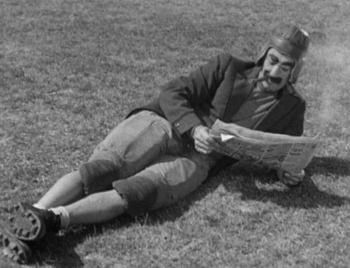 This film was considered so great in its time that the final scene showing the Marx brothers riding down the field in a horse drawn garbage wagon made the cover of Time in 1932.
The movie's jabs at eligibility rules being stretched and programs using pro players and others to play amateur ball are remarkably applicable to today's scene.
The film revolves around the rivalry between two fictional schools, Darwin and Huxley, and the lengths to which each will go to win their rivalry contest.
13. The Junction Boys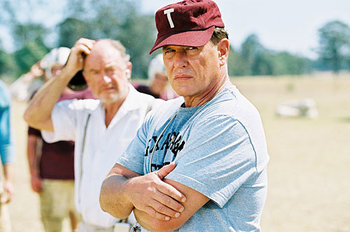 If you enjoy a docudrama replete with tough football and angry coaches, this flick is definitely for you.
The movie chronicles Paul "Bear" Bryant's legendary camp at Junction, Texas, in 1954.
Bryant ran an epically tough camp for those 10 days, where heat spiked in the low 100-degree range.
Practices began before dawn, lasted until 11 pm, and Bryant regularly denied the players water breaks.
The movie does a great job of capturing the gritty, hot and merciless spirit of the camp, and provides us with a look at the challenges players faced during that time period.
12. The Rivalry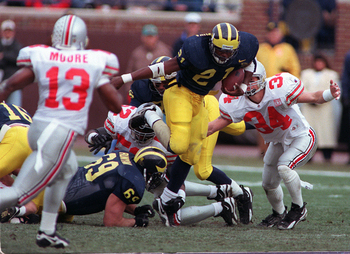 HBO presented this documentary in 2007, taking a look at the biggest rivalry in college football.
Michigan vs. Ohio State.
The documentary is loaded with plenty of highlights, and enough information about the rivalry to send even the most diehard fans of the teams into overload.
For those of you who are not a fan of either of these teams, this is a great film to watch to catch yourself up on the history of one of the most intense rivalries in history.
11. Knute Rockne All-American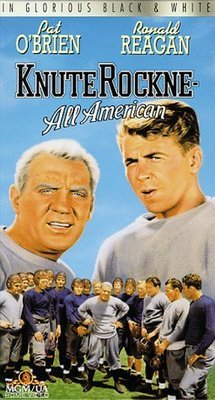 If you really want to take yourself back, check out this flick that tells the story of Notre Dame legend Knute Rockne.
Ronald Reagan played George Gipper, and was forever after stuck with the nickname "Gipper."
The film is a biographical tale, taking us on a journey with Knute from childhood through his glory years at Notre Dame.
It's definitely an oldie, but worth the time to watch.
10. Breaking the Huddle

Video courtesy of YouTube

Integration is addressed in this documentary released by HBO in 2008 and shows us exactly what was at the core of integration at schools such as Alabama in the 1970's.
The 1970 meeting between 'Bama and USC, in which USC running back Sam "Bam" Cunningham ran over, around and through the Alabama defense is highlighted, as well as other pivotal performances by African-American stars who helped pave the way for integration.
This documentary points out an intriguing truth: There are lessons to be learned from football.
Winning was primary in the South, and if that meant working with African-American neighbors to achieve a common goal, then so be it...
9. The Express

Video courtesy of YouTube

This movie tells the story of the first African-American Heisman Trophy winner, Ernie Davis of Syracuse.
From racially charged situations to Davis' relationship with head coach Ben Schwartzwalder, the film tells a great story about how difficult it was for African-American athletes to earn the honors they deserved.
While typical sports movie cliches abound, it's clearly a movie with its heart in the right place.
8. We Are Marshall

Video courtesy of YouTube

There are few movies that address their subject matter with such respect, dignity and skill.
We are Marshall is the story of a program recovering from the crushing blow suffered in a horrific plane crash.
The team's coaching and medical staff, 37 football players and 25 boosters were on the plane, heading back after a 17-14 loss to East Carolina.
The movie, featuring Matthew McConaughey as new head coach Jack Lengyel, tugs at the emotions, and tells a moving story.
Call it sappy, if you will, but this movie is one of the all-time greats.
7. The Play That Changed College Football

Video courtesy of YouTube

This film aired last year as part of ESPN's SEC Storied series, and focused on the inaugural SEC title game.
It's divided into two parts, what the game meant to college football at the time, and what it means to college football today.
The SEC, ever the forward thinking conference, implemented the conference title game in spite of reservations held by several coaches, as noted in the documentary.
That move started the precipitous slide toward the college football system we have today.
6. The Waterboy

Video courtesy of YouTube

When it comes to football comedy, Adam Sandler brought us the best acting there is in this one.
He plays mild-mannered Bobby Boucher, who transforms into a beast at linebacker.
Lynn Swann, Lawrence Taylor, Jimmy Johnson and Bill Cowher all made cameo appearances, and the South Central Louisiana State University Mud Dogs has to be the best fictional football team name in history.
Boucher's buried anger issues rise to the surface when he is pushed to the brink by teasing, and he turns into an All-American-caliber linebacker, with a penchant for knocking guys flat at a moment's notice.
Not only that, in the final play of the Mud Dogs' Bourbon Bowl, after being first forbidden then allowed to play by his mother, Bobby throws the winning touchdown, then meets his father, and rides off into the sunset with his girlfriend, Vicki.
5. Pony Excess

Video courtesy of YouTube

The corruption and inability to this day to understand what the instigators did wrong when they broke multiple NCAA rules are highlighted in this story of the infamous "death penalty" that was handed to SMU.
That penalty was the harshest ever levied on a program, and still is to this day.
Thaddeus Matula directed the film, which was released as part of ESPN's 30 for 30, and did a great job of giving tons of information and keeping even the casual observer interested in hearing all sides of this story.
The release of this flick coincided with the return of SMU football back to some modicum of respectability, after the 'Stangs reached consecutive bowl games.
4. Game of Honor

Video courtesy of YouTube

This one is extremely interesting.
Army and Navy don't carry the national cachet that they used to, as recruiting is not nearly the same system for them as for the big-time programs.
Showtime and CBSSports worked together on this documentary, which chronicles the unique experiences of the football players who attend the Naval Academy and West Point.
CBS has a set of 10 online videos to supplement the program, which is a fresh look at folks playing football just for the joy of playing and the teamwork and experiences football provides.
3. Roll Tide/War Eagle

Video courtesy of YouTube

Nope, there is not a more intense, bitter, in-state rivalry fraught with hatred than this.
Alabama vs. Auburn in the Iron Bowl is only the culmination, as these two programs' avid followers live, breath and sleep with the rise and fall of each teams' fortune.
This documentary by ESPN is a classic, one that everyone, fan of the schools or not, would do well to watch, just to get a grasp of the dedication these people have.
It's another level of football fandom, and as their programs are both top notch on a regular basis, it's totally understandable why they are so obnoxious.
2. The U

Video courtesy of YouTube

There was a time when Miami absolutely dominated the college football universe with its swagger, talent and bravado.
That time is long past, but this documentary, released as part of ESPN's 30 for 30, gave us a glance at how fatigues and dancing in celebration contributed to the football culture.
Howard Schnellenberger's willingness to change the culture of the football program and let his players promote a hip-hop lifestyle is beautifully documented in this well-done piece.
1. Rudy

Video courtesy of YouTube

The quintessential football movie, Rudy reminds us that even the little guy can get it done when given the opportunity.
You can be honest, you cry every time you watch it—and if you don't you have a heart of stone.
The story of Rudy Ruettiger is moving, and easily one of the top college football movies in history.
Regardless of the veracity of this particular production, it easily weathers the criticism and stands atop these rankings.
Keep Reading