3 Questions Golden State Warriors Must Answer This Offseason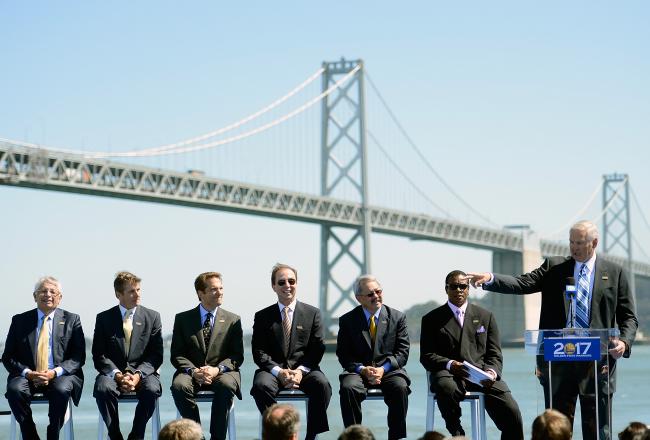 Thearon W. Henderson/Getty Images
Feeling spent? You're not alone. It's perfectly natural to feel a little down during the afterglow of the NBA draft. After all, the excitement builds up in advance of the draft for weeks. And after such a high, a low's bound to follow.
But while you've earned a break, there's no time to rest for the Golden State Warriors.
Warriors GM Bob Myers and his staff—all of whom answer to Jerry West, regardless of the Logo's official title with the team—earned near-universal praise for their picks in Thursday's draft. But their work on the roster has only just begun.
Before the 2012-13 season tips off in the fall, the Warriors' front office must answer a handful of critical questions.
Here are the three big ones.
Can Stephen Curry and Andrew Bogut Stay Healthy?
Can you guess who controls the fate of the Warriors between now and the beginning of next season? It's not owner Joe Lacob, despite his deep pockets. And it's not GM Bob Myers, despite his control over personnel moves.
Give up?
Try this name on for size: Chad Bergman. Not exactly a household moniker. But Bergman, the Warriors' head athletic trainer since October of last season, is charged with holding the Warriors' future together, armed with athletic tape and ice packs.
Stephen Curry's collapsible ankles and Andrew Bogut's historically awful injury luck must be kept in check if the Warriors hope to reach their potential next season. And Bergman's in charge of the whole operation.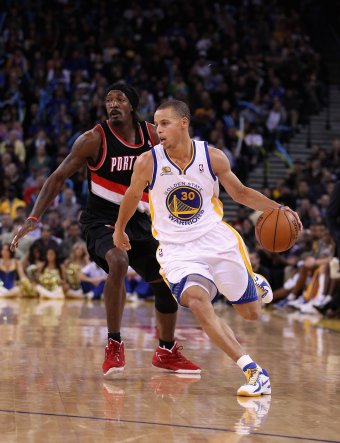 Ezra Shaw/Getty Images
While injuries are largely unpredictable, there is increasing evidence that a competent training staff can actually make a marked difference in their prevention.
At present, Curry is rehabbing his ankle, which was surgically repaired in April. Bogut is coming off of his own ankle surgery. Both are supposed to be healthy in time for training camp.
There's nothing more important—or harder to control—than player health. If Bergman can help rehabilitate the Warriors' two cornerstones, and keep them relatively injury-free this year, he'll be a hero.
Is Harrison Barnes the Answer at Small Forward?
The Warriors enjoyed great fortune in snagging Barnes at No. 7, a draft slot he wasn't supposed to fall into. He's a great talent with excellent pedigree and should represent an upgrade over current starter Dorrell Wright.
If Barnes proves capable, the Warriors will have a low-cost replacement for Wright, whose expiring contract would be a highly valued trade commodity. Assuming the Warriors match any offers for Brandon Rush and he returns next season, Wright will become expendable.
Of course, if Barnes falters, the Warriors may have no choice but to keep Wright around.
Can Mark Jackson Really Coach this Team?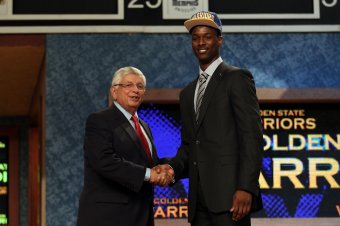 Elsa/Getty Images
Early last Thursday, news broke of a plot to extort money from Warriors coach Mark Jackson. The seedy details involved an extra-marital affair between Jackson and a stripper, as well as purported nude pictures of Jackson. In exchange for a payoff, none of that information was meant to surface.
But even though the FBI got involved, nabbing the woman and her co-conspirator, the damage was done to Jackson's reputation.
Jackson has always been a preacher, literally and figuratively. From day one with the Warriors, he's spouted off about values, putting family and God first, living the right way and being a "man."
How does that sort of talk resonate with his players now?
In the NBA, a coach can lose a locker room about as easily as he can fall out of bed. It doesn't take much for a group of players to tune out a coach they don't respect. And blatant hypocrisy is a pretty good way to lose respect.
Couple that issue with the fact that Jackson was never the coach who drew up schemes or plays (those tasks were always assistant Mark Malone's) and, suddenly, Jackson's value has plummeted.
Management has endorsed Jackson, but how long will that last if the players tune him out?
Jackson's ability to coach the Warriors this season is the biggest question facing the franchise. It's also the issue with the greatest potential to derail their season. A young team doesn't need distractions like this.
If the whole scandal quietly goes away and the players find a way to continue to respect Jackson, it will mean a lot for the Warriors' chances of success this year. But if this team, unusually comprised of young players from stable families, decides Jackson's not worth their respect, trouble could be on the horizon.
This article is
What is the duplicate article?
Why is this article offensive?
Where is this article plagiarized from?
Why is this article poorly edited?

Golden State Warriors: Like this team?