Maria Sharapova: Tennis Star Will Fail to Live Up to Hype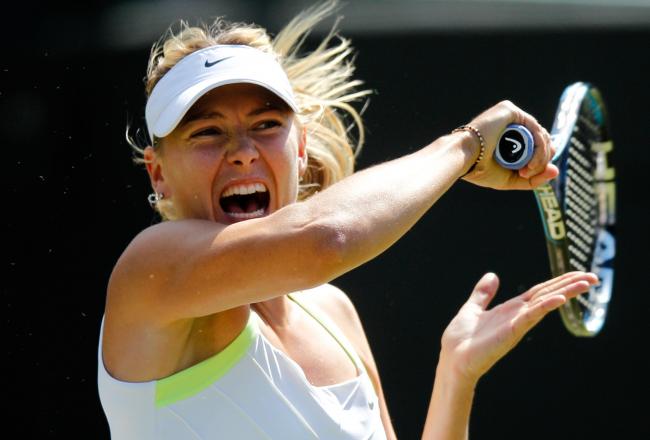 Paul Gilham/Getty Images
Maria Sharapova breezed through her latest match at Wimbledon, but amid all the hoopla that has accompanied her quest to win her second Wimbledon title and second consecutive Grand Slam tournament, there are a couple of reasons to wonder whether the rapidly growing Sharapova bandwagon might be prematurely derailed.
The 25-year-old Russian cruised to a 6-1, 6-4 victory over Taiwan's Hsieh Su-Wei in the third round Friday to set up a rematch of last year's Wimbledon semifinal with Sabine Lisicki, a match that Sharapova captured in straight sets.
However, the match against Lisicki may be where Sharapova starts running into trouble.
It's not so much Lisicki's ability that's of concern to Sharapova, although the 22-year-old Belgian is a very talented pro in her own right. It's Lisicki's disdain for the vocal histrionics that have become such a part of women's tennis in recent years that could become the biggest story of their fourth-round match, as Lisicki has already complained to officials at this year's event about noisy opponents.
Sharapova is the unquestioned queen of scream, and while according to The Telegraph Sharapova claims that "the noise increases solely because she needs to concentrate," tennis scribe Jim White believes that there may just a bit more to it than that.
However, it was possible to reach another conclusion watching her shriek around number one court in the few minutes in the second set when Hsieh was in the ascendant: that the dial is turned up when momentum is against her deliberately in the attempt to put her opponent off their stroke.
Regardless of why Sharapova shrieks like a howler monkey being asked to quiet down isn't the biggest issue facing her moving forward. Sharapova's serve has been very erratic in the breezy conditions at Wimbledon, which was even more of an issue in her three-set win over Tsvetana Pironkova in the previous round.
That erratic serve and propensity to double-fault could come back to haunt Sharapova in later rounds, beginning with her upcoming quarterfinal match against Kim Clijsters, a four-time Grand Slam tournament winner playing in her final Wimbledon.
After that could come a semifinal duel with third-seeded Agnieszka Radwanska, a steady young pro who isn't apt to be shaken by a few grunts and shrieks and who is exactly the sort of player that could capitalize on the service errors Sharapova has been making in this year's tournament.
Should Sharapova, however, continue her career success against Radwanska (she is 7-2 all-time against the young Pole) she would advance to what must be considered an uphill battle in the women's final.
Who will Win the Women's Singles Title at Wimbledon?
Three of the four players that Sharapova could face in the final have had a great deal of success against the Russian. Sixth-seed Serena Williams and second-seeded Victoria Azarenka have a combined 13-6 career record against Sharapova, and fourth-seed Petra Kvitova downed Sharapova in straight sets last year to claim the women's title at the All England tennis club.
Listen, it was a great story when Sharapova won at Roland Garros earlier this month, becoming the 10th woman to capture a career Grand Slam and adding another chapter to her illustrious career.
And frankly, I could care less how much screaming she does on the court. The folks that get all wrapped up in that need to get over it. If world-class players are really distracted by that then they have bigger problems, like a lack of focus.
However, the fact remains that Sharapova's win in the French Open was her first Grand Slam title since 2008. The parity that has pervaded women's tennis over the past few years, combined with Sharapova's somewhat erratic play in London, makes it unlikely that she's going to make it two in a row.
This article is
What is the duplicate article?
Why is this article offensive?
Where is this article plagiarized from?
Why is this article poorly edited?