Euro 2012: How Portugal Will Continue to Exceed Expectations
June 30, 2012

Lars Baron/Getty Images
Being drawn into the infamous "Group of Death" in any major international tournament is not ideal.
Being drawn with the World Cup semifinalists, the surprisingly strong Danes and the heavily favoured Germans, is something else entirely.
Yet despite those two heavyweights facing them in Group B of the almost-concluded European Championships of 2012, Portugal eclipsed expectations and could only be defeated by the high drama of a penalty shootout to reigning champions Spain.  
To some, this could rightly be viewed as falling at the penultimate hurdle; a team lacking that little bit of heart or core strength to overcome a better side to make it to the final.  But while Portuguese fans will undoubtedly be bitterly disappointed at this semifinal loss, they have a whole lot to smile about as the campaign of preparation for the 2014 World Cup begins.
Under Paulo Bento's leadership since Carlos Queiroz was dismissed for an uninspired start to the Euro 2012 qualifying campaign, the Portuguese national team has flourished.  They have gone from strength to strength, finding some real unity throughout the team.  Though Cristiano Ronaldo was, as expected, the heartbeat of the side, the Selecção benefited from excellent performances from the likes of Fabio Coentrao, Miguel Veloso and Joao Moutinho.
The momentum of this unexpected progression will be a key factor in a successful qualifying operation.  Following this achievement, the Portuguese squad of Euro 2012 should drive to attain further success on the world stage; it should inspire both the current core of the squad as well as young fringe players looking to break into Bento's side.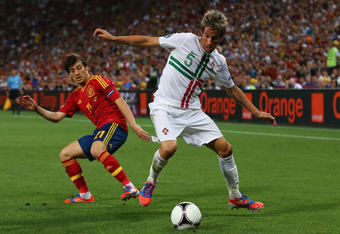 Martin Rose/Getty Images
Unequivocally, the brightest spot of this success is the relative youth of Bento's core group of players.  Real Madrid's Coentrao and Sporting keeper Rui Patricio are both just 24, Moutinho and Manchester United's Nani are both a year older.  Veloso of Genoa is still 26 and both Silvestre Varela of Porto and star man Ronaldo are still 27.  All of these players, form willing, can expect to see playing time at the next European Championships in France in 2016, as well as in Brazil in two years time.
Furthermore, the veteran defensive block of Joao Pereira, Pepe and Bruno Alves will be 30, 31 and 32, respectively, at the start of Brazil 2014; these three stalwarts of the back line should certainly continue to feature for their country at least until then.
The only obvious issue for Portugal is the lack of a goal-scoring centre forward.  Back in the days of the Golden Generation, the likes of Luis Figo and Rui Costa could supplant the goal-scoring talents of Pauleta and Nuno Gomes—two veterans of much of the last decade of Portuguese international football, they scored 86 goals between them for their country.  
By comparison, the current starting option, Helder Postiga, has just 20 international goals to his name.  A commendable total, but his career has been marred with flashes of inconsistency and he lacks the proficiency in front of goal of his predecessors.
Nelson Oliveira of Benfica is still just 20 years old, and while his involvement at the Euros was limited to substitute appearances, he showed some decent quality and is likely to receive constant chances to impress at the international level from coach Bento.  While he may not be the new Pauleta yet by any stretch of the imagination, he still has plenty of time to grow and develop as a player.  
By the time the World Cup in Brazil starts in two years time, opposition defences could well recognise Oliveira as a name to be feared.
The most important thing to recognise here is that Portugal have the foundations of an excellent international football team.  Though the common fan may glance at the squad and know but a few names, pinpointing the excellent Ronaldo, the Selecção have every right to feel good about their chances in the Portuguese-speaking Brazil in two years' time.
Some might look at that as a good omen of sorts.  For others, it just makes sense.  Portugal have once more entered the discussion of Europe's best international teams.