Spain vs. Italy Start Time: Complete Viewing Guide for Euro 2012 Final
June 30, 2012

Michael Steele/Getty Images
Spain and Italy will meet in the finals of the most prestigious international tournament aside from the World Cup on Sunday as they play to decide who will win Euro 2012. The Spaniards are the defending European champions, as well as the defending world champions, so they will be favored, but Italy can't be taken lightly.
The Italians entered the tournament with little in terms of expectations. But they have been giant killers, as they've knocked off teams such as England and Germany. They also tied Spain in the group stage, so beating them will be no easy task for La Roja.
Anything can happen at this point, so the match promises to be an extremely exciting one.
Here is everything you need to know about when and where to watch the Euro 2012 final on television and online, as well as which spotlighted players you should focus on. 
Where: Kiev Olympic Stadium in Kiev, Ukraine
When: Sunday, July 1 at 2:45 p.m. ET
Watch: ESPN
Live Stream: ESPN3.com 
Key Players to Watch
Mario Balotelli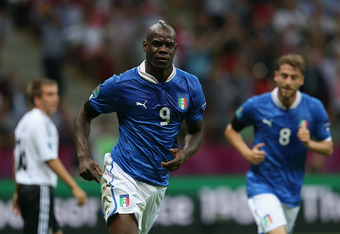 Joern Pollex/Getty Images
Mario Balotelli is one of the most controversial soccer players in the world. While he is often maligned for his strange antics, he can just as easily be beloved due to his incredible skill. That skill was on display in Italy's upset of Germany in the semifinals, as he scored twice and led Italy to a shocking 2-1 win.
Balotelli could go from hero to goat just as easily, though, if he doesn't come to play against Spain. He is often criticized for not buying into the team concept, and there is definitely a chance that he could freelance and hurt Italy in the final. If he plays like he did against Germany and buys into the system, however, Spain could be in trouble. 
Cesc Fabregas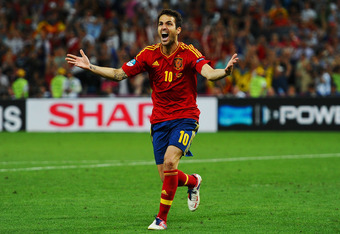 Laurence Griffiths/Getty Images
Spain rely quite heavily on midfielders and don't utilize a traditional forward. But Cesc Fabregas is only a midfielder in title, because he is a finisher in every sense of the word.
Fabregas has been extremely dangerous for La Roja throughout the tournament. He has two goals and a number of great chances. He scored against Italy in the opener and will look to do the same on Sunday.
Fabregas is also cool in high-pressure situations, as he scored the penalty-kick goal to push Spain past Portugal. There is a decent chance that Italy will try to bog the game down in an effort to reach a penalty-kick situation, and if that happens, Fabregas will be key. 
David Silva
He may not receive as much credit as he deserves, but David Silva is the player who makes Spain's offensive attack click. His passing skills are sublime, as evidenced by his tournament-leading three assists, and he showed his ability to finish earlier in the tournament against Ireland. Because he is such a versatile player, he will have to be the one who ensures that La Roja get on the scoreboard in some capacity.
As the favorite, Spain have to be the aggressor, and that falls on Silva's shoulders. Spain have been the stingiest team in the tournament thus far, as they have allowed just one goal. But Italy isn't very far behind in that regard. Silva is so slick that he can find even the smallest cracks in the defense, though, so Italy have be very alert of where he is at all times.
Follow @MikeChiari on Twitter