NBA Draft 2012 Grades: 4 Teams That Took Biggest Risks on Draft Night
June 30, 2012

Jim McIsaac/Getty Images
The following four teams took the biggest risks during the 2012 NBA draft, with accompanying grades to go with each:
With risk comes the potential for reward, and the Celtics' selection of Ohio State power forward Jared Sullinger at No. 21 overall was a classic case of weighing the two against one another.
While Sullinger has undeniable back issues—problems that could give him constant trouble and shorten his NBA career—he's also a player that many considered a top-10 talent before the medical red flags were found. He likely fell 10-12 spots in this draft, but the Celtics were quick to end that drop. 
The back issues will tie in a lot of risk to this pick, but the reward of getting a more talented Glen "Big Baby" Davis was too much for Boston to pass over towards the end of the first. If he pans out, Danny Ainge will look like a genius. 
Grade: B+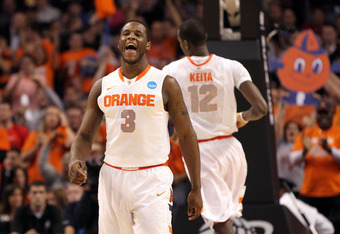 Jim Rogash/Getty Images
The Cavs gave the NBA draft its first true surprise when Syracuse guard Dion Waiters was the team's pick at No. 4 overall. But Cleveland doesn't crack this list because Waiters was a surprise—he has risk because of how he fits with the Cavs' current roster. 
Waiters, a player who needs the ball in his hands and is undersized for the shooting guard position, doesn't appear to be an ideal fit with the Cavs' 2011 No. 1 pick Kyrie Irving.
Can Waiters and Irving co-exist in the same backcourt? Or will Cleveland plan on bringing Waiters off the bench to lead the second unit as a volume scorer and penetrator? These are viable questions to ask as we assess Cleveland's decision to take Waiters so high. 
The Cavaliers did do well later in acquiring ACC Player of the Year Tyler Zeller, but keep in mind the team gave away three picks that could have netted them a variety of players towards the end of the first round. 
Grade: B-
Indiana Pacers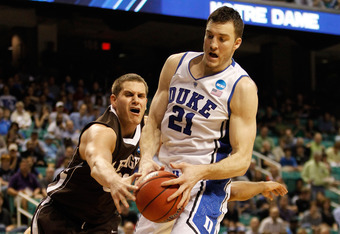 Streeter Lecka/Getty Images
Miles Plumlee at No. 26 overall was a head-scratcher for Indiana. 
While he has tremendous athleticism for a seven-footer, Plumlee is also very limited offensively and will need several years of polishing before he's ready to make any kind of impact.
Also, consider that Plumlee never averaged more than seven points or eight rebounds a game in four years at Duke. Where's the upside?
The Pacers have been ripped apart in the national media for this pick, but it's fairly easy to see why. Plumlee over players like Perry Jones III and Arnett Moultrie at No. 26 doesn't seem to add up.
Grade: D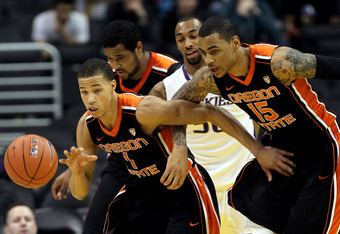 Stephen Dunn/Getty Images
Dallas had a draft plan in place and it stuck to it Thursday, taking Jared Cunningham (No. 24), Bernard James (No. 33) and Jae Crowder (No. 34) with its three picks. 
But did the Mavericks really get better for next season with any of the three?
Cunningham was considered a first-rounder by few, James is 27 years old and without an offensive skill set and Crowder's ceiling may be nothing more than a rotational player. 
In all, Dallas passed on Perry Jones III, Arnett Moultrie, Will Barton and Quincy Miller at those spots. Any of the four would likely have contributed more next season. Now, Dallas will have to make a big splash or two in free agency to remain relevant. 
Grade: C+