NBA Draft 2012: Analyzing Most Underrated Selections of Round 1
June 30, 2012

Joe Robbins/Getty Images
While most fans were talking about the likes of Anthony Davis, Michael Kidd-Gilchrist and Bradley Beal at the conclusion of Thursday night's NBA draft, there were several other solid selections that went largely unnoticed. They may not have received a ton of hype initially, but when people look back on the draft several years from now, they may wonder why they didn't receive more attention.
Players picked in the middle of the first round or later don't often become major contributors right away, but serviceable and even star players develop from those draft positions all the time. Teams may not see the fruits of their labor until a few seasons down the road, but there were some great value picks that will pay big dividends.
Here are the three most underrated selections of the first round that will ultimately prove that the league was wrong for letting them slip through the cracks.
Perhaps shooting guard wasn't a major need for the Atlanta Hawks, as they have Joe Johnson in the fold, but they went with Vanderbilt sharpshooter John Jenkins at No. 23 anyway. Jenkins can be a dangerous three-point marksman off the bench from day one, and he should eventually become a regular starter once Johnson's days are numbered. Johnson has already clearly slowed down to some degree, so Jenkins could be a key player sooner than most think.
Jenkins is probably the best pure shooter in the draft, so he will be a really nice fit in Atlanta's up-tempo offense. Jenkins isn't one-dimensional, though, as he has a knack for scoring anywhere on the floor. He proved in college that he could produce against top-notch competition in the SEC, and I believe that production will eventually carry over to the NBA.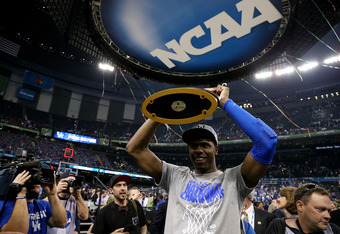 Ronald Martinez/Getty Images
The Houston Rockets had three first-round picks, and while all of them were pretty solid, their last one was their best.
The Rockets nabbed Kentucky forward Terrence Jones with the No. 18 selection, and he promises to be an intriguing player for them. At 6'10" and over 250 lbs, Jones has true power forward size and can log important minutes for the Rockets right away. He will play behind Luis Scola initially, but Jones is a guy who brings a ton of energy and toughness to the table.
His role was reduced slightly last season at Kentucky after averaging nearly 16 points and nine rebounds per game as a freshman, but he was still a big-time contributor. He put up 12 points, seven rebounds and nearly two blocks per contest despite playing with stars like Davis and Kidd-Gilchrist. At worst, Jones is going to become a valuable big off the bench, but his ceiling suggests he can be a starter who averages a double-double.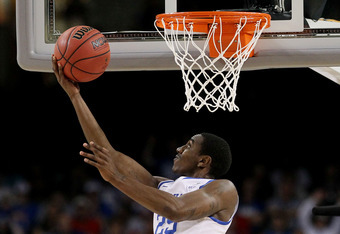 Jeff Gross/Getty Images
With the return of point guard Derrick Rose uncertain due to a torn ACL, the Chicago Bulls made a shrewd maneuver by selecting Kentucky's Marquis Teague at No. 29. The Bulls needed a shooting guard, but if Rose is going to miss a significant chunk of next season, then a possible temporary replacement was needed. Teague isn't your prototypical point guard, as he tends to go to the basket himself rather than distributing at times, but Rose is similar in that regard, so Teague should be a good fit.
It's hard to say whether or not Teague will start the season as the starter, but it's a distinct possibility if he comes along in training camp. Teague averaged about 10 points and five assists per game on a stacked Kentucky team as a freshman this past season, but statistics shouldn't be weighted too heavily. He was basically the fifth wheel on offense for the Wildcats, so there wasn't a need for him to light it up.
Teague has a lot of potential, and he should be a solid fill-in for Rose at the very least.
Follow @MikeChiari on Twitter